Lucemyra
Generic Name: lofexidine
Dosage Form: Tablets
Date of Approval: May 16, 2018
Company: US WorldMeds LLC
Treatment for: Opioid Use Disorder
FDA Approves Lucemyra
The U.S. Food and Drug Administration (FDA) has approved Lucemyra (lofexidine), an oral central alpha 2-adrenergic agonist indicated for reducing the severity of withdrawal symptoms in patients experiencing opioid withdrawal.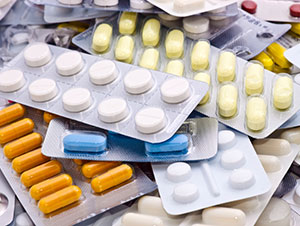 Patient Information
Read this Patient Information carefully before you start treatment. This information does not take the place of talking with your doctor about your medical condition or your treatment.
Important information
Lucemyra can cause serious side effects, including low blood pressure (hypotension), slow heart rate (bradycardia), and fainting.
If you get any of the following signs or symptoms, tell your healthcare provider right away:
low blood pressure
slow heartbeat
dizziness
lightheadedness
feeling fainting at rest or when standing up
If you take Lucemyra at home and have any of these signs and symptoms, do not take your next dose until you have talked to your healthcare provider. You should avoid becoming dehydrated or overheated during treatment, which may increase your risk of low blood pressure and fainting. You should also be careful not to stand up too suddenly from lying down or sitting. When your treatment is complete you will need to stop taking Lucemyra gradually or your blood pressure could increase.
For more information about side effects, see Lucemyra side effects.
Increased risk of opioid overdose. After a period of time of not using opioids drugs, you can become more sensitive to the effects of opioids if you start using opioids again. This may increase your risk of overdose and death.
What is Lucemyra?
Lucemyra is a non-opioid prescription medicine used in adults to help with the symptoms of opioid withdrawal that may happen when you stop taking an opioid suddenly.
Lucemyra will not completely prevent the symptoms of opioid withdrawal, which may include feeling sick, stomach cramps, muscle spasms or twitching, feeling of cold, heart pounding, muscular tension, aches and pains, yawning, runny eyes and sleep problems (insomnia).
Lucemyra is not a treatment for opioid use disorder. If you have been diagnosed with opioid use disorder (opioid addiction), your healthcare provider may prescribe Lucemyra as part of a complete treatment program for your opioid use disorder (opioid addiction).
It is not known if this medicine is safe and effective in children.
Before taking Lucemyra
Before you start treatment, tell your healthcare provider about all of your medical conditions, including if you:
have low blood pressure
have a slow heart rate
have any heart problems, including history of heart attack or a condition called long QT syndrome
have liver or kidney problems
drink alcohol
are pregnant or plan to become pregnant. It is not known if Lucemyra can harm your unborn baby.
are breastfeeding or plan to breastfeed. It is not known if Lucemyra passes into your breast milk. Talk to your healthcare provider about the best way to feed your baby during treatment.
Tell your healthcare provider about all of the medicines you take, including prescription and over-the-counter medicines, vitamins, herbal supplements, and any medicines you may take for the individual symptoms of opioid withdrawal such as pain relievers or medicines for upset stomach.
Especially tell your healthcare provider if you take benzodiazepines, barbiturates, tranquilizers, or sleeping pills.Taking Lucemyra with these medicines can cause serious side effects. Ask your healthcare provider or pharmacist if you are not sure if you are taking any of these medicines.
How should I take Lucemyra?
Take this medicine exactly as your healthcare provider tells you to take it.
Your healthcare provider may change your dose if needed.
Do not change your dose or stop treatment without talking to your healthcare provider.
Take the tablets with or without food.
If you take too much or overdose, go to the nearest hospital emergency room right away.
What should I avoid while taking Lucemyra?
Do not drive, operate heavy machinery, or perform any other dangerous activities until you know how Lucemyra affects you.
Lucemyra side effects
The most common side effects include:
low blood pressure or symptoms of low blood pressure such as lightheadness
slow heart rate
dizziness
sleepiness
dry mouth
These are not all the possible side effects. Call your healthcare provider for medical advice about side effects. You may report side effects to FDA at 1-800-FDA-1088. You may also report side effects to US WorldMeds at 1-833-Lucemyra.
How should I store Lucemyra?
Store at room temperature between 68°F to 77°F (20°C to 25°C).
Store the tablets in the original container.
Keep the tablets away from heat and moisture.
The bottles contain desiccant packs to help keep the tablets dry. Do not remove the desiccant packs until all the tablets are used.
Keep all medicines out of the reach of children and pets.
General information about the safe and effective use of Lucemyra.
Medicines are sometimes prescribed for purposes other than those listed in a Patient Information leaflet. Do not use this medicine for a condition for which it was not prescribed. Do not give it to other people, even if they have the same symptoms that you have. It may harm them. You can ask your pharmacist or healthcare provider for information that is written for health professionals.
What are the ingredients of Lucemyra?
Active ingredient: lofexidine
Inactive ingredients: lactose, citric acid, povidone, microcrystalline cellulose, calcium stearate, sodium lauryl sulphate, and Opadry OY-S-9480 (contains indigo carmine and sunset yellow).
Further information
Always consult your healthcare provider to ensure the information displayed on this page applies to your personal circumstances.
More about Lucemyra (lofexidine)
Related treatment guides