Malaria
Medically reviewed by Drugs.com. Last updated on Nov 5, 2023.
What is malaria?
Malaria is a disease caused by a parasite. It is usually spread through the bite of infected mosquitoes. Malaria can also spread through infected blood products or shared needles.
What increases my risk for malaria?
Your risk is increased if you live in or travel to an area where malaria is common. Your risk also increases if you have a weak immune system. This includes pregnant women, infants and children, and people with HIV.
What are the signs and symptoms of malaria?
Any of the following may develop 1 week to several months after you were bitten:
Fever
Shaking chills
Sweating
Headache and muscle pain
Nausea and vomiting
Abdominal pain or diarrhea
How is malaria diagnosed?
Blood tests are used to check for a parasite or to find which kind of malaria you have. Blood tests may also show any damage to your organs. A chest x-ray may also be needed. These tests will help your healthcare provider plan the best treatment for you.
How is malaria treated?
Medicine is given to kill the parasites that are causing your infection. You may need more than 1 medicine, depending on the kind of malaria you have.
Acetaminophen decreases pain and fever. It is available without a doctor's order. Ask how much to take and how often to take it. Follow directions. Read the labels of all other medicines you are using to see if they also contain acetaminophen, or ask your doctor or pharmacist. Acetaminophen can cause liver damage if not taken correctly.
NSAIDs , such as ibuprofen, help decrease swelling, pain, and fever. This medicine is available with or without a doctor's order. NSAIDs can cause stomach bleeding or kidney problems in certain people. If you take blood thinner medicine, always ask your healthcare provider if NSAIDs are safe for you. Always read the medicine label and follow directions.
Treatment options
The following list of medications are in some way related to or used in the treatment of this condition.
How can malaria be prevented?
Use an insect repellant. Apply an insect repellant to your skin, clothing, and other fabrics, such as blankets. Ask your healthcare provider which insect repellant is best to use.
Cover your skin. Wear long-sleeved shirts and pants to keep your skin covered.
Sleep under a mosquito net, if needed. Spray insect repellant on your mosquito net. Check your net for holes often.
Protect your home. Put screens on your windows and doors to keep mosquitoes out. Use insecticide inside your home to kill mosquitoes that come into your house.
Remove all standing water around your home. Mosquitoes lay their eggs and mature in water.
Ask about medicines to prevent malaria during travel. These medicines may be given if you will be traveling to an area where malaria is common or has a current outbreak. Tell your healthcare provider about your travel plans as soon as possible. Some medicines need to be given several days before you travel.
How do I prevent the spread of infections?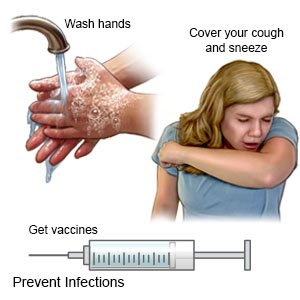 Wash your hands often. Use soap and water. Wash your hands several times each day. Wash after you use the bathroom, change a child's diaper, and before you prepare or eat food. Wash for at least 20 seconds. Rinse with warm, running water for several seconds. Then dry your hands with a clean towel or paper towel. Use hand sanitizer that contains alcohol if soap and water are not available. Do not touch your eyes, nose, or mouth without washing your hands first.
Cover a sneeze or cough. Use a tissue that covers your mouth and nose. Throw the tissue away in a trash can right away. Use the bend of your arm if a tissue is not available. Then wash your hands well with soap and water or use a hand sanitizer. Do not stand close to anyone who is sneezing or coughing.
Ask about vaccines you may need. Get a flu vaccine as soon as recommended each year, usually in September or October. Get the pneumonia vaccine if recommended. This vaccine is usually recommended every 5 years. Your healthcare provider will tell you when to get this vaccine, if needed. Get all recommended COVID-19 vaccine doses and boosters. Your provider will tell you if you also need other vaccines, and when to get them.
Call your local emergency number (911 in the US) if:
You have a seizure.
You have sudden shortness of breath.
When should I seek immediate care?
You have a severe headache.
You are confused or sleepier than usual.
When should I call my doctor?
Your skin and the whites of your eyes are yellow.
Your signs and symptoms get worse or do not go away, even after treatment.
Your signs and symptoms return after treatment.
You have questions or concerns about your condition or care.
Care Agreement
You have the right to help plan your care. Learn about your health condition and how it may be treated. Discuss treatment options with your healthcare providers to decide what care you want to receive. You always have the right to refuse treatment. The above information is an educational aid only. It is not intended as medical advice for individual conditions or treatments. Talk to your doctor, nurse or pharmacist before following any medical regimen to see if it is safe and effective for you.
© Copyright Merative 2023 Information is for End User's use only and may not be sold, redistributed or otherwise used for commercial purposes.
Learn more about Malaria
Treatment options
Symptoms and treatments
Further information
Always consult your healthcare provider to ensure the information displayed on this page applies to your personal circumstances.