Meclofenamate Sodium
Class: Other Nonsteroidal Anti-inflammatory Agents
VA Class: MS120
CAS Number: 6385-02-0

Warning(s)
Cardiovascular Risk

Possible increased risk of serious (sometimes fatal) cardiovascular thrombotic events (e.g., MI, stroke).146 147 Risk may increase with duration of use.146 147 Individuals with cardiovascular disease or risk factors for cardiovascular disease may be at increased risk.146 (See Cardiovascular Effects under Cautions.)

Contraindicated for the treatment of pain in the setting of CABG surgery.146
GI Risk

Increased risk of serious (sometimes fatal) GI events (e.g., bleeding, ulceration, perforation of the stomach or intestine).100 108 109 117 145 146 Serious GI events can occur at any time and may not be preceded by warning signs and symptoms.100 108 109 117 146 Geriatric individuals are at greater risk for serious GI events.100 146 (See GI Effects under Cautions.)
Introduction
Prototypical NSAIA;100 a anthranilic acid derivative;100 a structurally related to diclofenac and mefenamic acid.100 a
Uses for Meclofenamate Sodium
Consider potential benefits and risks of meclofenamate sodium therapy as well as alternative therapies before initiating therapy with the drug.100 146 Use lowest effective dosage and shortest duration of therapy consistent with the patient's treatment goals.100 146
Inflammatory Diseases
Symptomatic treatment of acute and chronic osteoarthritis and rheumatoid arthritis.100 a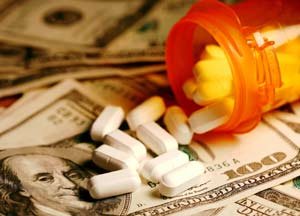 Has been used with some success in a limited number of adults with ankylosing spondylitis†a b or acute gouty arthritis†.a c
Has been used in a limited number of patients with psoriatic arthritis†.a
Pain
Relief of mild to moderate pain in adults.a 100 101 102 103 104 105 106
Dysmenorrhea and Menorrhagia
Treatment of primary dysmenorrhea.100 107 a
Treatment of idiopathic menorrhagia.100 112 a Use only for heavy menstrual flow that is idiopathic (i.e., no underlying pathophysiologic cause can be identified);100 112 do not use for the management of spotting or bleeding that occurs between menstrual cycles.100
Use for primary dysmenorrhea or idiopathic menorrhagia only when the potential benefits justify the possible risks.100
Meclofenamate Sodium Dosage and Administration
General
Administration
Oral Administration
Administration with meal, milk, or antacids may minimize adverse GI effects.100 146 a
Dosage
Available as meclofenamate sodium; dosage expressed in terms of meclofenamic acid.100 a
To minimize the potential risk of adverse cardiovascular and/or GI events, use lowest effective dosage and shortest duration of therapy consistent with the patient's treatment goals.100 146 a Adjust dosage based on individual requirements and response; attempt to titrate to the lowest effective dosage.100 146 a
Adults
Inflammatory Diseases
Osteoarthritis or Rheumatoid Arthritis
Oral
200–400 mg daily in 3 or 4 equally divided doses.100 a Initiate at lower dosage and adjust dose and frequency as necessary based on severity of symptoms and clinical response (maximum 400 mg daily).100 146 a
Pain
Oral
50 mg every 4–6 hours.a 100 101 103 104 105 106 Some patients may require 100-mg doses for optimal pain relief (maximum 400 mg daily).a 100 101 102 103 104 105 106
Dysmenorrhea and Menorrhagia
Oral
100 mg 3 times daily.a 100 107 112 Initiated at onset of menses and continue ≤ 6 days or until cessation of menses.100 112 a
Prescribing Limits
Adults
Inflammatory Diseases
Osteoarthritis or Rheumatoid Arthritis
Oral
Pain
Oral
For mild to moderate pain, maximum 400 mg daily.100 101
Dysmenorrhea and Menorrhagia
Oral
Maximum 300 mg daily.100
Special Populations
Renal Impairment
Dosage reduction recommended in patients with renal impairment; monitor renal function.100 a
Use not recommended in patients with advanced renal disease.146
Geriatric Patients
Consider reduced initial dosage; monitor carefully.a 100
Cautions for Meclofenamate Sodium
Contraindications
Warnings/Precautions
Warnings
Cardiovascular Effects
Selective COX-2 inhibitors have been associated with increased risk of cardiovascular events (e.g., MI, stroke) in certain situations.147 Several prototypical NSAIAs also have been associated with increased risk of cardiovascular events.150 151 152 Information not available on risk associated with meclofenamate sodium at this time.150 151 152
Use NSAIAs with caution and careful monitoring (e.g., monitor for development of cardiovascular events), and at the lowest effective dosage for the shortest duration necessary.146
Short-term use to relieve acute pain, especially at low dosages, does not appear to be associated with increased risk of serious cardiovascular events (except immediately following CABG surgery).146
No consistent evidence that concomitant use of low-dose aspirin mitigates the increased risk of serious adverse cardiovascular events associated with NSAIAs.146 147 (See Specific Drugs under Interactions.)
Hypertension and worsening of preexisting hypertension reported; either event may contribute to the increased incidence of cardiovascular events.146 Use with caution in patients with hypertension; monitor BP.146 Impaired response to certain diuretics may occur.146 (See Specific Drugs under Interactions.)
Fluid retention and edema reported.146 Use with caution in patients with fluid retention or heart failure.146
GI Effects
Serious GI toxicity (e.g., bleeding, ulceration, perforation) can occur with or without warning symptoms;100 108 109 117 146 increased risk in those with a history of GI bleeding or ulceration, geriatric patients, smokers, those with alcohol dependence, and those in poor general health.100 146 a
For patients at high risk for complications from NSAIA-induced GI ulceration (e.g., bleeding, perforation), consider concomitant use of misoprostol;111 120 134 135 alternatively, consider concomitant use of a proton-pump inhibitor (e.g., omeprazole) or use of an NSAIA that is a selective inhibitor of COX-2 (e.g., celecoxib).111 120 134
Renal Effects
Direct renal injury, including renal papillary necrosis, reported in patients receiving long-term NSAIA therapy.100 146
Potential for overt renal decompensation.100 146 Increased risk of renal toxicity in patients with renal or hepatic impairment or heart failure, in geriatric patients, in patients with volume depletion, and in those receiving a diuretic, ACE inhibitor, or angiotensin II receptor antagonist.100 146 149 a (See Renal Impairment under Cautions.)
Sensitivity Reactions
Hypersensitivity Reactions
Anaphylactoid reactions reported.146
Immediate medical intervention and discontinuance for anaphylaxis.146
Avoid in patients with aspirin triad (aspirin sensitivity, asthma, nasal polyps); caution in patients with asthma.100 146
Dermatologic Reactions
Serious skin reactions (e.g., exfoliative dermatitis, Stevens-Johnson syndrome, toxic epidermal necrolysis) reported;100 146 can occur without warning.146 Discontinue at first appearance of rash or any other sign of hypersensitivity (e.g., blisters, fever, pruritus).146
General Precautions
Hepatic Effects
Severe reactions including jaundice, fatal fulminant hepatitis, liver necrosis, and hepatic failure (sometimes fatal) reported rarely with NSAIAs.100 146 a
Elevations of serum ALT, AST, or alkaline phosphatase reported.100 146
Monitor for symptoms and/or signs suggesting liver dysfunction; monitor abnormal liver function test results.100 146 a Discontinue if signs or symptoms of liver disease or systemic manifestations (e.g., eosinophilia, rash) occur.100 146 a
Hematologic Effects
Anemia reported.100 146 a Determine hemoglobin concentration or hematocrit in patients receiving long-term therapy if signs or symptoms of anemia occur.100 146 a
Leukopenia, thrombocytopenic purpura, neutropenia, and agranulocytosis reported rarely.100 a Decreased WBC counts usually transient and return to normal despite continued meclofenamate sodium therapy.100 a Further clinical evaluations are necessary if leukopenia, granulocytopenia, or thrombocytopenia persists; discontinuance of meclofenamate sodium therapy may be necessary.100 a
May inhibit platelet aggregation and prolong bleeding time.a 146
Ocular Effects
Ocular toxicity reported in patients receiving NSAIA therapy.100 a If visual difficulties develop during therapy, discontinue the drug and perform complete ophthalmologic examination.100 a
Sodium Content and Electrolyte Imbalance
100-mg meclofenamate sodium capsules each contain 0.34 mEq of sodium.a
Other Precautions
Not a substitute for corticosteroid therapy; not effective in the management of adrenal insufficiency.146 a
May mask certain signs of infection or other conditions.146 a
Obtain CBC and chemistry profile periodically during long-term therapy.146 a
Specific Populations
Pregnancy
No FDA category rating.100 Safety not established; avoid use, particularly during first and third trimesters.100 146 a Avoid use in third trimester because of possible premature closure of the ductus arteriosus.a
Lactation
Meclofenamic acid is distributed into milk.a 100 Discontinue nursing or the drug.100 146 a
Pediatric Use
Safety and efficacy not established in children <14 years of age.100 a
Geriatric Use
Use with caution in patients ≥65 years of age.100 146 a Geriatric adults appear to tolerate NSAIA-induced adverse effects less well than younger individuals.a 100 146 Fatal adverse GI effects reported more frequently in geriatric patients than younger adults.a 100
Renal Impairment
Metabolites eliminated principally via the kidney.100 a
Use with caution and close monitoring in patients with substantial renal impairment.100 a Use not recommended in patients with advanced renal disease; close monitoring of renal function advised if used.146
Common Adverse Effects
Diarrhea, nausea with or without vomiting, other GI disorders, abdominal pain, flatulence, pyrosis, dizziness, headache, rash.100 146 a
Interactions for Meclofenamate Sodium
Protein-bound Drugs
Possible pharmacokinetic interaction; observe for adverse effects if used with other protein-bound drugs.100 a
Specific Drugs
Drug

Interaction

Comments

ACE inhibitors

Reduced BP response to ACE inhibitor possible146 153

Possible deterioration of renal function in individuals with renal impairment146

Angiotensin II receptor antagonists

Reduced BP response to angiotensin II receptor antagonist possible146 153

Possible deterioration of renal function in individuals with renal impairment146

Antacids (aluminum- and magnesium-containing)

No effect on meclofenamate sodium absorption100

Aspirin

May decrease plasma concentrations of meclofenamic acid100 a

Increased risk of GI ulceration and other complications100 137

No consistent evidence that low-dose aspirin mitigates the increased risk of serious cardiovascular events associated with NSAIAs147

Concomitant use not recommended146

Diuretics (furosemide, thiazides)

Reduced natriuretic effects146

Monitor for diuretic efficacy and renal failure146

Lithium

Increased plasma lithium concentrations146

Monitor for lithium toxicity146

Methotrexate

Possible toxicity associated with increased plasma methotrexate concentrations146

Caution advised146

Propoxyphene

Pharmacokinetic interaction unlikely100

Warfarin

Possible bleeding complications and increases in PT100 146 a

Monitor PT, adjust warfarin dosage as needed, and observe for adverse effects100 146 a
Meclofenamate Sodium Pharmacokinetics
Absorption
Bioavailability
Rapidly and completely absorbed following oral administration.100 a Peak plasma concentrations usually attained within 0.5–2 hours following oral administration.2 100
Food
Food decreases rate27 100 and extent100 of absorption.
Distribution
Extent
Distribution into human body tissues and fluids not fully characterized.a In animals, the drug is distributed mainly into the plasma, liver, and kidneys, with lower concentrations being distributed into the heart, spleen, fat, skeletal muscle, and brain.a
Crosses the placenta.100 a Meclofenamic acid is distributed into milk.100 a
Plasma Protein Binding
>99% (mainly albumin).2 100 114 a
Elimination
Elimination Route
Excreted in urine (70%), mainly as glucuronide conjugates of the metabolites,2 27 100 114 and in feces (20–30%).2 27 100
Half-life
40 minutes–5.3 hours.2 100 114
Stability
Storage
Oral
Capsules
Tight, light-resistant containers at 15–30°C.100 a
Actions
Advice to Patients
Preparations
Excipients in commercially available drug preparations may have clinically important effects in some individuals; consult specific product labeling for details.
Please refer to the ASHP Drug Shortages Resource Center for information on shortages of one or more of these preparations.
* available from one or more manufacturer, distributor, and/or repackager by generic (nonproprietary) name
Meclofenamate Sodium

| Routes | Dosage Forms | Strengths | Brand Names | Manufacturer |
| --- | --- | --- | --- | --- |
| Oral | Capsules | 50 mg (of meclofenamic acid)* | Meclofenamate Sodium Capsules | Mylan |
| | | 100 mg (of meclofenamic acid)* | Meclofenamate Sodium Capsules | Mylan |
References
2. Glazko AJ, Chang T, Borondy PE et al. Metabolic disposition of meclofenamic acid (Meclomen) in laboratory animals and in man. Curr Ther Res. 1978; 23(Suppl):S22-41.
27. Smith TC. Clinical pharmacology studies of sodium meclofenamate (Meclomen). Curr Ther Res. 1978; 23(Suppl):S42-50.
100. Mylan Pharmaceuticals Inc. Meclofenamate sodium capsules prescribing information. Morgantown, WV; 1998 Jun.
101. Markowitz NR, Young SK, Rohrer MD et al. Comparison of meclofenamate sodium with buffered aspirin and placebo in the treatment of postsurgical dental pain. J Oral Maxillofac Surg. 1985; 43:517-22. [IDIS 202502] [PubMed 3859595]
102. Rowe NH, Aseltine LF, Turner JL. Control of pain with meclofenamate sodium following removal of an impacted molar. Oral Surg Oral Med Oral Pathol. 1985; 59:446-8. [PubMed 3892406]
103. Kempf KK, Konzelman JL, Schultz RE et al. Comparison of meclofenamate sodium with buffered aspirin and placebo for the relief of postoperative dental pain. Clin Ther. 1987; 9:594-601. [PubMed 3326678]
104. Hebertson RM, Storey N, Turner JL. Analgesic efficacy of meclofenamate sodium in episiotomy pain. Pharmacotherapy. 1986; 6:205-10. [IDIS 394436] [PubMed 3540870]
105. Yonkeura ML, Petrone S, Turner JL et al. Double-blind comparison of meclofenamate sodium with codeine and placebo for the pain of episiotomy. Clin Ther. 1987; 9:578-84. [PubMed 3326676]
106. Gleason JA, Winer W, Turner JL. Comparison of meclofenamate sodium with codeine and placebo for the treatment of episiotomy pain. Clin Ther. 1987; 9:585-93. [PubMed 3326677]
107. Smith RP, Powell RJ. Simultaneous objective and subjective evaluation of meclofenamate sodium in the treatment of primary dysmenorrhea. Am J Obstet Gynecol. 1987; 157:611-8. [IDIS 316526] [PubMed 3307421]
108. Palmer JF. Letter sent to Lents CE (Parke-Davis) regarding labeling revisions about gastrointestinal adverse reactions to Meclomen (meclofenamate sodium). Rockville, MD: Food and Drug Administration, Division of Oncology and Radiopharmaceutical Drug Products; 1988 Sep.
109. Food and Drug Administration. Labeling revisions for NSAIDs. FDA Drug Bull. 1989; 19:3-4.
110. Searle. Cytotec (misoprostol) prescribing information. Skokie, IL; 1989 Jan.
111. Anon. Drugs for rheumatoid arthritis. Med Lett Drugs Ther. 2000; 42:57-64. [PubMed 10887424]
112. Vargyas JM, Campeau JD, Mishell DR Hr. Treatment of menorrhagia with meclofenamate sodium. Am J Obstet Gynecol. 1987; 157:944-50. [IDIS 235269] [PubMed 3314521]
113. Dawood MY. Nonsteroidal anti-inflammatory drugs and changing attitudes toward dysmenorrhea. Am J Med. 1988; 84(Suppl 5A):23-9. [IDIS 241617] [PubMed 3287908]
114. Koup JR, Tucker E, Thomas DJ et al. A single and multiple dose pharmacokinetic and metabolism study of meclofenamate sodium. Biopharm Drug Dispos. 1990; 11:1-15. [IDIS 263309] [PubMed 2322633]
115. Chan WY, Dawood MY, Fuchs F. Prostaglandins n primary dysmenorrhea: comparison of prophylactic and nonprophylactic treatment with ibuprofen and use of oral contraceptives. Am J Med. 1981; 70:535-41. [IDIS 164511] [PubMed 7011011]
116. Dawood MY. Dysmenorrhoea and prostaglandins: pharmacological and therapeutic considerations. Drugs. 1981; 22:42-56. [IDIS 164822] [PubMed 6790261]
117. Soll AH, Weinstein WM, Kurata J et al. Nonsteroidal anti-inflammatory drugs and peptic ulcer disease. Ann Intern Med. 1991; 114:307-19. [IDIS 277370] [PubMed 1987878]
118. Ciba Geigy, Ardsley, NY: Personal communication on diclofenac 28:08.04.
119. Reviewers' comments (personal observations) on diclofenac.
120. American College of Rheumatology Subcommittee on Rheumatoid Arthritis Guidelines. Guidelines for the management of rheumatoid arthritis: 2002 update. Arthritis Rheum. 2002; 46:328-46. [IDIS 476480] [PubMed 11840435]
121. Corticosteroid interactions: nonsteroidal anti-inflammatory drugs (NSAIDs). In: Hansten PD, Horn JR. Drug interactions and updates. Vancouver, WA: Applied Therapeutics, Inc; 1993:562.
122. Garcia Rodriguez LA, Jick H. Risk of upper gastrointestinal bleeding and perforation associated with individual non-steroidal anti-inflammatory drugs. Lancet. 1994; 343:769-72. [IDIS 328176] [PubMed 7907735]
123. Hollander D. Gastrointestinal complications of nonsteroidal anti-inflammatory drugs: prophylactic and therapeutic strategies. Am J Med. 1994; 96:274-81. [IDIS 328041] [PubMed 8154516]
124. Schubert TT, Bologna SD, Yawer N et al. Ulcer risk factors: interaction between Helicobacter pylori infection, nonsteroidal use, and age. Am J Med. 1993; 94:413-7. [IDIS 314155] [PubMed 8475935]
125. Piper JM, Ray WA, Daugherty JR et al. Corticosteroid use and peptic ulcer disease: role of nonsteroidal anti-inflammatory drugs. Ann Intern Med. 1991; 114:735-40. [IDIS 280191] [PubMed 2012355]
126. Bateman DN, Kennedy JG. Non-steroidal anti-inflammatory drugs and elderly patients: the medicine may be worse than the disease. BMJ. 1995; 310:817-8. [IDIS 345154] [PubMed 7711609]
127. Hawkey CJ. COX-2 inhibitors. Lancet. 1999; 353:307-14. [IDIS 418284] [PubMed 9929039]
128. Kurumbail RG, Stevens AM, Gierse JK et al. Structural basis for selective inhibition of cyclooxygenase-2 by anti-inflammatory agents. Nature. 1996; 384:644-8. [PubMed 8967954]
129. Riendeau D, Charleson S, Cromlish W et al. Comparison of the cyclooxygenase-1 inhibitory properties of nonsteroidal anti-inflammatory drug (NSAIDs) and selective COX-2 inhibitors, using sensitive microsomal and platelet assays. Can J Physiol Pharmacol. 1997; 75:1088-95. [PubMed 9365818]
130. DeWitt DL, Bhattacharyya D, Lecomte M et al. The differential susceptibility of prostaglandin endoperoxide H synthases-1 and -2 to nonsteroidal anti-inflammatory drugs: aspirin derivatives as selective inhibitors. Med Chem Res. 1995; %:325-43.
131. Cryer B, Dubois A. The advent of highly selective inhibitors of cyclooxygenase—a review. Prostaglandins Other Lipid Mediators. 1998; 56:341-61. [PubMed 9990677]
132. Simon LS. Role and regulation of cyclooxygenase-2 during inflammation. Am J Med. 1999; 106(Suppl 5B):37-42S.
133. Morrison BW, Daniels SE, Kotey P et al. Rofecoxib, a specific cyclooxygenase-2 inhibitor, in primary dysmenorrhea: a randomized controlled study. Obstet Gynecol. 1999; 94:504-8. [IDIS 437014] [PubMed 10511349]
134. Wolfe MM, Lichtenstein DR, Singh G. Gastrointestinal toxicity of nonsteroidal antiinflammatory drugs. N Engl J Med. 1999; 340:1888-99. [IDIS 426864] [PubMed 10369853]
135. Lanza FL, and the members of the Ad Hoc Committee on Practice Parameters of the American College of Gastroenterology. A guideline for the treatment and prevention of NSAID-induced ulcers. Am J Gastroenterol. 1998; 93:2037-46. [IDIS 417402] [PubMed 9820370]
136. Singh G, Triadafilopoulos G. Epidemiology of NSAID induced gastrointestinal complications. J Rheumatol. 1999; 26(suppl 56):18-24.
137. in't Veld BA, Ruitenberg A, Hofman A et al. Nonsteroidal antiinflammatory drugs and the risk of Alzheimer's disease. N Engl J Med. 2001; 345:1515-21. [PubMed 11794217]
138. Breitner JCS, Zandi PP. Do nonsteroidal antiinflammatory drugs reduce the risk of Alzheimer's disease? N Engl J Med. 2001; 345:1567-8. Editorial.
139. McGeer PL, Schulzer M, McGeer EG. Arthritis and anti-inflammatory agents as possible protective factors for Alzheimer's disease: a review of 17 epidemiologic studies. Neurology. 1996; 47:425-32. [IDIS 371394] [PubMed 8757015]
140. Beard CM, Waring SC, O'sBrien PC et al. Nonsteroidal anti-inflammatory drug use and Alzheimer's disease: a case-control study in Rochester, Minnesota, 1980 through 1984. Mayo Clin Proc. 1998; 73:951-5. [IDIS 416502] [PubMed 9787743]
141. Veld BA, Launer LJ, Hoes AW et al. NSAIDs and incident Alzheimer's disease: the Rotterdam Study. Neurobiol Aging. 1998; 19:607-11. [PubMed 10192221]
142. Stewart WF, Kawas C, Corrada M et al. Risk of Alzheimer's disease and duration of NSAID use. Neurology. 1997; 48:626-32. [IDIS 383303] [PubMed 9065537]
143. Pharmacia. Daypro (oxaprozin) caplets prescribing information. Chicago, IL; 2002 May.
144. Chan FKL, Hung LCT, Suen BY et al. Celecoxib versus diclofenac and omeprazole in reducing the risk of recurrent ulcer bleeding in patients with arthritis. N Engl J Med. 2002; 347:2104-10. [IDIS 490812] [PubMed 12501222]
145. Graham DY. NSAIDs, Helicobacter pylori, and Pandora's box. N Engl J Med. 2002; 347:2162-4. [IDIS 490815] [PubMed 12501230]
146. US Food and Drug Administration. Proposed NSAID Package Insert Labeling Template 1. From the FDA website (). Accessed 10 Oct 2005.
147. Food and Drug Administration. Analysis and recommendations for agency action regarding non-steroidal anti-inflammatory drugs and cardiovascular risk. 2005 Apr 6.
148. Cush JJ. The safety of COX-2 inhibitors: deliberations from the February 16-18, 2005, FDA meeting. From the American College of Rheumatology website (). Accessed 2005 Oct 12.
149. Novartis Pharmaceuticals. Diovan (valsartan) capsules prescribing information (dated 1997 Apr). In: Physicians' desk reference. 53rd ed. Montvale, NJ: Medical Economics Company Inc; 1999:2013-5.
150. McGettigan P, Henry D. Cardiovascular risk and inhibition of cyclooxygenase: a systematic review of observational studies of selective and nonselective inhibitors of cyclooxygenase 2. JAMA. 2006; 296: 1633-44. [PubMed 16968831]
151. Kearney PM, Baigent C, Godwin J et al. Do selective cyclo-oxygenase-2 inhibitors and traditional non-steroidal anti-inflammatory drugs increase the risk of atherothrombosis? Meta-analysis of randomised trials. BMJ. 2006; 332: 1302-5. [PubMed 16740558]
152. Graham DJ. COX-2 inhibitors, other NSAIDs, and cardiovascular risk; the seduction of common sense. JAMA. 2006; 296:1653-6. [PubMed 16968830]
153. Merck & Co. Clinoril (sulindac) tablets prescribing information. Whitehouse Station, NJ; 2006 Feb.
154. Chou R, Helfand M, Peterson K et al. Comparative effectiveness and safety of analgesics for osteoarthritis. Comparative effectiveness review no. 4. (Prepared by the Oregon evidence-based practice center under contract no. 290-02-0024.) . Rockville, MD: Agency for Healthcare Research and Quality. 2006 Sep. Available at: .
a. AHFS drug information 2007. McEvoy GK, ed. Meclofenamate sodium. Bethesda, MD: American Society of Health-System Pharmacists; 2007:2091-95.
b. Ebner W, Poal Ballarin JM, Boussina I. Meclofenamate sodium in the treatment of ankylosing spondylitis: report of a European double-blind controlled multicenter study. Arzneimittelforschung. 1983; 33(Suppl 4A):660-3. [PubMed 6349653]
c. Eberl R, Dunky A. Meclofenamate sodium in the treatment of acute gout: results of a double-blind study. Arzneimittelforschung. 1983; 33(Suppl 4A):641-3. [PubMed 6349648]
More about meclofenamate
Consumer resources
Professional resources
Related treatment guides