Phenylephrine and Chlorpheniramine Tablets
Package insert / prescribing information
Generic name: phenylephrine hydrochloride and chlorpheniramine maleate
Dosage form: tablet
Drug class: Upper respiratory combinations
Medically reviewed by Drugs.com. Last updated on Nov 22, 2021.
On This Page
DESCRIPTION:
Nasal Decongestant/Antihistamine sustained-release tablets for oral administration.
Each Phenylephrine Hydrochloride 20 mg / Chlorpheniramine Maleate 4 mg tablet contains:

Phenylephrine Hydrochloride ..... 20 mg
Chlorpheniramine Maleate ..... 4 mg

In addition, this product contains the following as inactive ingredients: Croscarmellose sodium, Dicalcium phosphate dihydrate, Hydroxypropyl methylcellulose, Microcrystalline cellulose, Silicon dioxide, Stearic Acid, Talc.

CLINICAL PHARMACOLOGY:
Phenylephrine Hydrochloride is a sympathomimetic amine, which acts predominately by a direct action on alpha adrenergic receptors. In therapeutic doses, the drug has no effect on the beta adrenergic receptors of the heart. Clinically, Phenylephrine Hydrochloride shrinks swollen mucus membranes, reduces tissue hyperemia, edema, and nasal congestion; and increases nasal airway patency. In therapeutic doses, the drug causes little, if any, central nervous system (CNS) stimulation.

Chlorpheniramine Maleate competitively antagonizes most of the smooth muscle stimulating actions of histamine on the H1receptors of the GI tract, uterus, large blood vessels, and bronchial muscle. It also antagonizes the action of histamine which results in increased capillary permeability and the formation of edema. Chlorpheniramine Maleate is an alkylamine type of antihistamine. This group of antihistamines is among the most active histamine antagonists and is generally effective in relatively low doses. They thereby prevent, but do not reverse, responses mediated by histamine alone. The anticholinergic actions of most antihistamines provide a drying effect on the nasal mucosa. Chlorpheniramine Maleate is not so prone to produce drowsiness and is among the most suitable agents for daytime use, but a significant proportion of patients do experience this effect.

INDICATIONS & USAGE:
This product is indicated for the temporary relief of nasal congestion due to the common cold, hay fever, or other respiratory allergies and associated sinusitis.

CONTRAINDICATIONS:
This product is contraindicated in patients with hypersensitivity to antihistamines and/or sympathomimetics.

Antihistamines are contraindicated in patients receiving antihypertensive or antidepressant drugs containing monoamine oxidase (MAO) inhibitors since these agents may prolong and intensify anticholinergic and CNS depressant effects of antihistamines (see Drug Interactions section). Antihistamines should not be used to treat lower respiratory tract symptoms or be given to premature or newborn infants. This product is contraindicated in patients with severe hypertension or severe coronary artery disease.

Risk-benefit should be considered when the following medical problems exist: hyperthyroidism, diabetes mellitus, glaucoma, prostatic hypertrophy, urinary retention and asthma (although antihistamines may decrease allergen induced bronchoconstriction, their anticholinergic drying effects may cause thickening of secretions and impair expectoration during an acute episode of asthma).
WARNINGS:
Especially in infants and small children, antihistamines in overdosage may cause hallucinations, convulsions and death.
Antihistamines may diminish mental alertness. In young children, they may produce excitation.

PRECAUTIONS:
General: Because of its antihistamine component, this product should be used with caution in patients with a history of bronchial asthma, narrow-angle glaucoma, gastrointestinal obstruction, or urinary bladder neck obstruction. Because of its sympathomimetic component, this product should be used with caution in patients with diabetes, hypertension, heart disease, or thyroid disease.

Information for Patients
Patient consultation should include the following information regarding proper use of this medication:
• Do not take more medicine than the amount recommended.
• Do not drive or operate machinery if drowsiness or dizziness occurs.
• Avoid alcoholic beverages while taking this medication.
• If a dose is missed, the medication should be taken as soon as possible, unless it is almost time for the next dose, not doubling doses.
• This medication should be stored in a tight, light-resistant container at temperatures between 15º-30ºC (59º-86ºF).
Caution patients about the signs of potential side effects.

Drug/Laboratory Test Interactions
Combinations containing any of the following medications, depending on the amount present, may interact with this product.
• Anesthetics, hydrocarbon inhalation
• Tricyclic antidepressants
• Antihypertensives
• Alpha-adrenergic blocking agents
• Beta-adrenergic blocking agents
• CNS stimulating/depression producing medications
• MOA inhibitors
Antihistamines may interfere with skin tests using allergen extracts, producing false-negative results. It is recommended that antihistamines be discontinued at least 72 hours before such testing.
Carcinogenesis, Mutagenesis and Impairment of Fertility
No studies have been performed to evaluate the carcinogenic or mutagenic potential of this product.

Pregnancy
Pregnancy category C. It is not known whether this product can cause fetal harm when administered to a pregnant woman. This product should be given to pregnant woman only if clearly needed.

Labor and Delivery
Use of sympathomimetic amines during late pregnancy or during labor may cause fetal anoxia and bradycardia by increasing contractibility of the uterus and decreasing uterine blood flow.

Nursing Mothers
Because of the higher risk of intolerance of antihistamines in infants in general, and in newborns in particular, this product is contraindicated in nursing mothers.

Pediatrics
The use of antihistamines is not recommended in young children (newborns and infants). This age group may be at a higher risk than others because of an increased susceptibility to anticholinergic effects such as CNS excitation, and an increased tendency toward convulsion. In older children, antihistamines may cause a paradoxical reaction characterized by hyperexcitability. Very young children may be more sensitive to the effects of sympathomimetics.

Geriatrics
The elderly (60 years or older) may be more susceptible to the vasopressor effects of sympathomimetics. Confusion, hallucinations, seizures and CNS depression may be more likely to occur in geriatric patients taking sympathomimetics. Antihistamines may cause confusion, dizziness, sedation, hypotension, hyperexcitability, and anticholinergic side effects such as dryness of the mouth and urinary retention in geriatric patients. If these symptoms occur and continue, or are severe, medication should probably be discontinued.
ADVERSE REACTIONS:
The most frequent reactions include drowsiness, lightheadedness, nausea, and dryness of mouth. Less frequently restlessness, nervousness, trembling, or weakness may occur. These side effects need medical attention only if they continue or are bothersome. Those indicating need for immediate medical attention include: CNS depression (severe drowsiness), CNS stimulation (hallucinations, seizures), anticholinergic effects (clumsiness, flushing of the face, shortness of breath, troubled breathing), severe headache, hypertension, or hypotension.
DRUG ABUSE AND DEPENDENCE:
Central nervous system stimulants such as sympathomimetic amines have been abused. At high doses, subjects commonly experience an elevation of mood, a sense of increased energy and alertness and decreased appetite. Some individuals become anxious, irritable, and loquacious. In addition to the marked euphoria, the user experiences a sense of markedly enhanced physical strength and mental capacity. With continued use, tolerance develops, the user increases the dose, and toxic signs and symptoms appear. Depression may follow rapid withdrawal.
Nasal decongestants such as Phenylephrine Hydrochloride have been banned and tested by the U.S. Olympic Committee (USOC) and the National Collegiate Athletic Association (NCAA).
OVERDOSAGE:
Signs and symptoms: This product is comprised of pharmacologically different products. Therefore, it is difficult to predict the exact manifestation of symptoms in a given individual. A description of symptoms, which are likely to appear after ingestion of an excess of the individual components, follows: Overdosage with antihistamines may cause hallucinations, convulsions or possibly death, especially in infants and children. Antihistamines are more likely to cause dizziness, sedation, and hypotension in elderly patients. Overdosage with sympathomimetic amines can cause cardiac arrhythmias, cerebral hemorrhage and pulmonary edema. It can also cause palpitations, tremor, dizziness, vomiting, fear, labored breathing, headache, pallor, weakness, hallucinations, and delirium.
Recommended treatment: In the event of overdose, emergency treatment should be started immediately. Since the action of sustained release products may continue for as long as 12 hours, treatment should be directed toward reducing further absorption and supporting the patient for at least that length of time.
Since there is no specific antidote for overdose with this product, treatment is symptomatic and supportive with possible utilization of the following:
• If the amount ingested is considered dangerous or excessive induce vomiting with ipecac syrup unless the patient is convulsing, comatose, or has lost the gag reflex, in which case perform gastric lavage.
• Gastric lavage (isotonic or 0.45% sodium chloride solution) if patient is unable to vomit within 3 hours of ingestion.
• Saline cathartics (milk of magnesia) are sometimes used.
• Vasopressors to treat hypotension, however, epinephrine should not be used since it may further lower blood pressure.
• Oxygen and intravenous fluids
• Precaution against use of stimulants (analeptic agents) because they may cause seizures.
• For reflex bradycardia accompanying the pressor response to phenylephrine atropine may be used to block the effect.
• For excessive hypertensive effects, an alpha-adrenergic blocker, such as phentolamine, may be administered.
DOSAGE AND ADMINISTRATION:
Adults and adolescents 12 years of age and older: 1 or 2 tablets every 12 hours as directed by a physician.
Children 6 to 12 years: 1 tablet every 12 hours, as directed by a physician.
Not recommended for children under 6 years.
Tablets should not be crushed or chewed.
Do not exceed recommended doses in a 24-hour period.
HOW SUPPLIED:
Phenylephrine Hydrochloride 20 mg / Chlorpheniramine Maleate 4 mg are supplied as white, round shaped tablets imprinted upper "RE 330" with lower plain w/bisect. Bottles of 100 tablets, NDC 68032-330-10.
KEEP THIS AND ALL MEDICATION OUT OF THE REACH OF CHILDREN. IN CASE OF ACCIDENTAL OVERDOSE, SEEK PROFESSIONAL ASSISTANCE OR CONTACT A POISON CONTROL CENTER IMMEDIATELY.

Dispense in a tight, light-resistant container as defined in the USP/NF with child resistant closures.

Store at controlled room temperature, 15°-30°C (59°-86°F); see USP Controlled Room Temperature. Avoid exposure to heat.

Manufactured for:
Rivers Edge Pharmaceuticals, LLC
Suwanee, GA 30024
PI 284 Rev. 06/08
330-11
PACKAGING:
NDC 68032-330-10 100 Tablets
PHENYLEPHRINE HCl 20 mg/CHLORPHENIRAMINE MALEATE 4 mg
TABLETS
Rx ONLY
Nasal Decongestant/Antihistamine

Each Extended-Release Tablet Contains:
Phenylephrine Hydrochloride ..... 20 mg
Chlorpheniramine Maleate ..... 4 mg

68032 330-10

DOSAGE AND AMINISTRATION
Adults and adolescents 12 years of age and older: 1 or 2 tablets every 12 hours as directed by a physician.
Children 6 to 12 years: 1 tablet every 12 hours, as directed by a physician.
Not recommended for children under 6 years.
See product literature for full prescribing information.

KEEP THIS AND ALL MEDICATION OUT OF THE REACH OF CHILDREN. IN CASE OF ACCIDENTAL OVERDOSE, SEEK PROFESSIONAL ASSISTANCE OR CONTACT A POISON CONTROL CENTER IMMEDIATELY.

Dispense in a tight, light-resistant container as defined in the USP/NF with child resistant closures.

Store at controlled room temperature, 15°-30°C (59°-86°F); see USP Controlled Room Temperature. Avoid exposure to heat.

Manufactured for:
Rivers Edge Pharmaceuticals, LLC
Suwanee, GA 30024
PL 284 Rev. 06/08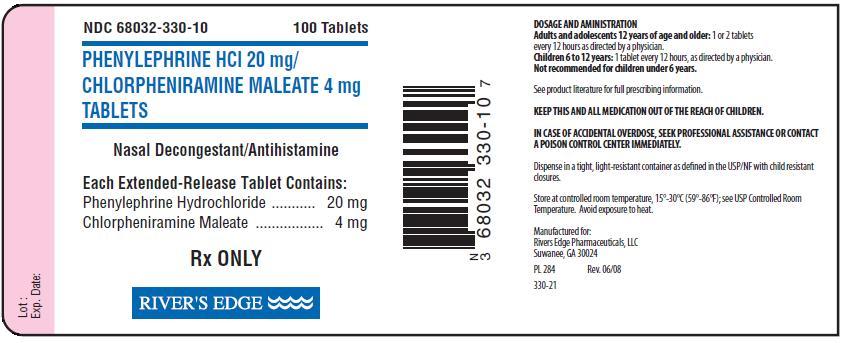 PHENYLEPHRINE HYDROCHLORIDE, CHLORPHENIRAMINE MALEATE
phenylephrine hydrochloride, chlorpheniramine maleate tablet
Product Information
Product Type
HUMAN PRESCRIPTION DRUG LABEL
Item Code (Source)
NDC:68032-330
Route of Administration
ORAL
DEA Schedule
Active Ingredient/Active Moiety
Ingredient Name
Basis of Strength
Strength
PHENYLEPHRINE HYDROCHLORIDE (PHENYLEPHRINE)
PHENYLEPHRINE HYDROCHLORIDE
20 mg
CHLORPHENIRAMINE MALEATE (CHLORPHENIRAMINE)
CHLORPHENIRAMINE MALEATE
4 mg
Inactive Ingredients
Ingredient Name
Strength
CROSCARMELLOSE SODIUM
DIBASIC CALCIUM PHOSPHATE DIHYDRATE
HYPROMELLOSE 2208 (100 MPA.S)
CELLULOSE, MICROCRYSTALLINE
SILICON DIOXIDE
STEARIC ACID
TALC
Product Characteristics
Color
white
Score
2 pieces
Shape
ROUND
Size
12mm
Flavor
Imprint Code
RE;330
Contains
Packaging
#
Item Code
Package Description
1
NDC:68032-330-10
100 TABLET (TABLET) in 1 BOTTLE
Marketing Information
Marketing Category
Application Number or Monograph Citation
Marketing Start Date
Marketing End Date
unapproved drug other
09/03/2008
03/31/2011
Labeler - River's Edge Pharmaceuticals, LLC (133879135)
River's Edge Pharmaceuticals, LLC
More about chlorpheniramine / phenylephrine
Patient resources
Professional resources
Other brands
Related treatment guides