Generic Name: amoxicillin, clarithromycin, and lansoprazole (a MOX i SIL in, kla RITH roe MYE sin, LAN soe PRA zole)
Brand Name: Prevpac
What is Prevpac?
Amoxicillin is a penicillin antibiotic. Clarithromycin is a macrolide antibiotic. These antibiotics fight bacteria in the body.
Lansoprazole decreases the amount of acid produced in the stomach.
Prevpac is a combination medicine used in people with Helicobacter pylori (H. pylori) infection and stomach ulcers. Treating H. pylori infection can help prevent future stomach ulcers.
Prevpac may also be used for purposes not listed in this medication guide.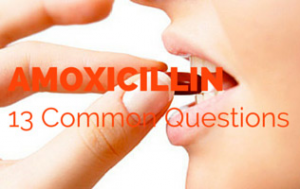 Important Information
You should not take this medicine if you have a history of long QT syndrome or certain heart rhythm disorders, or a history of liver problems caused by taking clarithromycin.
You also should not take this medicine if you have ever had a severe allergic reaction to certain antibiotics, including azithromycin (Zithromax, Z-Pak), erythromycin, telithromycin, amoxicillin or other penicillins (ampicillin, Amoxil, Augmentin, Trimox, and others), or cephalosporins (Duricef, Keflex, Spectracef, and others).
Serious drug interactions can occur when certain medicines are used together. Tell each of your healthcare providers about all medicines you use now, and any medicine you start or stop using.
Before taking this medicine
You should not take this medicine if you are allergic to amoxicillin (Amoxil), clarithromycin (Biaxin), or lansoprazole (Prevacid), or if:
you have a history of long QT syndrome or certain heart rhythm disorders;

you have ever had liver problems or jaundice caused by taking clarithromycin;

you are allergic to azithromycin (Zithromax, Z-Pak), erythromycin, or telithromycin;

you have had a severe allergic reaction to a penicillin antibiotic, including ampicillin, Augmentin, Principen, Timentin, Trimox, and others; or

you have had a severe allergic reaction to a cephalosporin antibiotic such as cefdinir, cefprozil, cefuroxime, cephalexin, Duricef, Omnicef, Cefzil, Keflex, Spectracef, and others.
Some medicines can cause unwanted or dangerous effects when used with Prevpac. Your doctor may need to change your treatment plan if you use any of the following drugs:
cisapride;

colchicine (if you also have liver or kidney disease);

pimozide;

lovastatin (Advicor, Altoprev, Mevacor) or simvastatin (Zocor, Simcor, Vytorin, Juvisync); or

ergot medicine--dihydroergotamine, ergotamine, ergonovine, methylergonovine.
To make sure Prevpac is safe for you, tell your doctor if you have:
liver disease;

kidney disease;

allergies;

myasthenia gravis;

osteoporosis or low bone mineral density (osteopenia); or

an electrolyte imbalance or metabolic disorder.
Taking a proton pump inhibitor such as lansoprazole may increase your risk of bone fracture in the hip, wrist, or spine. This effect has occurred mostly in people who have taken the medication long term or at high doses, and in those who are age 50 and older. It is not clear whether lansoprazole is the actual cause of an increased risk of fracture.
It is not known whether this medicine will harm an unborn baby. Tell your doctor if you are pregnant or plan to become pregnant.
Amoxicillin can make birth control pills less effective. Ask your doctor about using non hormonal birth control (condom, diaphragm with spermicide) to prevent pregnancy while taking Prevpac.
Amoxicillin and lansoprazole can pass into breast milk and may harm a nursing baby. You should not breast-feed while using this medicine.
This medicine is not approved for use by anyone younger than 18 years old.
How should I take Prevpac?
Follow all directions on your prescription label. Do not take this medicine in larger or smaller amounts or for longer than recommended.
Each dose of this combination medicine contains 4 pills (3 capsules and 1 tablet). Take all 4 pills twice daily before you eat, unless your doctor tells you otherwise.
Do not crush, chew, break, or open the pills. Swallow each pill whole. You may swallow the pills one at a time.
Use this medicine for the full prescribed length of time. Your symptoms may improve before the infection is completely cleared. Skipping doses may also increase your risk of further infection that is resistant to antibiotics. This medicine will not treat a viral infection such as the flu or a common cold.
This medicine can cause unusual results with certain lab tests for glucose (sugar) in the urine. Tell any doctor who treats you that you are using Prevpac.
Store at room temperature, away from moisture, heat, and light.
What happens if I miss a dose?
Take the missed dose as soon as you remember. Skip the missed dose if it is almost time for your next scheduled dose. Do not take extra medicine to make up the missed dose.
What happens if I overdose?
Seek emergency medical attention or call the Poison Help line at 1-800-222-1222.
What should I avoid while taking Prevpac?
This medicine can cause diarrhea, which may be a sign of a new infection. If you have diarrhea that is watery or bloody, call your doctor. Do not use anti-diarrhea medicine unless your doctor tells you to.
If you also take sucralfate (Carafate), avoid taking it within 30 minutes after you take Prevpac. Sucralfate can make it harder for your body to absorb lansoprazole.
Prevpac side effects
Get emergency medical help if you have signs of an allergic reaction: hives; difficult breathing; swelling of your face, lips, tongue, or throat.
Call your doctor at once if you have:
diarrhea that is watery or bloody;

headache with chest pain and severe dizziness, fainting, fast or pounding heartbeats;

liver problems--nausea, upper stomach pain, itching, tired feeling, loss of appetite, dark urine, clay-colored stools, jaundice (yellowing of the skin or eyes);

kidney problems--urinating more or less than usual, blood in your urine, swelling, rapid weight gain;

signs of inflammation in your body--swollen glands, flu symptoms, easy bruising or bleeding, severe tingling or numbness, muscle weakness, chest pain, new or worsening cough with fever, trouble breathing; or

severe skin reaction--fever, sore throat, swelling in your face or tongue, burning in your eyes, skin pain, followed by a red or purple skin rash that spreads (especially in the face or upper body) and causes blistering and peeling.
Serious side effects may be more likely in older adults.
Common side effects may include:
diarrhea, constipation;

headache;

vaginal itching or discharge;

nausea, vomiting, stomach pain;

unusual or unpleasant taste in the mouth; or

discolored teeth, black or "hairy" tongue.
This is not a complete list of side effects and others may occur. Call your doctor for medical advice about side effects. You may report side effects to FDA at 1-800-FDA-1088.
What other drugs will affect Prevpac?
A gout medicine called colchicine (Colcrys) can interact with clarithromycin and cause serious or life-threatening medical problems. You should not take colchicine during your treatment with Prevpac, especially if you are an older adult with kidney disease.
Many other drugs can interact with clarithromycin. Not all possible interactions are listed here. Tell your doctor about all your medications and any you start or stop using during treatment with Prevpac, especially:
atorvastatin (Lipitor, Caduet) or pravastatin (Pravachol);

carbamazepine;

insulin or oral diabetes medicine (especially nateglinide, pioglitazone, repaglinide, or rosiglitazone);

mycophenolate mofetil;

warfarin (Coumadin, Jantoven);

HIV or AIDS medicine--atazanavir, ritonavir, saquinavir;

a Valium-type sedative--alprazolam, midazolam, triazolam;

heart or blood pressure medication--amlodipine, diltiazem, verapamil;

heart rhythm medication--amiodarone, disopyramide, dofetilide, dronedarone, ibutilide, procainamide, quinidine, sotalol; or

sildenafil (Viagra) and other erectile dysfunction medicines--avanafil (Stendra), tadalafil (Cialis), vardenafil (Levitra).
This list is not complete and many other drugs can interact with Prevpac. This includes prescription and over-the-counter medicines, vitamins, and herbal products. Give a list of all your medicines to any healthcare provider who treats you.
More about Prevpac (amoxicillin / clarithromycin / lansoprazole)
Consumer resources
Professional resources
Related treatment guides
Where can I get more information?
Your pharmacist can provide more information about Prevpac.
Copyright 1996-2012 Cerner Multum, Inc. Version: 5.02.
Date modified: January 03, 2018
Last reviewed: January 21, 2015