Generic Name: methadone hydrochloride
Dosage Form: oral powder

Methadone Hydrochloride USP Powder

CII

FOR ORAL USE ONLY
CONDITIONS FOR DISTRIBUTION AND USE OF METHADONE PRODUCTS
Code of Federal Regulations, Title 21, Sec. 291.505
METHADONE PRODUCTS WHEN USED FOR THE TREATMENT OF NARCOTIC ADDICTION IN DETOXIFICATION OR MAINTENANCE PROGRAMS, SHALL BE DISPENSED ONLY BY APPROVED HOSPITAL PHARMACIES, APPROVED COMMUNITY PHARMACIES AND BY MAINTENANCE PROGRAMS APPROVED BY THE FOOD AND DRUG ADMINISTRATION AND THE DESIGNATED STATE AUTHORITY.
APPROVED MAINTENANCE PROGRAMS SHALL DISPENSE AND USE METHADONE IN ORAL FORM ONLY AND ACCORDING TO THE TREATMENT REQUIREMENTS STIPULATED IN THE FEDERAL METHADONE REGULATIONS (21 CFR 291.505).
FAILURE TO ABIDE BY THE REQUIREMENTS IN THESE REGULATIONS MAY RESULT IN CRIMINAL PROSECUTION, SEIZURE OF THE DRUG SUPPLY, REVOCATION OF THE PROGRAM APPROVAL AND INJUNCTION PRECLUDING OPERATION OF THE PROGRAM.
Methadone Powder Description
Methadone Hydrochloride is a white powder. It is chemically named 6-dimethylamino-4, 4-diphenyl-3-heptanone hydrochloride.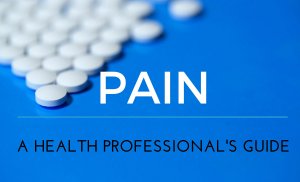 ACTIONS
Methadone hydrochloride is a synthetic narcotic analgesic with multiple actions quantitatively similar to those of morphine, the most prominent of which involve the central nervous system and organs composed of smooth muscle. The principal actions of therapeutic value are analgesia and sedation, detoxification or maintenance in narcotic addiction. The methadone abstinence syndrome, although qualitatively similar to that of morphine, differs in that the onset is slower, the course is more prolonged, and the symptoms are less severe.
When administered orally, methadone is approximately one-half as potent as when given parenterally. Oral administration results in a delay of the onset, a lowering of the peak, and an increase in the duration of analgesic effect.
INDICATIONS
1. Detoxification treatment of narcotic addiction (heroin or other morphine-like drugs).
2. Maintenance treatment of narcotic addiction (heroin or other morphine-like-drugs), in conjunction with appropriate social and medical services.
NOTE:
If methadone is administered for treatment of heroin dependence for more than three weeks, the procedure passes from treatment of the acute withdrawal syndrome (detoxification) to maintenance therapy. Maintenance treatment is permitted to be undertaken only by approved methadone programs. This does not preclude the maintenance treatment of an addict who is hospitalized for medical conditions other than addiction and who requires temporary maintenance during the critical period of his stay or whose enrollment has been verified in a program which has approval for maintenance treatment with methadone.
CONTRAINDICATION
Hypersensitivity to methadone.
Warnings
Methadone hydrochloride powder is for oral administration only and is used in the preparation of a liquid by dissolving the powder in an appropriate vehicle. This preparation must not be injected. It is recommended that the methadone hydrochloride liquid preparation, if dispensed, be packaged in child-resistant containers and kept out of the reach of children to prevent accidental ingestion.
Methadone hydrochloride, a narcotic, is a Schedule II controlled substance under the Federal Controlled Substances Act. Appropriate security measures should be taken to safeguard stocks of methadone against diversion.
DRUG DEPENDENCE
METHADONE CAN PRODUCE DRUG DEPENDENCE OF THE MORPHINE TYPE AND, THEREFORE, HAS THE POTENTIAL FOR BEING ABUSED. PSYCHIC DEPENDENCE, PHYSICAL DEPENDENCE, AND TOLERANCE MAY DEVELOP UPON REPEATED ADMINISTRATION OF METHADONE, AND IT SHOULD BE PRESCRIBED AND ADMINISTERED WITH THE SAME DEGREE OF CAUTION APPROPRIATE TO THE USE OF MORPHINE.
Interaction with Other Central Nervous System Depressants:
Methadone should be used with caution and in reduced dosage in patients who are concurrently receiving other narcotic analgesics, general anesthetics, phenothiazines, other tranquilizers, sedative-hypnotics, tricyclic anti-depressants, and other C.N.S. depressants (including alcohol). Respiratory depression, hypotension, and profound sedation or coma may result.
Anxiety:
Since methadone, as used by tolerant subjects at a constant maintenance dosage, is not a tranquilizer, patients who are maintained on this drug will react to life problems and stresses with the same symptoms of anxiety as do other individuals. The physician should not confuse such symptoms with those of narcotic abstinence and should not attempt to treat anxiety by increasing the dosage of methadone. The action of methadone in maintenance treatment is limited to the control of narcotic symptoms and is ineffective for relief of general anxiety.
Head Injury and Increased Intracranial Pressure:
The respiratory depressant effects of methadone and its capacity to elevate cerebrospinal-fluid pressure may be markedly exaggerated in the presence of increased intracranial pressure. Furthermore, narcotics produce side-effects that may obscure the clinical course of patients with head injuries. In such patients, methadone must be used with caution and only if it is deemed essential.
Asthma and Other Respiratory Conditions:
Methadone should be used with caution in patients having an acute asthmatic attack, in those with chronic obstructive pulmonary disease or cor pulmonale, and in individuals with a substantially decreased respiratory reserve, preexisting respiratory depression, hypoxia, or hypercapnia. In such patients, even usual therapeutic doses of narcotics may decrease respiratory drive while simultaneously increasing airway resistance to the point of apnea.
Hypotensive Effect:
The administration of methadone may result in severe hypotension in an individual whose ability to maintain his blood pressure has already been compromised by a depleted blood volume or concurrent administration of such drugs as the phenothiazines or certain anesthetics.
Use in Ambulatory Patients:
Methadone may impair the mental and/or physical abilities required for the performance of potentially hazardous tasks, such as driving a car or operating machinery. The patient should be cautioned accordingly.
Methadone, like other narcotics, may produce orthostatic hypotension in ambulatory patients.
Use in Pregnancy:
Safe use in pregnancy has not been established in relation to possible adverse effects on fetal development. Therefore, methadone should not be used in pregnant women unless, in the judgment of the physician, the potential benefits outweigh the possible hazards.
Precautions
Interaction with Pentazocine:
Patients who are addicted to heroin or who are on the methadone maintenance program may experience withdrawal symptoms when given pentazocine.
Interaction with Rifampin:
The concurrent administration of rifampin may possibly reduce the blood concentration of methadone to a degree sufficient to produce withdrawal symptoms. The mechanism by which rifampin may decrease blood concentrations of methadone is not fully understood, although enhanced microsomal drug-metabolized enzymes may influence drug disposition.
Acute Abdominal Conditions:
The administration of methadone or other narcotics may obscure the diagnosis or clinical course patients with acute abdominal conditions.
Interaction with Monoamine Oxidase (MAO) Inhibitors:
Therapeutic doses of meperidine have precipitated severe reactions patients concurrently receiving monoamine oxidase inhibitors or those who have received such agents with fourteen days. Similar reactions thus far have not been reported with methadone; but if the use of methadone is necessary in such patients, a sensitivity test should be performed in which repeated small incremental doses are administered over the course of several hours while the patient's condition and vital signs are under careful observation.
Special-Risk Patients:
Methadone should be given with caution and the initial dose should be reduced in certain patients, such as the elderly or debilitated and those with severe impairment of hepatic or renal function, hypothyroidism, Addison's disease, prostatic hypertrophy, or urethral stricture.
Adverse Reactions
Heroin Withdrawal:
During the induction phase of methadone maintenance treatment, patients are being withdrawn from heroin and may therefore show typical withdrawal symptoms, which should be differentiated from methadone-induced side-effects. They may exhibit some or all of the following symptoms associated with acute withdrawal from heroin or other opiates: lacrimation, rhinorrhea, sneezing, yawning, excessive perspiration, gooseflesh, fever, chilliness alternating with flushing, restlessness, irritability, "sleepy yen," weakness, anxiety, depression, dilated pupils, tremors, tachycardia, abdominal cramps, body aches, involuntary twitching and kicking movements, anorexia, nausea, vomiting, diarrhea, intestinal spasms, and weight loss.
Initial Administration:
Initially, the dosage of methadone should be carefully titrated to the individual. Induction too rapid for the patient's sensitivity is more likely to produce the following effects.
THE MAJOR HAZARDS OF METHADONE, AS OF OTHER NARCOTIC ANALGESICS, ARE RESPIRATORY DEPRESSION AND, TO A LESSER DEGREE, CIRCULATORY DEPRESSION. RESPIRATORY ARREST, SHOCK, AND CARDIAC ARREST HAVE OCCURRED.
The most frequently observed adverse reactions include lightheadedness, dizziness, sedation, nausea, vomiting, and sweating. These effects seem to be more prominent in ambulatory patients and in those who are not suffering severe pain. In such individuals, lower doses are advisable. Some adverse reactions may be alleviated in the ambulatory patient if he lies down.
Other adverse reactions include the following:
Central Nervous System – Euphoria, dysphoria, weakness, headache, insomnia, agitation, disorientation, and visual disturbances.
Gastro-Intestinal – Dry mouth, anorexia, constipation, and biliary tract spasm.
Cardiovascular – Flushing of the face, bradycardia, palpitation, faintness, and syncope.
Genito-Urinary – Urinary retention or hesitancy, antidiuretic effect, and reduced libido and/or potency.
Allergic – Pruritus, urticaria, other skin rashes, edema, and, rarely, hemorrhagic urticaria.
Maintenance on a Stabilized Dose:
During prolonged administration of methadone, as in a methadone maintenance treatment program, there is a gradual, yet progressive, disappearance of side-effects over a period of several weeks. However, constipation and sweating often persist.
Methadone Powder Dosage and Administration
METHADONE HYDROCHLORIDE POWDER MUST BE DISSOLVED IN AN APPROPRIATE LIQUID VEHICLE BEFORE ORAL ADMINISTRATION.
For Detoxification Treatment:
THE DRUG SHALL BE ADMINISTERED DAILY UNDER CLOSE SUPERVISION AS FOLLOWS:
A detoxification treatment course shall not exceed twenty-one days and may not be repeated earlier than four weeks after completion of the preceding course.
In detoxification, the patient may receive methadone when there are significant symptoms of withdrawal. The dosage schedules indicated below are recommended but could be varied in accordance with clinical judgment. Initially, a single oral dose of 15 to 20 mg. of methadone will often be sufficient to suppress withdrawal symptoms. Additional methadone may be provided if withdrawal symptoms are not suppressed or if symptoms reappear. When patients are physically dependent on high doses, it may be necessary to exceed these levels. Forty mg. per day in single or divided doses will usually constitute an adequate stabilizing dosage level. Stabilization can be continued for two to three days, and then the amount of methadone normally will be gradually decreased. The rate at which methadone is decreased will be determined separately for each patient. The dose of methadone can be decreased on a daily basis or at two-day intervals, but the amount of intake shall always be sufficient to keep withdrawal symptoms at a tolerable level. In hospitalized patients, a daily reduction of 20 percent of the total daily dose may be tolerated and may cause little discomfort. In ambulatory patients, a somewhat slower schedule may be needed. If methadone is administered for more than three weeks, the procedure is considered to have progressed from detoxification or treatment of the acute withdrawal syndrome to maintenance treatment, even though the goal and intent may be eventual total withdrawal.
For Maintenance Treatment:
In maintenance treatment, the initial dosage of methadone should control the abstinence symptoms that follow withdrawal of narcotic drugs but should not be so great as to cause sedation, respiratory depression, or other effects of acute intoxication. It is important that the initial dosage be adjusted on an individual basis to the narcotic tolerance of the new patient. If such a patient has been a heavy user of heroin up to the day of admission, he may be given 20 mg. four to eight hours later or 40 mg. in a single oral dose. If he enters treatment with little or no narcotic tolerance (e.g., if he has recently been released from jail or other confinement), the initial dosage maybe one-half these quantities. When there is any doubt, the smaller dose should be used initially. The patient should then be kept under observation, and, if symptoms of abstinence are distressing, additional 10 mg. doses may be administered as needed. Subsequently, the dosage should be adjusted individually, as tolerated and required, up to a level of 120 mg. daily. The patient will initially ingest the drug under observation daily, or at least six days a week, for the first three months. After demonstrating satisfactory adherence to the program regulations for at least three months, the patient may be permitted to reduce to three times weekly the occasions when he must ingest the drug under observation. He shall receive no more than a two-day take-home supply. With continuing adherence to the program's requirements for at least two years, he may then be permitted twice-weekly visits to the program for drug ingestion under observation with a three-day take-home supply. A daily dose of 120 mg. or more shall be justified in the medical record. Prior approval from state authority and the Food and Drug Administration is required for any dose above 120 mg. administered at the clinic and for any dose above 100 mg. to be taken at home. A regular review of dosage level should be made by the responsible physician, with careful consideration given to reduction of dosage as indicated on an individual basis. A new dosage level is only a test level until stability is achieved.
Special Consideration for a Pregnant Patient:
Caution shall be taken in the maintenance treatment of pregnant patients. Dosage levels shall be kept as low as possible if continued methadone treatment is deemed necessary. It is the responsibility of the program sponsor to assure that each female patient be fully informed concerning the possible risks to a pregnant woman or her unborn child from the use of methadone.
Special Limitations:
Treatment of Patients Under Age Eighteen
1. The safety and effectiveness of methadone for use in the treatment of adolescents have not been proven by adequate clinical study. Special procedures are therefore necessary to assure that patients under age sixteen will not be admitted to a program and that patients between sixteen and eighteen years of age will be admitted to maintenance treatment only under limited conditions.
2. Patients between sixteen and eighteen years of age who were enrolled and under treatment in approved programs on December 15, 1972, may continue in maintenance treatment. No new patients between sixteen and eighteen years of age may be admitted to a maintenance treatment program after March 15, 1973, unless a parent, legal guardian, or responsible adult designated by the state authority completes and signs Form FD 2635, "Consent for Methadone Treatment."
Methadone treatment of new patients between the ages of sixteen and eighteen years will be permitted after December 15, 1972, only with a documented history of two or more unsuccessful attempts at detoxification and a documented history of dependence on heroin or other morphine-like drugs beginning two years or more prior to application for treatment. No patient under age sixteen may be continued or started on methadone treatment after December 15, 1972, but these patients may be detoxified and retained in the program in a drug-free state for follow-up and aftercare.
3. Patients under age eighteen who are not placed on maintenance treatment may be detoxified. Detoxification may not exceed three weeks. A repeat episode of detoxification may not be initiated until four weeks after the completion of the previous detoxification.
Overdosage
Symptoms:
Serious overdosage of methadone is characterized by respiratory depression (a decrease in respiratory rate and/or tidal volume, Cheyne-Stokes respiration, cyanosis), extreme somnolence progressing to stupor or coma, maximally constricted pupils, skeletal-muscle flaccidity, cold and clammy skin, and, sometimes, bradycardia and hypotension. In severe overdosage, particularly by the intravenous route, apnea, circulatory collapse, cardiac arrest, and death may occur.
Treatment:
Primary attention should be given to the reestablishment of adequate respiratory exchange through provision of a patent airway and institution of assisted or controlled ventilation. If a non-tolerant person, especially a child, takes a large dose of methadone, effective narcotic antagonists are available to counter-act the potentially lethal respiratory depression. THE PHYSICIAN MUST REMEMBER, HOWEVER, THAT METHADONE IS A LONG-ACTING DEPRESSANT (THIRTY-SIX TO FORTY-EIGHT HOURS), WHEREAS THE ANTAGONISTS ACT FOR MUCH SHORTER PERIODS (ONE TO THREE HOURS). The patient must, therefore, be monitored continuously for recurrence of respiratory depression and treated repeatedly with the narcotic antagonist as needed. If the diagnosis is correct and respiratory depression is due only to overdosage of methadone, the use of respiratory stimulants is not indicated.
An antagonist should not be administered in the absence of clinically significant respiratory or cardiovascular depression. Intravenously administered narcotic antagonists, naloxone hydrochloride, nalorphine hydrochloride, or levallorphan tartrate are the drugs of choice to reverse signs of intoxication. These agents should be given repeatedly until the patient's status remains satisfactory. The hazard that the narcotic antagonist will further depress respiration is less likely with the use of naloxone.
Oxygen, intravenous fluids, vasopressors, and other supportive measures should be employed as indicated.
NOTE: IN AN INDIVIDUAL PHYSICALLY DEPENDENT ON NARCOTICS, THE ADMINISTRATION OF THE USUAL DOSE OF A NARCOTIC ANTAGONIST WILL PRECIPITATE AN ACUTE WITHDRAWAL SYNDROME. THE SEVERITY OF THIS SYNDROME WILL DEPEND ON THE DEGREE OF PHYSICAL DEPENDENCE AND THE DOSE OF THE ANTAGONIST ADMINISTERED. THE USE OF A NARCOTIC ANTAGONIST IN SUCH A PERSON SHOULD BE AVOIDED IF POSSIBLE. IF IT MUST BE USED TO TREAT SERIOUS RESPIRATORY DEPRESSION IN THE PHYSICALLY DEPENDENT PATIENT, THE ANTAGONIST SHOULD BE ADMINISTERED WITH EXTREME CARE AND BY TITRATION WITH SMALLER THAN USUAL DOSES OF THE ANTAGONIST.
How is Methadone Powder Supplied
Methadone Hydrochloride is supplied in containers of 50 gm., 100 gm., 500 gm., and 1 kilogram.
Preserve in tight, light-resistant containers. Store at controlled room temperature (15° to 30°C.) (59° to 86°F.)
MALLINCKRODT
MALLINCKRODT INC.
St. Louis, Missouri 63134
July 1998
1274111
Printed in U.S.A.
Principal Display Panel
COVIDIEN™
Mallinckrodt
C-II
METHADONE HYDROCHLORIDE USP
POWDER
INTENDED FOR FDA REGULATED USE. FOR DRUG USE. MEETS USP SPECIFICATIONS. CAUTION: FOR MANUFACTURING, PROCESSING, OR REPACKING. READ MATERIAL SAFETY DATA SHEET BEFORE HANDLING THIS PRODUCT. RX ONLY.
DANGER! Narcotic. Toxic if swallowed. May be fatal if swallowed. Harmful if inhaled or absorbed through skin. Allergic reactions are possible. Causes central nervous system effects. Dust may form explosive mixture with air.
Precautionary Measures:
Keep away from heat, sparks and flame. Do not breathe dust. Do not get in eyes, on skin, or on clothing. Keep container closed. Use only with adequate ventilation. Wash thoroughly after handling.
FIRST AID:
In the case of contact with eyes, rinse immediately with plenty of water and seek medical advice. In case of contact, immediately flush skin with plenty of water for at least 15 minutes while removing contaminated clothing and shoes. If gas/fume/vapor/dust/mist from the material is inhaled, remove the affected person immediately to fresh air. IF SWALLOWED: Immediately call a POISON CENTER or doctor/physician.
SPECIAL INFORMATION:
Preserve in tight, light-resistant containers. Store at 25 degrees C., excursions permitted between 15 and 30 degrees C. Containers of this material may be hazardous when empty since they retain product residues (dust, solids); observe all warnings and precautions listed for this product. Dispose of empty containers and unused contents in accordance with federal, state, and local requirements.
C.A.S. Listing:
1095-90-5 METHADONE HYDROCHLORIDE
SHIPPING INFORMATION
TOXIC SOLIDS, ORGANIC, N.O.S. (3-Heptanone, 6-(dimethylamino)-4, 4-diphenyl -, hydrochloride) UN2811
11/2013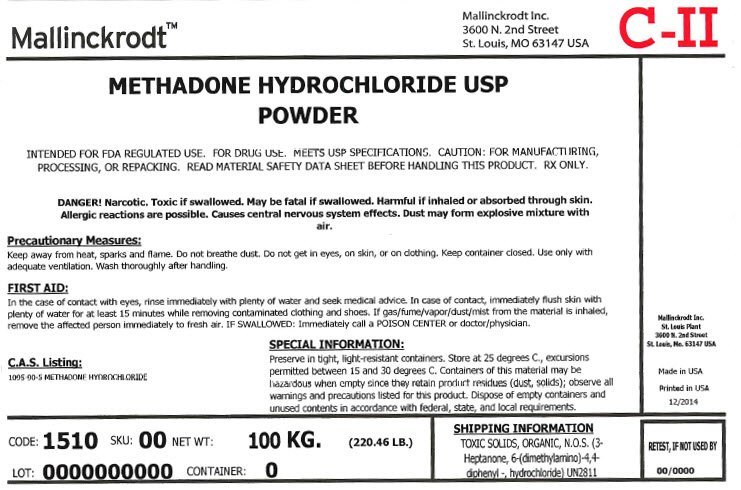 METHADONE HYDROCHLORIDE
methadone hydrochloride powder
Product Information
Product Type
HUMAN PRESCRIPTION DRUG LABEL
Item Code (Source)
NDC:0406-1510
Route of Administration
ORAL
DEA Schedule
CII
Active Ingredient/Active Moiety
Ingredient Name
Basis of Strength
Strength
METHADONE HYDROCHLORIDE (METHADONE)
METHADONE HYDROCHLORIDE
1 g in 1 g
Packaging
#
Item Code
Package Description
1
NDC:0406-1510-56
50 g in 1 BOTTLE, GLASS
2
NDC:0406-1510-57
100 g in 1 BOTTLE, GLASS
3
NDC:0406-1510-59
500 g in 1 BOTTLE, GLASS
Marketing Information

Marketing Category
Application Number or Monograph Citation
Marketing Start Date
Marketing End Date
NDA
NDA006383
04/30/2012
Labeler -

Mallinckrodt, Inc. (047021092)
Establishment

Name
Address
ID/FEI
Operations
MALLINCKRODT, INC.
163205300
ANALYSIS(0406-1510), API MANUFACTURE(0406-1510), MANUFACTURE(0406-1510)
Revised: 06/2014
Mallinckrodt, Inc.
More about methadone
Consumer resources
Professional resources
Related treatment guides