Durysta Dosage
Generic name: BIMATOPROST 10ug
Dosage form: intracameral implant
Medically reviewed by Drugs.com. Last updated on Mar 13, 2020.
2.
1
General Information
DURYSTA is an ophthalmic drug delivery system for a single intracameral administration of a biodegradable implant. DURYSTA should not be readministered to an eye that received a prior DURYSTA.
2.2
Administration
The intracameral injection procedure must be performed under magnification that allows clear visualization of the anterior chamber structures and should be carried out using standard aseptic conditions for intracameral procedures, with the patient's head in a stabilized position. The eye should not be dilated prior to the procedure.
Remove the foil pouch from the carton and examine for damage. Then, open the foil pouch over a sterile field and gently drop the applicator on a sterile tray. Once the foil pouch is opened, use promptly.
Figure 1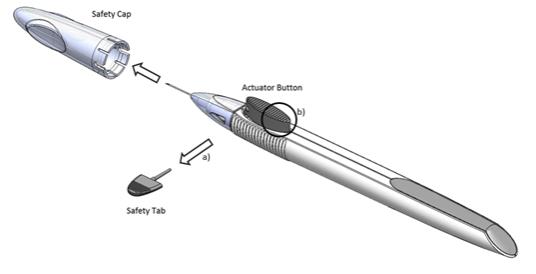 Perform a detailed visual inspection of the applicator, including ensuring that the actuator button has not been depressed, and the safety tab is in place. Carefully remove the plastic safety cap taking care to avoid contacting the needle tip. Inspect the needle tip for damage under magnification prior to use; the implant retention plug may be visible in the bevel and should not be removed.
Prior to use, remove the safety tab by pulling it out perpendicular to the long axis of the applicator (refer to Figure 1a above). Do not twist or bend the tab.
Stabilize the eye as the needle is advanced through the cornea. Enter the anterior chamber with the needle bevel visible through clear cornea. Enter parallel to the iris plane, adjacent to the limbus through clear cornea in the superotemporal quadrant.
The needle should be inserted approximately 2 bevel lengths with the bevel completely within the anterior chamber; avoid positioning the needle bevel directly over the pupil. Ensure the needle is not bent before depressing the actuator button. See Figure 2.
Figure 2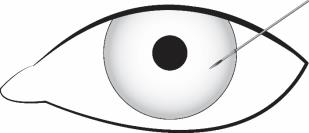 Depress the back half of the actuator button (refer to Figure 1b above) firmly until an audible and/or palpable click is noted.
Following the release of the implant, remove the needle via the same track in which it was inserted and tamponade the opening. The implant should not be left in the corneal injection track.
Check the injection site for leaks; make sure that it is self-sealing and the anterior chamber is formed.
After injection, do not recap the needle. Dispose of the used applicator in a sharps disposal container and in accordance with local requirements.
Instruct the patient to remain upright for at least 1 hour after the procedure so the implant can settle.
Some degree of eye redness and discomfort is expected following administration. However, it is recommended to instruct patients that if the eye becomes progressively red, sensitive to light, painful, or develops a change in vision, they should immediately contact the physician.
Further information
Always consult your healthcare provider to ensure the information displayed on this page applies to your personal circumstances.
More about Durysta (bimatoprost ophthalmic)
Consumer resources
Other brands: Lumigan
Professional resources
Related treatment guides