This material must not be used for commercial purposes, or in any hospital or medical facility. Failure to comply may result in legal action.
Osteoporosis
WHAT YOU NEED TO KNOW:
Osteoporosis is a long-term medical condition that causes your bones to become weak, brittle, and more likely to fracture. Osteoporosis occurs when your body absorbs more bone than it makes. It is also caused by a lack of calcium and estrogen (female hormone).
DISCHARGE INSTRUCTIONS:
Call your doctor if:
You have severe pain.
You have increasing pain after a fall.
You have pain when you do your daily activities.
You have questions or concerns about your condition or care.
Medicines:
Medicines may be given to prevent bone loss, build new bone, and increase estrogen. These medicines may be given as a pill or injection. Ask your healthcare provider for more information.
Take your medicine as directed. Contact your healthcare provider if you think your medicine is not helping or if you have side effects. Tell him of her if you are allergic to any medicine. Keep a list of the medicines, vitamins, and herbs you take. Include the amounts, and when and why you take them. Bring the list or the pill bottles to follow-up visits. Carry your medicine list with you in case of an emergency.
Prevent bone loss: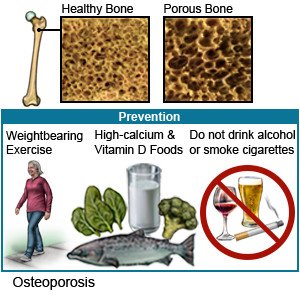 Eat healthy foods that are high in calcium. This helps keep your bones strong. Good sources of calcium are milk, cheese, broccoli, tofu, almonds, and canned salmon and sardines.
Increase your vitamin D intake. Vitamin D is in fish oils, some vegetables, and fortified milk, cereal, and bread. Vitamin D is also formed in the skin when it is exposed to the sun. Ask your healthcare provider how much sunlight is safe for you.
Drink liquids as directed. Ask your healthcare provider how much liquid to drink each day and which liquids are best for you. Do not have alcohol or caffeine. They decrease bone mineral density, which can weaken your bones.
Exercise regularly. Ask your healthcare provider about the best exercise plan for you. Weight bearing exercise for 30 minutes, 3 times a week can help build and strengthen bone.
Do not smoke. Nicotine and other chemicals in cigarettes and cigars can cause lung damage. Ask your healthcare provider for information if you currently smoke and need help to quit. E-cigarettes or smokeless tobacco still contain nicotine. Talk to your healthcare provider before you use these products.
Go to physical therapy as directed. A physical therapist teaches you exercises to help improve movement and muscle strength.
Follow up with your doctor as directed:
Write down your questions so you remember to ask them during your visits.
© Copyright IBM Corporation 2021 Information is for End User's use only and may not be sold, redistributed or otherwise used for commercial purposes. All illustrations and images included in CareNotes® are the copyrighted property of A.D.A.M., Inc. or IBM Watson Health
The above information is an educational aid only. It is not intended as medical advice for individual conditions or treatments. Talk to your doctor, nurse or pharmacist before following any medical regimen to see if it is safe and effective for you.
Learn more about Osteoporosis (Aftercare Instructions)
Associated drugs
IBM Watson Micromedex
Symptoms and treatments
Mayo Clinic Reference
Further information
Always consult your healthcare provider to ensure the information displayed on this page applies to your personal circumstances.