Back to Latest FDA Approvals
Generic Name: ibandronate sodium
Date of Approval: January 6, 2006
Company: Roche/GlaxoSmithKline
Treatment for: Postmenopausal Osteoporosis
FDA has approves Boniva Injection
The U.S. Food and Drug Administration (FDA) has approved Boniva (ibandronate sodium) Injection, the first intravenous (IV) medication for the treatment of postmenopausal osteoporosis.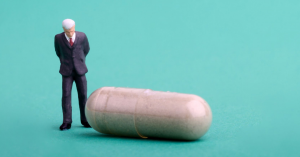 What is Boniva IV?
Boniva Injection, the first quarterly medication for the treatment of postmenopausal osteoporosis, is a member of the bisphosphonate class, which is the most frequently prescribed medicine for osteoporosis.1 It is administered by a healthcare professional once every three months.
Boniva Injection, administered as a 15-30 second IV injection, will provide an alternative for patients who have difficulty with oral bisphosphonate dosing requirements, including an inability to sit upright for 30 to 60 minutes and/or swallow a pill. Additionally, because Boniva IV will be administered by healthcare professionals, clinicians will have a greater awareness of patient compliance with therapy. Boniva IV was approved by the FDA based on results of the DIVA study (Dosing IntraVenous Administration), a clinical trial in 1,358 women with postmenopausal osteoporosis. Boniva IV will be available early 2006.
The FDA approved once-monthly Boniva in March 2005 as the first once-a-month tablet for postmenopausal osteoporosis. The once-monthly tablet (150 mg) became available in April 2005.
Approval of Boniva Injection and once-monthly oral Boniva follow a Surgeon General's Report that elevated osteoporosis to a major public health threat on par with smoking and obesity.1 Forty-four million Americans over 50 years of age are affected by or at risk for osteoporosis, a disease that causes bones to become weak and more likely to break,2 and can result in severe pain, deformity, disability, hospitalization and even death.3
Clinical Trial Results
Boniva was first approved in a daily oral tablet formulation (2.5 mg) for the treatment and prevention of postmenopausal osteoporosis based on studies showing it significantly reduced the risk of new vertebral fractures in women with postmenopausal osteoporosis and increased bone mineral density (BMD) in postmenopausal women without osteoporosis. Boniva Injection (3 mg once every three months) was approved based on results from the DIVA study, a randomized, double-blind, multinational, non-inferiority trial in 1,358 women with postmenopausal osteoporosis who were treated with either an IV injection or the once-daily oral formulation of Boniva.4 All patients received supplemental calcium and vitamin D throughout the trial.
DIVA showed that the average increase in lumbar spine BMD at one year in patients treated with Boniva Injection (3 mg once every three months) was statistically superior to that in patients treated with the daily oral tablets (4.5 percent vs. 3.5 percent for the two treatments, respectively, p < 0.001). The study also showed that patients treated with Boniva IV had consistently higher BMD increases in the total hip and other skeletal sites (femoral neck and trochanter) than patients treated with oral daily Boniva.5
Important Boniva Safety Information
Boniva IV is indicated for the treatment of osteoporosis in postmenopausal women. Boniva is contraindicated in patients with uncorrected hypocalcemia or known hypersensitivity to Boniva or any of its excipients. Boniva Injection, like other bisphosphonates administered intravenously, may cause a transient decrease in serum calcium values. Hypocalcemia, hypovitaminosis D and other disturbances of bone and mineral metabolism must be effectively treated before starting therapy. Patients must receive supplemental calcium and vitamin D. Boniva must only be administered intravenously by a healthcare professional. Patients who receive Boniva IV should have serum creatinine measured prior to each dose. Boniva IV should not be administered to patients with severe renal impairment (creatinine clearance <30 mL/min). Osteonecrosis of the jaw has rarely been reported in patients treated with bisphosphonates; most cases have been in cancer patients undergoing dental procedures who received intravenous bisphosphonates.
In a one-year study comparing Boniva Injection and Boniva Tablets 2.5 mg daily, the overall safety and tolerability profiles with the two dosing regimens were similar. The most commonly reported adverse events (5 percent or higher) regardless of causality were arthralgia (9.6 percent Boniva Injection vs 8.6 percent Boniva Tablet 2.5 mg), back pain (7.0 percent vs. 7.5 percent), influenza (4.7 percent vs. 8.0 percent), hypertension (5.3 percent vs. 7.1 percent), abdominal pain (5.1 percent vs. 5.6 percent), and nasopharyngitis (3.4 percent vs. 6.0 percent). In some patients, acute phase reaction-like events have been reported, usually only after the first injection. In most cases, no specific treatment was required and symptoms subsided in 24-48 hours.
About Boniva
Boniva IV 3 mg/3 mL will be available in boxes containing one single-use, clear glass prefilled syringe, along with one needle and an alcohol swab.
Once-monthly oral Boniva is a small, film-coated, easy-to-swallow tablet dosed at 150 mg. Boniva is also available in an oral 2.5 mg tablet taken once daily.
About Osteoporosis
Osteoporosis (literally "porous bones") is a disease in which bones become brittle and more likely to break. In the U.S., approximately ten million individuals, eight million of whom are women, are estimated to already have osteoporosis, and almost 34 million more are estimated to have low bone mass (osteopenia),3 placing them at increased risk for osteoporosis. Unfortunately, the prevalence of osteoporosis is growing, especially as the number of postmenopausal women in the population continues to rise. Together, osteoporosis and osteopenia are expected to affect an estimated 52 million women and men age 50 and older by 2010, and 61 million by 2020.3 Direct medical costs of osteoporosis total nearly $18 billion in the U.S. each year.2
References
Bone Health and Osteoporosis: A Report of the Surgeon General. Rockville, MD: U.S. Department of Health and Human Services, Office of the Surgeon General; 2004.
America's Bone Health: The State of Osteoporosis and Low Bone Mass in Our Nation: The National Osteoporosis Foundation; February 2002.
Doherty DA, Sanders KM, Kotowicz MA, Prince RL. Lifetime and five-year age-specific risks of first and subsequent osteoporotic fractures in postmenopausal women. Osteoporosis International 2001; 12:16-23.
BONIVA (ibandronate sodium) INJECTION [prescribing information] Roche Laboratories Inc., Nutley, NJ; 2006.
BONIVA (ibandronate sodium) TABLETS [prescribing information] Roche Laboratories Inc., Nutley, NJ; 2005.
Further information
Always consult your healthcare provider to ensure the information displayed on this page applies to your personal circumstances.
More about Boniva (ibandronate)
Consumer resources
Professional resources
Related treatment guides