Pronunciation
(bi MAT oh prost)
Dosage Forms
Excipient information presented when available (limited, particularly for generics); consult specific product labeling.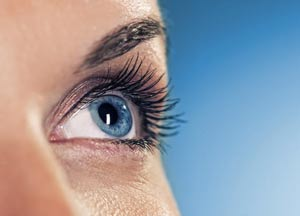 Solution, External:
Latisse: 0.03% (3 mL, 5 mL) [contains benzalkonium chloride]
Generic: 0.03% (3 mL, 5 mL)
Solution, Ophthalmic:
Lumigan: 0.01% (2.5 mL, 5 mL, 7.5 mL) [contains benzalkonium chloride]
Generic: 0.03% (2.5 mL, 5 mL, 7.5 mL)
Brand Names: U.S.
Pharmacologic Category
Ophthalmic Agent, Antiglaucoma
Prostaglandin, Ophthalmic
Pharmacology
As a synthetic analog of prostaglandin with ocular hypotensive activity, bimatoprost decreases intraocular pressure by increasing the outflow of aqueous humor. Bimatoprost may increase the percent and duration of hairs in the growth phase, resulting in eyelash growth.
Distribution
Vd: 0.67 L/kg
Metabolism
Undergoes oxidation, N-deethylation, and glucuronidation after reaching systemic circulation; forms metabolites
Excretion
Urine (67%); feces (25%)
Onset of Action
Reduction of IOP: ~4 hours; Peak effect: Maximum reduction of IOP: ~8 to 12 hours
Time to Peak
≤10 minutes
Half-Life Elimination
IV: ≤45 minutes
Protein Binding
~88%
Use: Labeled Indications
Elevated intraocular pressure (Lumigan; Vistitan [Canadian product]): Reduction of elevated intraocular pressure (IOP) in patients with open-angle glaucoma or ocular hypertension
Hypotrichosis of the eyelashes (Latisse): Treatment of hypotrichosis of the eyelashes
Contraindications
Hypersensitivity to bimatoprost or any component of the formulation.
Dosing: Adult
Elevated intraocular pressure (Lumigan; Vistitan [Canadian product]): Ophthalmic: Instill 1 drop into affected eye(s) once daily in the evening; do not exceed once-daily dosing (may decrease IOP-lowering effect). If used with other topical ophthalmic agents, separate administration by at least 5 minutes.
Hypotrichosis of the eyelashes (Latisse): Ophthalmic, topical: Place one drop on applicator and apply evenly along the skin of the upper eyelid at base of eyelashes once daily at bedtime; repeat procedure for second eye (use a clean applicator).
Dosing: Geriatric
Refer to adult dosing.
Dosing: Pediatric
Elevated intraocular pressure (Lumigan): Adolescents ≥16 years: Refer to adult dosing.
Hypotrichosis of the eyelashes (Latisse): Children ≥5 years and Adolescents: Refer to adult dosing.
Dosing: Renal Impairment
There are no dosage adjustments provided in the manufacturer's labeling.
Dosing: Hepatic Impairment
There are no dosage adjustments provided in the manufacturer's labeling.
Administration
Latisse: Remove make-up and contact lenses prior to application; ensure face is clean. Apply with the sterile applicator provided only; do not use other brushes or applicators. Use a tissue or cloth to blot any excess solution on the outside of the upper eyelid margin; do not apply to lower eyelash line. Do not reuse applicators; use new applicator for second eye. Applying more than once nightly will not increase eyelash growth; eyelash growth is expected to return to baseline when therapy is discontinued. May reinsert contacts 15 minutes after application.
Lumigan; Vistitan [Canadian product]: May be used with other eye drops to lower intraocular pressure. If using more than one ophthalmic product, wait at least 5 minutes in between application of each medication. Remove contact lenses prior to administration and wait 15 minutes before reinserting.
Storage
Store between 2°C to 25°C (36°F to 77°F).
Drug Interactions
Latanoprost: The concomitant use of Latanoprost and Bimatoprost may result in increased intraocular pressure. Consider therapy modification
Nonsteroidal Anti-Inflammatory Agents: May diminish the therapeutic effect of Prostaglandins (Ophthalmic). Nonsteroidal Anti-Inflammatory Agents may also enhance the therapeutic effects of Prostaglandins (Ophthalmic). Monitor therapy
Adverse Reactions
Adverse reactions and percentages are for Lumigan unless noted:
>10%:
Dermatologic: Increased growth in number of eyelashes
Ophthalmic: Conjunctival hyperemia (25% to 45%; Latisse: <4%), eye pruritus (>10%; Latisse: <4%)
1% to 10%:
Central nervous system: Headache (1% to 5%), foreign body sensation of eye
Dermatologic: Erythema of eyelid (1% to 10%; Latisse: <4%), hyperpigmentation of eyelashes, local skin hyperpigmentation (Lumigan and Latisse)
Endocrine & metabolic: Hirsutism
Hepatic: Abnormal hepatic function tests (1% to 5%)
Infection: Infection (10% [primarily colds and upper respiratory tract infections])
Neuromuscular & skeletal: Weakness (1% to 5%)
Ophthalmic: Dry eye syndrome (1% to 10%; Latisse: <4%), eye irritation (1% to 10%; Latisse: <4%), allergic conjunctivitis, asthenopia, blepharitis, burning sensation of eyes, cataract, conjunctival edema, conjunctival hemorrhage, eye discharge, eye pain, iris hyperpigmentation (may be delayed), lacrimation, photophobia, superficial punctate keratitis, visual disturbance
<1% (Limited to important or life-threatening): Acute bronchospasm, bacterial keratitis (caused by inadvertent contamination of multiple-dose ophthalmic solutions), blurred vision, cystoid macular edema, deepening of the eyelid sulcus, dizziness, dyspnea, eyelid edema, hair breakage, hypertension, iritis, local dryness, local hypersensitivity reaction, macular edema, madarosis, nausea, skin rash (including macular and erythematous), uveitis
Warnings/Precautions
Concerns related to adverse effects:
• Bacterial keratitis: Inadvertent contamination of multiple-dose ophthalmic solutions, has caused bacterial keratitis.
• Ocular effects: May permanently change/increase brown pigmentation of the iris, the eyelid skin, periorbital tissue, and eyelashes. In addition, may increase the length, thickness, and/or number of eyelashes (may vary between eyes); changes occur slowly and may not be noticeable for months or years. Pigmentation of the iris is likely to be permanent, while pigmentation of the periorbital tissue and eyelash changes may be reversible following discontinuation of therapy. Long-term consequences of increased pigmentation are not known.
• Ocular inflammation: Intraocular inflammation and exacerbation of inflammation may occur; use with caution in patients with active intraocular inflammation (eg, uveitis).
Disease-related concerns:
• Ocular disease: Use with caution in aphakic patients, pseudophakic patients with a torn posterior lens capsule, or patients with risk factors for macular edema. Safety and efficacy of Lumigan have not been determined for use in patients with angle-closure-, inflammatory-, or neovascular glaucoma.
Special populations:
• Contact lens wearers: Contains benzalkonium chloride which may be adsorbed and cause discoloration of soft contact lenses; remove contacts prior to administration and wait 15 minutes before reinserting.
Dosage form specific issues:
• Latisse: Patients receiving medications to reduce intraocular pressure should consult their healthcare provider prior to using; may interfere with desired reduction of intraocular pressure. Unintentional hair growth may occur on skin that has repeated contact with solution; apply to upper eyelid only, blot away excess.
Monitoring Parameters
Monitor IOP
Pregnancy Considerations
According to the manufacturer, an increased risk of major birth defects or miscarriages has not been observed following use of bimatoprost in pregnant women. If ophthalmic agents are needed during pregnancy, the minimum effective dose should be used in combination with punctual occlusion to decrease potential exposure to the fetus (Samples 1988).
Patient Education
• Discuss specific use of drug and side effects with patient as it relates to treatment. (HCAHPS: During this hospital stay, were you given any medicine that you had not taken before? Before giving you any new medicine, how often did hospital staff tell you what the medicine was for? How often did hospital staff describe possible side effects in a way you could understand?)
• Patient may experience eyelid changes or eyelash changes. Have patient report immediately to prescriber vision changes, eye pain, severe eye irritation, sensitivity to light, eye discharge, or eye discoloration (HCAHPS).
• Educate patient about signs of a significant reaction (eg, wheezing; chest tightness; fever; itching; bad cough; blue skin color; seizures; or swelling of face, lips, tongue, or throat). Note: This is not a comprehensive list of all side effects. Patient should consult prescriber for additional questions.
Intended Use and Disclaimer: Should not be printed and given to patients. This information is intended to serve as a concise initial reference for health care professionals to use when discussing medications with a patient. You must ultimately rely on your own discretion, experience, and judgment in diagnosing, treating, and advising patients.
More about bimatoprost ophthalmic
Consumer resources
Professional resources
Other brands: Lumigan
Related treatment guides