Reslizumab
Class: Interleukin Antagonists
Chemical Name: Disulfide with human-rat monoclonal SCH 55700 light chain, anti-(human interleukin 5) (human-rat monoclonal SCH 55700 γ4-chain), immunoglobulin G4 dimer
CAS Number: 241473-69-8
Brands: Cinqair
Warning
Anaphylaxis reported following reslizumab IV infusion.1 Observe patients for appropriate time after administration by a clinician prepared to manage anaphylaxis.1 Discontinue treatment immediately if patient experiences signs and/or symptoms of anaphylaxis.1 (See Sensitivity Reactions under Cautions.)
Introduction
Antiasthmatic agent; a recombinant DNA-derived humanized interleukin-5 (IL-5) receptor antagonist monoclonal antibody and IgG4 kappa immunoglobulin.1 6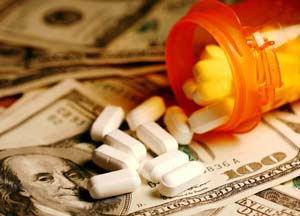 Uses for Reslizumab
Asthma
Adjunctive maintenance therapy in patients with severe eosinophilic asthma.1 2 3 4
Reduces asthma exacerbation rate and improves FEV1 from baseline.1 2 3 4
Eosinophilic phenotype (i.e., eosinophilic asthma) generally characterized by blood and sputum eosinophilia, eosinophilic inflammation, recurrent asthma exacerbations, and, frequently, responsiveness to corticosteroids.6 8 9 10
Not indicated for treatment of other eosinophilic conditions.1
Not indicated for relief of acute bronchospasm or status asthmaticus.1
Reslizumab Dosage and Administration
Administration
IV Administration
Administer by IV infusion.1 Do not administer by rapid IV injection (e.g., IV push or bolus).1
Administer diluted reslizumab solution in a healthcare setting by a clinician prepared to manage anaphylaxis.1
Observe patient during infusion and for an appropriate period of time following infusion.1 Immediately discontinue therapy if patient experiences a severe systemic reaction (e.g., anaphylaxis).1 (See Sensitivity Reactions under Cautions.)
If diluted solution is refrigerated, allow to reach room temperature prior to administration.1
Administer drug via an infusion set through a compatible, low-protein-binding 0.2-µm inline filter (e.g., polyethersulfone [PES], polyvinylidene fluoride [PVDF], nylon, cellulose acetate inline filter).1
Flush IV line with 0.9% sodium chloride injection at end of infusion.1
Do not mix or dilute with any other drugs.1
Dilution
Must be diluted prior to administration.1
Remove single-use vials from the refrigerator; do not shake to avoid foaming.1
Translucent to white amorphous particles may be present in the solution.1 Do not administer if solution appears discolored or if other foreign particles are present.1
Withdraw required volume of reslizumab injection concentrate from vial labeled as containing 10 mg/mL; slowly dilute in 50 mL of 0.9% sodium chloride injection in a PVC or polyolefin infusion bag.1 Discard any unused portion of the injection concentrate.1
Mix by gentle inversion; do not shake.1
Rate of Administration
Administer by IV infusion over 20–50 minutes;1 infusion time may vary depending on the total volume of solution.1
Dosage
Adults
Asthma
IV
3 mg/kg every 4 weeks.1
Special Populations
No specific dosage recommendations for renal or hepatic impairment at this time.1
Geriatric Patients
Dosage adjustments not needed.1
Cautions for Reslizumab
Contraindications
History of hypersensitivity to the drug or any ingredient in the formulation.1
Warnings/Precautions
Sensitivity Reactions
Hypersensitivity
Hypersensitivity reactions (e.g., anaphylaxis) reported.1 2 4 Manifestations included dyspnea, decreased oxygen saturation, wheezing, vomiting, skin and mucosal involvement (e.g., urticaria).1 Reported as early as the second dose of reslizumab and occurred during infusion or within 20 minutes after infusion completed.1
Administer reslizumab in a healthcare setting by a clinician prepared to manage anaphylaxis.1 Observe patients for an appropriate period of time after administration.1 If severe systemic reactions (e.g., anaphylaxis) occur, immediately stop infusion and provide medical treatment.1 If anaphylaxis occurs, permanently discontinue treatment.1 (See Advice to Patients.)
Deterioration of Disease and Acute Episodes
Not indicated for treatment of acute asthma symptoms or exacerbations, acute bronchospasm, or status asthmaticus.1 (See Advice to Patients.)
Malignancy
Malignant neoplasms reported; occurred in various tissue types.1 Most of these malignancies were diagnosed within <6 months of exposure to reslizumab.1
Reduction of Corticosteroid Dosage
Do not abruptly discontinue systemic or inhaled corticosteroid therapy upon initiation of reslizumab therapy.1 If appropriate, reduce corticosteroid dosage gradually and supervise such reduction carefully.1
Parasitic Infection
Immune response against some parasitic (helminth) infections may be altered.1 Drug not studied in patients with known parasitic infections.1 Treat patients with preexisting parasitic (helminth) infections before initiating reslizumab.1 If parasitic infection occurs and does not respond to anthelminthic treatment, interrupt reslizumab therapy until infection resolves.1
Immunogenicity
Potential for immunogenicity.1 Development of anti-reslizumab antibodies reported.1 Effects on pharmacokinetics, pharmacodynamics, clinical efficacy, and safety of the drug not observed.1
Specific Populations
Pregnancy
No evidence of fetal harm in mice and rabbits following IV reslizumab during pregnancy.1 Potential effects of monoclonal antibodies (e.g., reslizumab) more likely to occur in second and third trimesters.1
Lactation
Distributed into milk in mice.1 Not known whether distributed into human milk.1 However, human IgG distributes into milk in humans.1
Weigh potential risks to infants against clinical need and known benefits of breast-feeding.1
Pediatric Use
Safety and efficacy not established in pediatric patients <18 years of age.1
Geriatric Use
No overall differences in efficacy or safety observed in patients ≥65 years of age compared with younger patients.1
Hepatic Impairment
Pharmacokinetics not studied in patients with hepatic impairment.1 (See Special Populations under Pharmacokinetics.)
Renal Impairment
Pharmacokinetics not studied in patients with renal impairment.1 (See Special Populations under Pharmacokinetics,)
Common Adverse Effects
Headache,2 3 upper respiratory tract infection,2 3 allergic rhinitis,2 back pain,2 sinusitis,3 urinary tract infection,3 dyspnea,3 dizziness,2 oropharyngeal pain,1 2 nausea/vomiting.2 3
Interactions for Reslizumab
No formal drug interaction studies to date.1
Drugs Metabolized by Hepatic Microsomal Enzymes
Unlikely to affect CYP1A2, 2B6, or 3A4.1
Specific Drugs
| Drug | Interaction |
| --- | --- |
| Corticosteroids | No effect on reslizumab pharmacokinetics1 |
| Leukotriene-receptor antagonists | No effect on reslizumab pharmacokinetics1 |
Reslizumab Pharmacokinetics
Absorption
Bioavailability
Peak plasma concentrations typically occur at end of IV infusion.1 Serum concentrations generally decline in a biphasic manner.1 Following repeated IV administration, 1.5- to 1.9-fold accumulation of the drug observed.1
Onset
Decreased blood eosinophil count observed as early as 2–3 days following IV administration.1
Distribution
Extent
Distributed into milk in mice.1 Not known whether distributed into human milk.1 (See Lactation under Cautions.)
Elimination
Metabolism
Metabolized by proteolytic enzymes.1
Half-life
24 days.1
Special Populations
Hepatic impairment: No substantial differences in pharmacokinetics in patients with mild hepatic impairment (total bilirubin concentrations >1 times but not >1.5 times the ULN or total bilirubin concentrations not exceeding the ULN with AST concentrations exceeding the ULN) compared with those having normal hepatic function.1
Renal impairment: No substantial differences in pharmacokinetics in patients with mild (estimated GFR of 60–89 mL/minute per 1.73 m2) or moderate (estimated GFR of 30–59 mL/minute per 1.73 m2) renal impairment compared with those having normal renal function.1
Stability
Storage
Parenteral
Injection
2–8°C in original package to protect from light.1 Do not shake or freeze.1
Diluted solution: May store at 2–8°C or at room temperature up to 25°C and protect from light for up to 16 hours after dilution.1 Time between dilution and administration not >16 hours.1
Compatibility
For information on systemic interactions resulting from concomitant use, see Interactions.
Parenteral
Solution Compatibility
Compatible
Sodium chloride 0.9%
Drug Compatibility
Do not mix or dilute with any other drug.1
Do not infuse in the same IV line with any other drug.1
Actions
Recombinant DNA-derived humanized interleukin-5 (IL-5) receptor antagonist monoclonal antibody and IgG4 kappa immunoglobulin.1

Inhibits binding of IL-5 to the alpha chain of the IL-5 receptor complex expressed on the eosinophil cell surface.1

Blocks IL-5 signaling, thereby interfering with growth, differentiation, recruitment, activation, and survival of eosinophils.1
Advice to Patients
Risk of hypersensitivity reactions (e.g, including anaphylaxis).1 Advise patients of signs and symptoms of anaphylaxis (e.g., skin or mucosal involvement, airway compromise, reduced BP).1 Instruct patients to immediately contact a clinician if they experience symptoms of an allergic reaction after receiving reslizumab infusion.1 (See Hypersensitivity under Cautions.)

Importance of informing patients that reslizumab does not relieve acute asthma symptoms or exacerbations.1 Advise patients to contact their clinician if asthma remains uncontrolled or worsens after treatment initiation.1

Advise patients of possible increased risk of malignancy.1

Importance of informing patients with asthma receiving inhaled or systemic corticosteroids not to discontinue or reduce corticosteroid dosage, since withdrawal symptoms or worsening of asthma may occur; change corticosteroid dosage only under direct supervision of a clinician.1

Importance of informing clinicians of existing or contemplated concomitant therapy, including prescription and OTC drugs, as well as any concomitant illnesses.1

Importance of women informing clinicians if they are or plan to become pregnant or plan to breast-feed.1

Importance of informing patients of other important precautionary information.1 (See Cautions.)
Preparations
Excipients in commercially available drug preparations may have clinically important effects in some individuals; consult specific product labeling for details.
Please refer to the ASHP Drug Shortages Resource Center for information on shortages of one or more of these preparations.
Reslizumab

| Routes | Dosage Forms | Strengths | Brand Names | Manufacturer |
| --- | --- | --- | --- | --- |
| Parenteral | Concentrate for injection, for IV infusion only | 10 mg/mL (100 mg) | Cinqair | Teva |
AHFS DI Essentials. © Copyright 2018, Selected Revisions March 22, 2017. American Society of Health-System Pharmacists, Inc., 4500 East-West Highway, Suite 900, Bethesda, Maryland 20814.
References
1. Teva. Cinqair (reslizumab) injection, for intravenous use prescribing information. Frazer, PA; 2016 Jun.
2. Castro M, Zangrilli J, Wechsler ME et al. Reslizumab for inadequately controlled asthma with elevated blood eosinophil counts: results from two multicentre, parallel, double-blind, randomised, placebo-controlled, phase 3 trials. Lancet Respir Med. 2015; 3:355-66. [PubMed 25736990]
3. Bjermer L, Lemiere C, Maspero J et al. Reslizumab for inadequately controlled asthma with elevated blood eosinophil levels: a randomized phase 3 study. Chest. 2016; :3:355-66.
4. Corren J, Weinstein S, Janka L et al. Phase 3 study of reslizumab in patients with poorly controlled asthma: Effects across a broad range of eosinophil counts. Chest. 2016; :150:789-98.
5. Katz LE, Gleich GJ, Hartley BF et al. Blood eosinophil count is a useful biomarker to identify patients with severe eosinophilic asthma. Ann Am Thorac Soc. 2014; 11:531-6. [PubMed 24606022]
6. Walford HH, Doherty TA. Diagnosis and management of eosinophilic asthma: a US perspective. J Asthma Allergy. 2014; 7:53-65. [PubMed 24748808]
7. Varricchi G, Bagnasco D, Borriello F et al. Interleukin-5 pathway inhibition in the treatment of eosinophilic respiratory disorders: evidence and unmet needs. Curr Opin Allergy Clin Immunol. 2016; 16:186-200. [PubMed 26859368]
8. George L, Brightling CE. Eosinophilic airway inflammation: role in asthma and chronic obstructive pulmonary disease. Ther Adv Chronic Dis. 2016; 7:34-51. [PubMed 26770668]
9. Chung KF, Wenzel SE, Brozek JL et al. International ERS/ATS guidelines on definition, evaluation and treatment of severe asthma. Eur Respir J. 2014; 43:343-73. [PubMed 24337046]
10. Mukherjee M, Sehmi R, Nair P. Anti-IL5 therapy for asthma and beyond. World Allergy Organ J. 2014; 7:32. [PubMed 25709744]
More about reslizumab
Consumer resources
Professional resources
Other brands: Cinqair
Related treatment guides