The originating document has been archived. We cannot confirm the completeness, accuracy and currency of the content.
kanamycin (Oral route)
kan-a-MYE-sin
Injection routeSolution
Patients treated with aminoglycosides by any route should be under close clinical observation because of the potential toxicity associated with their use. As with other aminoglycosides, the major toxic effects of kanamycin are its action on the auditory and vestibular branches of the eighth nerve and the renal tubules. Neurotoxicity is manifested by bilateral auditory toxicity which often is permanent and, sometimes, by vestibular ototoxicity. Loss of high frequency perception usually occurs before there is noticeable clinical hearing loss and can be detected by audiometric testing. There may not be clinical symptoms to warn of developing cochlear damage. Vertigo may occur and may be evidence of vestibular injury. Other manifestations of neurotoxicity may include numbness, skin tingling, muscle twitching, and convulsions. The risk of hearing loss increases with the degree of exposure to either high peak or high trough serum concentrations and continues to progress after drug withdrawal.
Renal impairment may be characterized by decreased creatinine clearance, the presence of cells or casts, oliguria, proteinuria, deceased urine specific gravity, or evidence of increasing nitrogen retention (increasing BUN, NPN, or serum creatinine).
The risks of severe ototoxic and nephrotoxic reactions are sharply increased in patients with impaired renal function and in those with normal renal function who receive high doses or prolonged therapy.
Renal and eighth nerve function should be closely monitored, especially in patents with known or suspected reduced renal function at the onset of therapy, and also in those whose renal function is initially normal but who develop signs of renal dysfunction during therapy. Serum concentrations of parenterally administered aminoglycosides should be monitored when feasible to assure adequate levels and to avoid potentially toxic levels. Urine should be examined for decreased specific gravity, increased excretion of protein, and the presence of cells or casts. Blood urea nitrogen, serum creatinine, or creatinine clearance should be measured periodically. Serial audiograms should be obtained when feasible in patients old enough to be tested; particularly high risk patients. Evidence of ototoxicity (dizziness, vertigo, tinnitus, roaring in the ears, and hearing loss) or nephrotoxicity requires dosage adjustment or discontinuance of the drug.
Neuromuscular blockade with respiratory paralysis may occur when kanamycin is instilled intraperitoneally concomitantly with anesthesia and muscle-relaxing drugs. Neuromuscular blockage has been reported following parenteral injection and the oral use of aminoglycosides. The possibility of the occurrence of neuromuscular blockade and respiratory paralysis should be considered if aminoglycosides are administered by any route, especially in patients receiving anesthetics, neuromuscular-blocking agents such as tubocurarine, succinylcholine, decamethonium, or in patients receiving massive transfusions of citrate-anticoagulated blood. If blockage occurs, calcium salts may reduce these phenomena but mechanical respiratory assistance may be necessary.
The concurrent and/or sequential systemic, oral, or topical use of kanamycin and other potentially nephrotoxic, and/or neurotoxic drugs, particularly polymyxin B, bacitracin, colistin, amphotericin B, cisplatin, vancomycin, and all other aminoglycosides (including paromomycin) should be avoided because the toxicity may be additive. Other factors which may increase patient risk of toxicity are advanced age and dehydration.
Kanamycin should not be given concurrently with potent diuretics (ethacrynic acid, furosemide, meralluride sodium, sodium mercaptomerin, or mannitol). Some diuretics themselves cause ototoxicity, and intravenously administered diuretics may enhance aminoglycoside toxicity by altering antibiotic concentrations in serum and tissue .
Therapy has been associated with potential neurotoxicity, ototoxicity, and nephrotoxicity. Patients with impaired renal function, advanced age, dehydration, and those who receive high dosage or prolonged therapy are at an increased risk of toxicity. Monitor renal and auditory function during therapy and discontinue therapy or adjust dose if there is evidence of ototoxicity or nephrotoxicity. Aminoglycoside-induced ototoxicity is usually irreversible. Serum concentrations of aminoglycosides should be monitored when feasible to assure adequate levels and to avoid potentially toxic levels. Neuromuscular blockade and respiratory paralysis have also been reported following administration. Concurrent use of other potentially neurotoxic or nephrotoxic agents, or potent diuretics should be avoided .
Available Dosage Forms:
Therapeutic Class: Antibiotic
Chemical Class: Aminoglycoside
Uses For kanamycin
Oral kanamycin belongs to the family of medicines called antibiotics. It is used before surgery affecting the bowel to help prevent infection during surgery.
Kanamycin is available only with your doctor's prescription.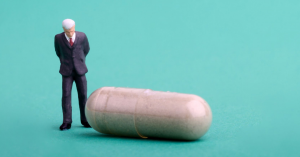 Before Using kanamycin
In deciding to use a medicine, the risks of taking the medicine must be weighed against the good it will do. This is a decision you and your doctor will make. For kanamycin, the following should be considered:
Allergies
Tell your doctor if you have ever had any unusual or allergic reaction to kanamycin or any other medicines. Also tell your health care professional if you have any other types of allergies, such as to foods, dyes, preservatives, or animals. For non-prescription products, read the label or package ingredients carefully.
Pediatric
Although there is no specific information comparing use of oral kanamycin in children with use in other age groups, kanamycin is not expected to cause different side effects or problems in children than it does in adults.
Geriatric
Many medicines have not been studied specifically in older people. Therefore, it may not be known whether they work exactly the same way they do in younger adults or if they cause different side effects or problems in older people. There is no specific information comparing use of oral kanamycin in the elderly with use in other age groups.
Pregnancy
| | Pregnancy Category | Explanation |
| --- | --- | --- |
| All Trimesters | D | Studies in pregnant women have demonstrated a risk to the fetus. However, the benefits of therapy in a life threatening situation or a serious disease, may outweigh the potential risk. |
Breast Feeding
Studies in women suggest that this medication poses minimal risk to the infant when used during breastfeeding.
Interactions with Medicines
Using kanamycin with any of the following medicines is usually not recommended, but may be required in some cases. If both medicines are prescribed together, your doctor may change the dose or how often you use one or both of the medicines.
Alcuronium
Atracurium
Cidofovir
Cisatracurium
Decamethonium
Doxacurium
Ethacrynic Acid
Fazadinium
Furosemide
Gallamine
Hexafluorenium
Lysine
Metocurine
Mivacurium
Pancuronium
Pipecuronium
Rapacuronium
Rocuronium
Succinylcholine
Tacrolimus
Tubocurarine
Vecuronium
Using kanamycin with any of the following medicines may cause an increased risk of certain side effects, but using both drugs may be the best treatment for you. If both medicines are prescribed together, your doctor may change the dose or how often you use one or both of the medicines.
Interactions with Food/Tobacco/Alcohol
Certain medicines should not be used at or around the time of eating food or eating certain types of food since interactions may occur. Using alcohol or tobacco with certain medicines may also cause interactions to occur. Discuss with your healthcare professional the use of your medicine with food, alcohol, or tobacco.
Other Medical Problems
The presence of other medical problems may affect the use of kanamycin. Make sure you tell your doctor if you have any other medical problems, especially:
Blockage of the bowel—Oral kanamycin should never be used in patients who have a blockage of the bowel
Eighth-cranial-nerve disease (loss of hearing and/or balance)—Use of oral kanamycin may increase problems related to hearing and/or balance
Kidney disease or
Ulcers of the bowel—Use of kanamycin in patients with either condition may cause an increase in side effects
Proper Use of kanamycin
kanamycin may be taken on a full or empty stomach.
Keep taking kanamycin for the full time of treatment. Do not miss any doses.
Dosing
The dose of kanamycin will be different for different patients. Follow your doctor's orders or the directions on the label. The following information includes only the average doses of kanamycin. If your dose is different, do not change it unless your doctor tells you to do so.
The amount of medicine that you take depends on the strength of the medicine. Also, the number of doses you take each day, the time allowed between doses, and the length of time you take the medicine depend on the medical problem for which you are using the medicine.
For oral dosage form (capsule):

For patients in a coma from liver disease:

Adults and children—2 to 3 grams every six hours.

For cleaning the bowel before surgery:

Adults and children—1 gram every hour for four hours; then, 1 gram every six hours for thirty-six to seventy-two hours.
Missed Dose
If you miss a dose of kanamycin, take it as soon as possible. However, if it is almost time for your next dose, skip the missed dose and go back to your regular dosing schedule. Do not double doses.
Storage
Store the medicine in a closed container at room temperature, away from heat, moisture, and direct light. Keep from freezing.
Keep out of the reach of children.
Do not keep outdated medicine or medicine no longer needed.
kanamycin Side Effects
Along with its needed effects, a medicine may cause some unwanted effects. Although not all of these side effects may occur, if they do occur they may need medical attention.
Check with your doctor immediately if any of the following side effects occur:
Rare
-
with long-term use and high doses
Any loss of hearing
clumsiness
dizziness
greatly decreased frequency of urination or amount of urine
increased thirst
ringing or buzzing or a feeling of fullness in the ears
unsteadiness
Some side effects may occur that usually do not need medical attention. These side effects may go away during treatment as your body adjusts to the medicine. Also, your health care professional may be able to tell you about ways to prevent or reduce some of these side effects. Check with your health care professional if any of the following side effects continue or are bothersome or if you have any questions about them:
More common
Diarrhea
nausea or vomiting
Rare
-
with prolonged treatment
Increased amount of gas
light-colored, frothy, fatty-appearing stools
Other side effects not listed may also occur in some patients. If you notice any other effects, check with your healthcare professional.
Call your doctor for medical advice about side effects. You may report side effects to the FDA at 1-800-FDA-1088.
The information contained in the Thomson Reuters Micromedex products as delivered by Drugs.com is intended as an educational aid only. It is not intended as medical advice for individual conditions or treatment. It is not a substitute for a medical exam, nor does it replace the need for services provided by medical professionals. Talk to your doctor, nurse or pharmacist before taking any prescription or over the counter drugs (including any herbal medicines or supplements) or following any treatment or regimen. Only your doctor, nurse, or pharmacist can provide you with advice on what is safe and effective for you.
The use of the Thomson Reuters Healthcare products is at your sole risk. These products are provided "AS IS" and "as available" for use, without warranties of any kind, either express or implied. Thomson Reuters Healthcare and Drugs.com make no representation or warranty as to the accuracy, reliability, timeliness, usefulness or completeness of any of the information contained in the products. Additionally, THOMSON REUTERS HEALTHCARE MAKES NO REPRESENTATION OR WARRANTIES AS TO THE OPINIONS OR OTHER SERVICE OR DATA YOU MAY ACCESS, DOWNLOAD OR USE AS A RESULT OF USE OF THE THOMSON REUTERS HEALTHCARE PRODUCTS. ALL IMPLIED WARRANTIES OF MERCHANTABILITY AND FITNESS FOR A PARTICULAR PURPOSE OR USE ARE HEREBY EXCLUDED. Thomson Reuters Healthcare does not assume any responsibility or risk for your use of the Thomson Reuters Healthcare products.
Copyright 2016 Truven Health Analytics, Inc. All Rights Reserved.
More about kanamycin
Consumer resources
Other brands: Kantrex
Professional resources
Related treatment guides