This material must not be used for commercial purposes, or in any hospital or medical facility. Failure to comply may result in legal action.
Kaposi's Sarcoma
WHAT YOU NEED TO KNOW:
Kaposi sarcoma (KS) is a type of skin cancer. KS may appear on any part of your skin. It can also be found in your lymph nodes, stomach, intestines, liver, spleen, lungs, and bones. KS may start in one area and spread to other areas. This cancer is most common in people who have HIV, AIDS, or a human herpes virus-8 (HHV-8) infection. People who have had an organ transplant may also get KS.
DISCHARGE INSTRUCTIONS:
Call your local emergency number (911 in the US) if:
You have trouble breathing or cough up blood.
Call your doctor if:
You have a fever.
You get more sores on your skin, or they are more painful or itch.
You have increased fatigue or weakness.
Your hands and feet are itchy, swollen, or painful.
You have numbness or tingling in your hand or foot.
You have trouble eating or swallowing.
You have nausea or vomiting that will not stop.
You have diarrhea or constipation, or blood in your bowel movement.
Your leg is swollen and painful and makes it difficult to walk.
You have bone pain or increased headaches.
You cannot control when you urinate.
You have questions or concerns about your condition or care.
Medicines:
Medicines may be given to decrease pain. You may also get medicine to put on your skin to stop cancer cells from growing and to kill new cancer cells. If you have HIV or AIDS, you will be given medicine to treat the viral infection.
Take your medicine as directed. Contact your healthcare provider if you think your medicine is not helping or if you have side effects. Tell him or her if you are allergic to any medicine. Keep a list of the medicines, vitamins, and herbs you take. Include the amounts, and when and why you take them. Bring the list or the pill bottles to follow-up visits. Carry your medicine list with you in case of an emergency.
Manage your symptoms of KS:
Care for your mouth. Brush your teeth twice daily. Floss your teeth regularly, and use mouthwash. This may decrease your risk for mouth pain and trouble eating and swallowing.
Eat healthy foods. Healthy foods include fruits, vegetables, whole-grain breads, low-fat dairy products, beans, lean meats, and fish. Ask if you need to be on a special diet.
Wear support stockings and elevate your legs as directed by your healthcare provider to decrease swelling. Support stockings are also called compression garments. Support stockings are often worn during the day and removed at night. Ask your healthcare provider how to care for your skin.
Go to physical therapy as directed. A physical therapist teaches you exercises to help improve movement and strength, and to decrease pain.
Prevent the spread of germs: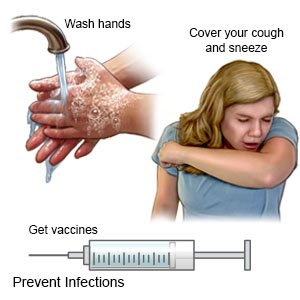 Wash your hands often. Wash your hands several times each day. Wash after you use the bathroom, change a child's diaper, and before you prepare or eat food. Use soap and water every time. Rub your soapy hands together, lacing your fingers. Wash the front and back of your hands, and in between your fingers. Use the fingers of one hand to scrub under the fingernails of the other hand. Wash for at least 20 seconds. Rinse with warm, running water for several seconds. Then dry your hands with a clean towel or paper towel. Use hand sanitizer that contains alcohol if soap and water are not available. Do not touch your eyes, nose, or mouth without washing your hands first.
Cover a sneeze or cough. Use a tissue that covers your mouth and nose. Throw the tissue away in a trash can right away. Use the bend of your arm if a tissue is not available. Wash your hands well with soap and water or use a hand sanitizer.
Stay away from others while you are sick. Avoid crowds as much as possible.
Ask about vaccines you may need. Talk to your healthcare provider about your vaccine history. He or she will tell you which vaccines you need, and when to get them.

Get the influenza (flu) vaccine as soon as recommended each year. The flu vaccine is available starting in September or October. Flu viruses change, so it is important to get a flu vaccine every year.
Get the pneumonia vaccine if recommended. This vaccine is usually recommended every 5 years. Your provider will tell you when to get this vaccine, if needed.
Follow up with your doctor or oncologist as directed:
Write down your questions so you remember to ask them during your visits.
© Copyright IBM Corporation 2021 Information is for End User's use only and may not be sold, redistributed or otherwise used for commercial purposes. All illustrations and images included in CareNotes® are the copyrighted property of A.D.A.M., Inc. or IBM Watson Health
The above information is an educational aid only. It is not intended as medical advice for individual conditions or treatments. Talk to your doctor, nurse or pharmacist before following any medical regimen to see if it is safe and effective for you.
Learn more about Kaposi's Sarcoma (Aftercare Instructions)
Associated drugs
IBM Watson Micromedex
Symptoms and treatments
Mayo Clinic Reference
Further information
Always consult your healthcare provider to ensure the information displayed on this page applies to your personal circumstances.