CrossBlock II For Cats (5-9 lbs)
This page contains information on CrossBlock II For Cats (5-9 lbs) for
veterinary use
.
The information provided typically includes the following:
CrossBlock II For Cats (5-9 lbs) Indications
Warnings and cautions for CrossBlock II For Cats (5-9 lbs)
Direction and dosage information for CrossBlock II For Cats (5-9 lbs)
CrossBlock II For Cats (5-9 lbs)
This treatment applies to the following species:
Company: VetOne
5-9 lbs, 8 weeks or older
CrossBlock II® For Cats treats and prevents further flea infestation on cats
Waterproof
Kills Fleas
Kills Flea Larvae
Kills Flea Eggs
● Effectively stops existing flea infestation by killing adult fleas and prevents further re-infestation on cats
● Kills re-infesting fleas within 2 hours
● Breaks the flea life cycle and prevents flea eggs from developing into adult fleas
● Effective once-a-month flea protection for cats
● CrossBlock II® for Cats is waterproof after application
Active Ingredients
| | |
| --- | --- |
| Imidacloprid | 9.10% |
| Pyriproxyfen | 0.46% |
| OTHER INGREDIENTS | 90.44% |
| TOTAL | 100.00% |
KEEP OUT OF REACH OF CHILDREN
CrossBlock II For Cats (5-9 lbs) Caution
Use only on cats and kittens weighing 5-9 lbs. and 8 weeks of age or older
FIRST AID
If swallowed:
Call a poison control center or doctor immediately for treatment advice.
Have a person sip a glass of water if able to swallow.
Do not induce vomiting unless told to do so by the poison control center or doctor.
Do not give anything by mouth to an unconscious person.
If in eyes:
Hold eye open and rinse slowly and gently with water for 15-20 minutes.
Remove contact lenses, if present, after the first 5 minutes then continue rinsing eye.
Call a poison control center or doctor for treatment advice.
If on skin or clothing:
Wash with plenty of soap and water.
Remove and wash contaminated clothing before reuse.
Have the product container or label with you when calling a poison control center or doctor or going for treatment. You may contact 1-800-999-0297 for emergency medical treatment information.
PRECAUTIONARY STATEMENTS
HAZARDS TO HUMANS
CrossBlock II For Cats (5-9 lbs) Caution
Harmful if swallowed. Causes moderate eye irritation. Avoid contact with eyes or clothing. Wash hands thoroughly with soap and warm water after handling and before eating, drinking, chewing gum, using tobacco or using the toilet. Keep out of reach of children.
HAZARDS TO DOMESTIC ANIMALS
FOR EXTERNAL USE ON CATS ONLY. DO NOT USE ON DOGS.
Do not use on kittens under 8 weeks of age or weighing less than 5 lbs. As with any product, consult your veterinarian before using this product on debilitated, aged, medicated, pregnant or nursing cats. Individual sensitivities, while rare, may occur after using ANY pesticide products for cats. If signs persist, or become more severe, consult a veterinarian immediately. If your cat is on medication, consult your veterinarian before using this or any pesticide product.
Side Effects
Monitor your cat after application. Although side effects are rare, some cats may experience some temporary irritation at the site of the product application such as redness, scratching or other signs of discomfort. If these or other side effects occur, consult your veterinarian or call 1-800-999-0297. If your cat has an unusual reaction to the initial application, consult a veterinarian before repeating application. Gastrointestinal signs such as hypersalivation, vomiting or diarrhea have been reported.
Directions For Use
It is a violation of Federal law to use this product in a manner inconsistent with its labeling.
READ ENTIRE LABEL BEFORE EACH USE
CONSUMER INFORMATION
CrossBlock II® For Cats kills fleas within 12 hours, and re-infesting fleas are killed within 2 hours. CrossBlock II® For Cats prevents further flea infestation for 1 month.
RESTRICTIONS:
● Do not allow children to apply product.
● Weigh your cat to be sure you are using the right size product for your cat.
● For use only on cats 8 weeks and older weighing 5-9 lbs.
● Do not use on other animals.
● Do not apply more than one tube per treatment, even for larger cats.
● Do not split one tube between two cats.
● Do not treat your cat with more than one pesticide product at a time. Overdosing your cat can result in serious illness and even death.
● Do not have contact or allow children to have contact with treated area until completely dry.
● For external use only.
TO PREVENT HARM TO YOU AND YOUR CAT, READ ENTIRE LABEL BEFORE EACH USE. FOLLOW ALL DIRECTIONS AND PRECAUTIONARY STATEMENTS CAREFULLY.
OPENING INSTRUCTIONS:
1 Tear through perforation

2 Fold back the safety tab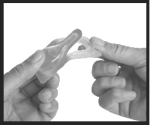 3 Cut with scissors to open applicator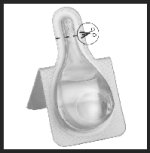 HOW TO APPLY:
1. The cat should be standing or in a comfortable position for easy application.
2. Part the hair down to the level of the skin, and slowly apply the product at the base of the cat's head until the applicator is completely empty. Avoid superficial application to the cat's hair.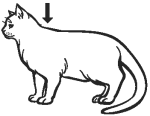 3. Do not get the product in the cat's eyes or mouth. Do not allow your cat to ingest this product. Salivation may occur if the cat ingests the product immediately after application. Do not use more than one tube on cats greater than 9 lbs.
4. Discard the empty applicator as outlined in the Storage and Disposal section.
5. Repeat every month, or as recommended by your veterinarian.
FREQUENCY OF APPLICATION
The presence of fleas on cats may cause a sensitive skin disorder due to the feeding activity of fleas. This is called flea allergy dermatitis (FAD). CrossBlock II® for Cats kills fleas that may cause FAD. Treatment of CrossBlock II® For Cats will kill fleas on cats and kittens within 12 hours. It is possible pre-existing pupae in the environment may continue to emerge for 6 weeks or longer depending on climatic conditions. Use CrossBlock II® for Cats monthly for the control of fleas.
STORAGE AND DISPOSAL
Do not contaminate water, food or feed by storage or disposal.
PESTICIDE STORAGE: Store in a cool, dry place. Keep out of reach of children.
PESTICIDE DISPOSAL AND CONTAINER HANDLING: Non-refillable container. Do not reuse or refill this container. If empty: Place in trash or offer for recycling, if available. If partly filled: Call your local solid waste agency for disposal instructions. Never place unused product down any indoor or outdoor drain.
LIMITED WARRANTY AND LIMITATION OF DAMAGES
Seller warrants that the material conforms to the chemical parameters of the US EPA registration and the label. To the extent consistent with applicable law, seller makes no warranty, express or implied, other than indicated on the label. Buyer and user assume all risk of use and handling of this material. To the extent consistent with applicable law, any damages arising from use of this product or a breach of this warranty shall be limited to direct damages and shall not include consequential or incidental damages such as loss of profit or values.
D93110C-US / 08-A1-v3
Distributed by: MWI Animal Health, Boise, ID 83705
CrossBlock II® is a registered trademark of MWI Veterinary Supply Co.
Manufactured for: Ceva Animal Health, LLC, 8735 Rosehill Road, Lenexa, KS 66215
EPA Reg. No. 83399-16
EPA Est. No. 74720-DEU-01
51096-03
Made in Germany
Net Contents:

0.042 fl. oz. (3 Doses, each 0.014 fl. oz.)

V1 620106

D93110C-US 17-B1-v3

51082-02
CPN: 1315211.1
VET ONE
Distributed by MWI Animal Health
3041 W. PASADENA DR., BOISE, ID, 83705
| | | |
| --- | --- | --- |
| Customer Service: | | 888-694-8381 |
| Toll-Free: | | 800-824-3703 |
| Website: | | www.mwianimalhealth.com |
| | | www.vetone.net |
| | |
| --- | --- |
| | THIS SERVICE AND DATA ARE PROVIDED "AS IS". DVMetrics assumes no liability, and each user assumes full risk, responsibility, and liability, related to its use of the DVMetrics service and data. See the Terms of Use for further details. |