Left-Sided and Right-Sided Heart Failure
Medically reviewed by Drugs.com. Last updated on Jan 5, 2023.
AMBULATORY CARE:
Heart failure
is a condition that does not allow your heart to fill or pump properly. Heart failure may begin on the left or right side of the heart. If one side does not work properly, the other side has to work harder to function. Over time, heart failure affects both sides of the heart. Heart failure is a long-term condition that tends to get worse over time. It is important to manage your health to improve your quality of life.
Left-sided heart failure:
The left side of the heart pumps oxygen-rich blood from the lungs out to your body. Left-sided heart failure means your left ventricle does not work correctly. It may not fill with blood as it should, or it may not pump blood out to your body properly. Left-sided heart failure can cause swelling in your lungs that leads to breathing problems.
Right-sided heart failure:
The right side of your heart brings in circulated blood from your body. It sends the blood to the lungs to get oxygen. Right-sided heart failure means your right ventricle cannot pump blood into your lungs properly. Blood and fluid back up in your body, causing swelling in your feet and possibly your abdomen.
Signs and symptoms of heart failure
depend on how severe your heart failure is. The signs and symptoms you have may be due to the backup of fluid and blood in your tissues. It may also be due to decreased oxygen in your blood. You may have any of the following:
Trouble breathing with activity that worsens to trouble breathing at rest
Shortness of breath while lying flat
Severe shortness of breath and coughing at night that usually wakes you
Feeling lightheaded when you stand up
Purple color around your mouth and nails
Confusion or anxiety
Chest pain at night
Periods of no breathing, then breathing fast
Lack of energy (often worsened by physical activity), or trouble sleeping
Swelling in your ankles, legs, or abdomen
Heartbeat that is fast or not regular, or palpitations (pounding, fast heartbeats)
Fingers and toes feel cool to the touch
Call your local emergency number (911 in the US) if:
You have any of the following signs of a heart attack:

Squeezing, pressure, or pain in your chest
You may also have any of the following:

Discomfort or pain in your back, neck, jaw, stomach, or arm
Shortness of breath
Nausea or vomiting
Lightheadedness or a sudden cold sweat
Seek immediate care if:
Your heartbeat is fast, slow, or uneven all the time.
Call your doctor if:
You have symptoms of worsening heart failure:

Shortness of breath at rest, at night, or that is getting worse in any way
Weight gain of 3 or more pounds (1.4 kg) in a day, or more than your healthcare provider says is okay
More swelling in your legs or ankles
Abdominal pain or swelling
More coughing
Loss of appetite
Feeling tired all the time

You feel depressed, or you have lost interest in things you used to enjoy.
You often feel worried or afraid.
You have questions or concerns about your condition or care.
Treatment for heart failure:
Heart failure is often caused by damage or injury to your heart. The damage may be caused by other heart problems, diabetes, or high blood pressure. The damage may have also been caused by an infection. Your healthcare providers will help you manage any other health conditions that may be causing your heart failure. The goals of treatment are to manage, slow, or reverse heart damage. Treatment may include the following:
Medicines may be given to help regulate your heart rhythm and lower your blood pressure. You may also need medicines to help decrease extra fluid. Medicines, such as NSAIDs, may be stopped if they are making your heart failure worse. Do not stop any of your medicines on your own.
Cardiac rehab is a program run by specialists who will help you safely strengthen your heart. In the program you will learn about exercise, relaxation, stress management, and heart-healthy nutrition. Cardiac rehab may be recommended if your heart failure is not severe.
Oxygen may help you breathe easier if your oxygen level is lower than normal. A CPAP machine may be used to keep your airway open while you sleep.
Surgery can be done to implant a pacemaker or another device in your chest to regulate your heart rhythm. Other types of surgery can open blocked heart vessels, replace a damaged heart valve, or remove scar tissue.
Manage swelling from extra fluid:
Elevate (raise) your legs above the level of your heart. This will help with fluid that builds up in your legs or ankles. Elevate your legs as often as possible during the day. Prop your legs on pillows or blankets to keep them elevated comfortably. Try not to stand for long periods of time during the day. Move around to keep your blood circulating.
Limit sodium (salt). Ask how much sodium you can have each day. Your healthcare provider may give you a limit, such as 2,300 milligrams (mg) a day. Your provider or a dietitian can teach you how to read food labels for the number of mg in a food. He or she can also help you find ways to have less salt. For example, if you add salt to food as you cook, do not add more at the table.
Drink liquids as directed. You may need to limit the amount of liquid you drink within 24 hours. Your healthcare provider will tell you how much liquid to have and which liquids are best for you. He or she may tell you to limit liquid to 1.5 to 2 liters in a day. He or she will also tell you how often to drink liquid throughout the day.
Weigh yourself every morning. Use the same scale, in the same spot. Do this after you use the bathroom, but before you eat or drink. Wear the same type of clothing each time. Write down your weight and call your healthcare provider if you have a sudden weight gain. Swelling and weight gain are signs of fluid buildup.
Treatment options
The following list of medications are in some way related to or used in the treatment of this condition.
Manage heart failure:
Your quality of life may improve with treatment and the following:
Do not smoke. Nicotine and other chemicals in cigarettes and cigars can cause lung and heart damage. Ask your healthcare provider for information if you currently smoke and need help to quit. E-cigarettes or smokeless tobacco still contain nicotine. Talk to your healthcare provider before you use these products.
Do not drink alcohol or use illegal drugs. Alcohol and drugs can increase your risk for high blood pressure, diabetes, and coronary artery disease.
Eat heart-healthy foods. Heart-healthy foods include fruits, vegetables, lean meat (such as beef, chicken, or pork), and low-fat dairy products. Fatty fish such as salmon and tuna are also heart healthy. Other heart-healthy foods include walnuts, whole-grain breads, and legumes such as pinto beans. Replace butter and margarine with heart-healthy oils such as olive oil or canola oil. Your provider or a dietitian can help you create heart-healthy meal plans.
Manage any chronic health conditions you have. These include high blood pressure, diabetes, obesity, high cholesterol, metabolic syndrome, and COPD. You will have fewer symptoms if you manage these health conditions. Follow your healthcare provider's recommendations and follow up with him or her regularly.
Maintain a healthy weight. Being overweight can increase your risk for high blood pressure, diabetes, and coronary artery disease. These conditions can make your symptoms worse. Ask your healthcare provider what a healthy weight is for you. Ask him or her to help you create a weight loss plan, if needed.
Stay active. Activity can help keep your symptoms from getting worse. Walking is a type of physical activity that helps maintain your strength and improve your mood. Physical activity also helps you manage your weight. Work with your healthcare provider to create an exercise plan that is right for you.
Get vaccines as directed. The flu, COVID-19, and pneumonia can be severe for a person who has heart failure. Vaccines protect you from these infections. Get a flu vaccine every year as soon as it is recommended, usually in September or October. Get a COVID-19 vaccine and booster as directed. You may also need the pneumonia vaccine. Your healthcare provider can tell you if you need other vaccines, and when to get them.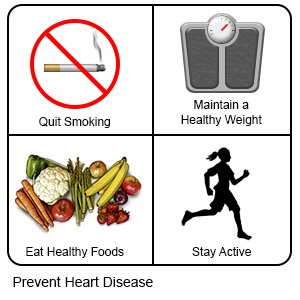 Follow up with your doctor or cardiologist as directed:
You will need to have regular appointments to see if treatment is working. Write down your questions so you will remember to ask them during your visits.
For support or more information:
Heart failure can be difficult to manage. It may be helpful to talk with others who have heart failure. You may learn how to better manage your condition or get emotional support. For more information:
American Heart Association
7272 Greenville Avenue
Dallas , TX 75231-4596
Phone: 1- 800 - 242-8721
Web Address: http://www.heart.org

© Copyright Merative 2022 Information is for End User's use only and may not be sold, redistributed or otherwise used for commercial purposes.
The above information is an educational aid only. It is not intended as medical advice for individual conditions or treatments. Talk to your doctor, nurse or pharmacist before following any medical regimen to see if it is safe and effective for you.
Learn more about Left-Sided and Right-Sided Heart Failure
Treatment options
Care guides
Symptoms and treatments
Medicine.com guides (external)
Further information
Always consult your healthcare provider to ensure the information displayed on this page applies to your personal circumstances.