Angina
Medically reviewed by Drugs.com. Last updated on Nov 5, 2023.
What is angina?
Angina is pain, pressure, or tightness that is usually felt in your chest. Chest pain may come on when you are stressed or do physical activities, such as walking or exercising. Angina is caused by decreased blood flow and oxygen to your heart. These are often caused by atherosclerosis (hardening of the arteries). Angina can be a warning sign that you may be at risk for a heart attack.
What increases my risk for angina?
Age older than 55 years
Being a man
Being a woman who smokes and takes birth control pills, or is in menopause
Diabetes, hypertension, chronic kidney disease, or high cholesterol
A heart problem, such as heart valve disease, a past heart attack, or an enlarged heart
A condition that causes inflammation, such as rheumatoid arthritis (RA)
Smoking cigarettes, being around secondhand smoke, or using cocaine
Not enough exercise, or being overweight
A family member diagnosed with heart disease at a young age
What other signs and symptoms may I have with angina?
Pressure, tightness, or pain in your neck, jaw, shoulder, or back
Pain or numbness in either arm
Discomfort that feels like heartburn
Shortness of breath, sweating, nausea, or lightheadedness
How is angina diagnosed?
An EKG records your heart rhythm and how fast your heart beats. It is also used to look for problems or damage in different areas of the heart.
Blood tests may show if there is damage to your heart. Your healthcare provider may also use blood tests to get information about your overall health.
A stress test helps healthcare providers see the changes that take place in your heart while it is under stress. Healthcare providers may place stress on your heart with exercise or medicine. Ask your healthcare provider for more information about this test.
An echocardiogram is a type of ultrasound. Sound waves are used to show the structure, movement, and blood vessels of your heart.
Cardiac catheterization is a procedure that uses dye and an x-ray to check the blood flow in your coronary arteries. This can help your healthcare provider decide how to treat your angina. Sometimes blockages can be treated during a cardiac catheterization.
How is angina treated?
Medicines may be given to prevent blood clots. You may bleed or bruise more easily while you are taking this medicine. Other medicines may open arteries or slow your heartbeat. You may also need medicines to lower your blood pressure or cholesterol level. Do not take certain medicines without asking your healthcare provider first. These include NSAIDs, herbal or vitamin supplements, or hormones (estrogen or progestin).
Angioplasty and stenting help open the coronary arteries and allow blood to flow to the heart. Ask for more information about these procedures.
Coronary artery bypass graft (CABG) , or open heart surgery, can improve blood flow to the heart. This will help decrease your chest pain and prevent a heart attack.
Treatment options
The following list of medications are in some way related to or used in the treatment of this condition.
What can I do to manage angina?
Keep a record or a calendar with details about your symptoms. Every time you have pain or other symptoms, describe it, how long it lasts, and how severe it is. Also describe what you were doing when the symptom started, and what made it go away. Bring this with you every time you see your healthcare provider.
Avoid activities that cause angina. Pay attention to your symptoms and find out what seems to make your angina worse.
Manage health conditions that can cause angina. Healthcare providers can help you manage a chronic health condition such as diabetes. Ask your provider for more information.
Ask about vaccines you may need. Your healthcare provider can tell you which vaccines you need, and when to get them. The following vaccines help prevent certain diseases that can put more stress on your heart:

The influenza (flu) vaccine is given each year. Get a flu vaccine as soon as recommended, usually in September or October.
The pneumonia vaccine is usually given every 5 years. Your healthcare provider may recommend the pneumonia vaccine if you are 65 or older.
COVID-19 vaccines are given to adults as a shot in 1 or 2 doses. Vaccination is recommended for all adults. A booster (additional) dose is also recommended for all adults. A second booster is recommended for all adults 50 or older and for immunocompromised adults 18 or older. The second booster is also recommended for adults who received the 1-dose vaccine for the first and booster doses. Your healthcare provider can tell you when to get one or both boosters.
What are some heart-healthy tips?
Do not smoke. Nicotine and other chemicals in cigarettes and cigars can cause heart and lung damage. Ask your healthcare provider for information if you currently smoke and need help to quit. E-cigarettes or smokeless tobacco still contain nicotine. Talk to your healthcare provider before you use these products.
Maintain a healthy weight. When you weigh more than is healthy for you, your heart must work harder. You are at higher risk for serious health problems if you are overweight. Ask your healthcare provider what a healthy weight is for you. Ask him or her to help you create a weight loss plan if you are overweight.
Ask about physical activity. Physical activity, such as exercise, can help strengthen your heart. Your healthcare provider can help you create a safe physical activity plan.
Choose a variety of heart-healthy foods as often as possible. Include fresh, frozen, or canned fruits and vegetables. Also include low-fat dairy products, fish, chicken (without skin), and lean meats. Your healthcare provider or a dietitian can help you create meal plans.
Lower your sodium (salt) intake. Limit foods that are high in sodium, such as canned foods, salty snacks, and cold cuts. If you add salt when you cook food, do not add more at the table. Choose low-sodium canned foods as much as possible.
Eat foods high in omega-3 fatty acids. Fish that are high in omega-3 fats include salmon, tuna, and herring. Other sources include broccoli, walnuts, and eggs.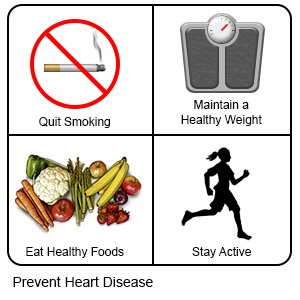 Call your local emergency number (911 in the US) or have someone call if:
You have any of the following signs of a heart attack:

Squeezing, pressure, or pain in your chest
You may also have any of the following:

Discomfort or pain in your back, neck, jaw, stomach, or arm
Shortness of breath
Nausea or vomiting
Lightheadedness or a sudden cold sweat

You have chest pain that does not go away after you take medicine as directed.
You lose feeling in your face, arms, or legs, or you suddenly feel weak.
When should I seek immediate care?
Your angina is happening more often, lasting longer, or causing worse pain.
When should I call my doctor?
You are dizzy or nauseated after you take your medicine.
You have shortness of breath at rest.
You have new or worse swelling in your feet or ankles.
You have questions or concerns about your condition or care.
Care Agreement
You have the right to help plan your care. Learn about your health condition and how it may be treated. Discuss treatment options with your healthcare providers to decide what care you want to receive. You always have the right to refuse treatment. The above information is an educational aid only. It is not intended as medical advice for individual conditions or treatments. Talk to your doctor, nurse or pharmacist before following any medical regimen to see if it is safe and effective for you.
© Copyright Merative 2023 Information is for End User's use only and may not be sold, redistributed or otherwise used for commercial purposes.
Learn more about Angina
Treatment options
Care guides
Symptoms and treatments
Medicine.com guides (external)
Further information
Always consult your healthcare provider to ensure the information displayed on this page applies to your personal circumstances.