YMCP Vitall Bolus
This page contains information on YMCP Vitall Bolus for
veterinary use
.
The information provided typically includes the following:
YMCP Vitall Bolus Indications
Warnings and cautions for YMCP Vitall Bolus
Direction and dosage information for YMCP Vitall Bolus
YMCP Vitall Bolus
This treatment applies to the following species:
Company: TechMix
An effervescent 2-bolus fresh cow supplement designed with live yeast, multiple calcium sources, and essential nutrients.
THE Total Fresh Cow Product
● Live Yeast
● Multiple Calcium Sources
● Essential Nutrients
EFFERVESCENT!
for optimal dispersion in rumen
GUARANTEED ANALYSIS
| | |
| --- | --- |
| Calcium | min 18.00%, max 21.00% |
| Magnesium | min 0.50% |
| Potassium | min 2.30% |
| Vitamin E | min 21.5 IU/bolus |
| Niacin | min 1,430 mg/bolus |
| Live Yeast Cells | min 15 billion CFU*/bolus |
*CFU = Colony Forming Units
(Saccharomyces cerevisae)
Ingredients
Calcium Chloride, Sorbitol, Calcium Carbonate, Potassium Chloride, Citric Acid, Niacin, Active Dry Yeast, Magnesium Sulfate, Magnesium Stearate, Zinc Sulfate, a-Tocopherol Acetate (source of Vitamin E Activity), and Betaine Hydrochloride.
Directions For Use
Give 2 boluses of YMCP Vitall immediately after calving. Another 2 boluses may be given 12 to 24 hours later. Boluses are given to a cow using the YMCP Vitall applicator. Access to fresh, clean water at all times is recommended.
Insert both boluses into the bolus applicator.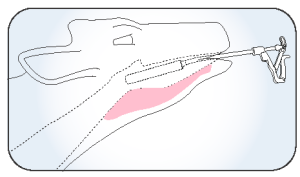 Carefully guide the loaded YMCP Vitall applicator into the cow's mouth. When resistance is felt, gently direct the applicator beyond the tongue, then squeeze the handle to release both boluses.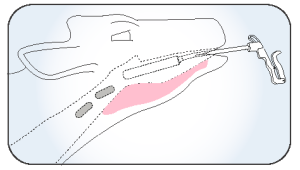 Pause for a moment to allow the cow to swallow the boluses then gently remove the applicator.
CAUTION STATEMENTS
Follow label instructions carefully. Incorrect use or handling may cause side effects. The user assumes risk of faulty use or handling per instructions. Do not use excessive force when giving the bolus to the cow. Do not use the bolus if broken.
Keep out of reach of children. YMCP Vitall is not intended for human use.
STORAGE
Store in the original packaging between 32º F (0º C) and 86º F (30º C) in a dry location. Boluses are sensitive to moisture and should remain in the original packaging until immediately before use.
TechMix, LLC gives no warranty of merchantability or any other warranty which extends beyond the description on the label. In no event shall TechMix, LLC be responsible for incidental or consequential damages. This product was made in a feed manufacturing facility that does not handle or store products containing animal proteins prohibited in ruminant feed.
REDEFINING HYDRATION
TechMix, LLC., PO Box 221, Stewart, MN 55385
877-466-6455
www.techmixglobal.com
| | | |
| --- | --- | --- |
| CASE CONTAINS: | CONTROL NUMBER: | |
| Four boxes containing 12 - 2 bolus packets (110 grams/bolus). | 20015-085 | 0601802017 |
| Four boxes containing 22 - 2 bolus packets (110 grams/bolus). | 20015-089 | |
CPN: 1144069.0
TECHMIX
740 BOWMAN STREET, PO BOX 221, STEWART, MN, 55385
| | | |
| --- | --- | --- |
| Telephone: | | 320-562-2740 |
| Order Desk: | | 877-466-6455 |
| Website: | | www.techmixglobal.com |
| Email: | | info@techmixglobal.com |
| | |
| --- | --- |
| | THIS SERVICE AND DATA ARE PROVIDED "AS IS". DVMetrics assumes no liability, and each user assumes full risk, responsibility, and liability, related to its use of the DVMetrics service and data. See the Terms of Use for further details. |