Witness LH (Canada)
This page contains information on Witness LH for
veterinary use
.
The information provided typically includes the following:
Witness LH Indications
Warnings and cautions for Witness LH
Direction and dosage information for Witness LH
Witness LH
This treatment applies to the following species:
Company: Zoetis
CANINE AND FELINE SERUM LUTEINIZING HORMONE DETECTION KIT
I. General Information
WITNESS® LH test provides an accurate, semiquantitative measurement of canine and feline luteinizing hormone (LH) in serum samples. This assay, when used in conjunction with progesterone testing, identifies the pre-ovulatory LH surge, and thus, the time of ovulation. It may also be used to distinguish ovariectomized from sexually intact bitches or queens.
Ii. Test Principles
WITNESS® LH is an immunochromatographic assay that uses gold-conjugated antibodies to give a visual line in the presence of luteinizing hormone in dog or cat serum.
Sensitized particles bound to the luteinizing hormone present in the serum sample migrate along a membrane.
The complex is then captured on a sensitized reaction zone where its accumulation causes the
formation of a clearly visible pink/red band.
A control band located at the end of the reading window (3) ensures that the test was performed correctly.
A positive result occurs when a line appears in the test area which is of similar or greater intensity than the control line. When this occurs, the LH level in the serum sample is greater than 1 nanogram per milliliter.
III. SAMPLE COLLECTION
● The test can be performed on canine or feline serum. WITNESS® LH requires only four drops of serum to run each test.
● Always collect samples with a sterile needle and syringe.
● The sample should not be haemolysed or lipemic.
Iv. Sample Storage
Serum samples should preferably be tested on the same day as sample collection.
If testing is further delayed, samples should be kept refrigerated (up to 24 hours at 2°C to 8°C).
For long term storage, serum samples should be kept frozen (-20°C; or colder). Do not thaw and refreeze.
V. KIT CONTENTS
● 6 pouches, each containing a test device
● 6 pipettes
● Instructions for use
VI. PRECAUTIONS
● Do not use this kit or any of its components after the expiration date.
● Kit should be stored at +2 °C - 25 °C. Kit should not be frozen.
● Use the test immediately after the pouch is first opened (within 10 minutes).
● Avoid touching or damaging the membrane in the sample well or the results window.
● The WITNESS® device should be placed on a flat, horizontal surface while performing the test.
● Use a separate pipette for each sample.
● Hold pipette vertically when dispensing sample.
● Handle all samples as biohazardous material.
● For veterinary use only.
Vii. Test Procedure
Prior to use, allow SAMPLE to come to room temperature (20° to 25°C).
1. SAMPLE APPLICATION
● Tear open a pouch provided and place the test device on a flat horizontal surface.
● Holding the provided pipette vertically, add four drops of sample to the test well (1).
● Leave the test device flat during migration of sample/reagent complex through the reading windows.
2. READING TEST
● After 20 minutes, observe the presence or absence of pink/red bands in the reading windows (2) and (3).
VIII. RESULTS
Valid Results
● Test is VALID if a pink/red band is present in reading window (3).
Interpretation of Results
● NEGATIVE. If no line appears in reading window (2), the LH value is less than 1 nanogram per milliliter. Continue LH testing on a daily basis to determine the optimal time to breed.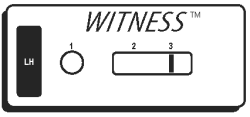 ● POSITIVE. Field observations have shown if a line appears in reading window (2) which is of similar or greater intensity than the control window (3), the LH value is greater than 1 nanogram per milliliter. Field observations have shown if a distinct line appears in reading window (2) of less intensity than control window (3), the sample is likely to contain slightly less than 1 nanogram per milliliter and have been drawn before or after the LH surge (the shoulders of the LH peak). If the daily tests for the LH surge do not reveal a stronger test line, field observations have shown the weaker intensity line should be considered as indicative of the LH surge. Progesterone values may help confirm.
Note:
The test is complete and may be read before 20 minutes if both control and test pink/red bands are visible. The presence of only the control band on the strip before 20 minutes does not mean that the test is complete, as a test band may appear more slowly than the control band.
SYMBOL DESCRIPTIONS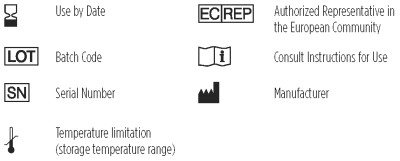 Zoetis Inc., Kalamazoo, MI 49007, USA
www.zoetis.com
EC REP
Zoetis Belgium SA, Rue Laid Burniat 1, 1348 Louvain-la-Neuve, BELGIUM
For product information call:
US VMIPS 1-888-963-8471
Canada 1-800-461-0917
40038284
CPN: 1198512.3
ZOETIS CANADA INC.
16,740 TRANS-CANADA HIGHWAY, KIRKLAND, QC, H9H 4M7
| | | |
| --- | --- | --- |
| Order Desk: | | 800-663-8888 |
| Technical Services Canada: | | 800-461-0917 |
| Technical Services USA: | | 800-366-5288 |
| Website: | | www.zoetis.ca |
| | |
| --- | --- |
| | THIS SERVICE AND DATA ARE PROVIDED "AS IS". Animalytix assumes no liability, and each user assumes full risk, responsibility, and liability, related to its use of the Animalytix service and data. See the Terms of Use for further details. |