Spectra Shield (14 to 29 lbs)
This page contains information on Spectra Shield (14 to 29 lbs) for
veterinary use
.
The information provided typically includes the following:
Spectra Shield (14 to 29 lbs) Indications
Warnings and cautions for Spectra Shield (14 to 29 lbs)
Direction and dosage information for Spectra Shield (14 to 29 lbs)
Spectra Shield (14 to 29 lbs)
This treatment applies to the following species:
Company: Durvet
It's easy! No mess, no stress. Just clip 'n go.
Collar Attached MEDALLION
FOR USE ON DOGS WEIGHING 14 TO 29 LBS
For Control of Ticks & Fleas
ON DOGS
FOR UP TO 4 MONTHS
ACTIVE INGREDIENTS:
| | |
| --- | --- |
| Zetacypermethrin* | 10% |
| Piperonyl Butoxide (butylcarbityl) (6-propylpiperonyl) ether and related compounds | 20% |
| OTHER INGREDIENTS | 70% |
| TOTAL | 100% |
*S-Cyano (3-phenoxyphenyl) methyl (±) cis/trans 3-(2,2-dichloroethenyl)-2,2 dimethylcyclopropane-carboxylate**
**Cis/trans isomer ratio: max. 55% (±) cis and min. 45% (±) trans
KEEP OUT OF REACH OF CHILDREN
Spectra Shield (14 to 29 lbs) Caution
Spectra SHIELD™ medallion is a collar medallion that contains a powerful synergized pyrethroid insecticide that kills adult fleas and all blood-feeding stages of ticks, yet exhibits very low toxicity to animals and humans.
READ ENTIRE LABEL BEFORE EACH USE.
USE ONLY ON DOGS.
Precautionary Statements
HAZARDS TO HUMANS. CAUTION. May be harmful if swallowed or absorbed through the skin. Avoid contact with skin, eyes or clothing. Wash thoroughly with soap and water after handling and before eating, drinking, chewing gum, using tobacco, or using the toilet.
Environmental Hazards
This pesticide is extremely toxic to fish and aquatic organisms, including fish and invertebrates. Do not contaminate water by disposal of used collar medallion. Use this product only as specified on the label.
Directions For Use
It is a violation of Federal law to use this product in a manner inconsistent with its labeling.
DO NOT USE ON PUPPIES LESS THAN 6 MONTHS OF AGE.
For dogs weighing 14-29 pounds, use one 4 gram medallion. This 4 gram product may only be used on dogs weighing between 14 and 29 pounds. May not be used on dogs weighing less than 14 pounds or greater than 29 pounds. This product takes a few days to show maximum efficacy.
Remove medallion from package and attach to "D-ring" on existing collar as illustrated in Steps 1 through 3.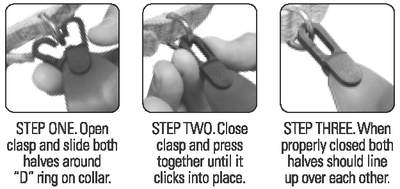 The completed medallion must swing freely from the "D-ring" on the collar. Consult a veterinarian before using this product on debilitated, aged or medicated animals. If used on pregnant or nursing dogs, do not replace medallion until puppies are at least 6 weeks old. Sensitivity may occur after using ANY pesticide product for pets. Any pesticidal collar or collar attachment may irritate some animals. If irritation continues, remove the product from the animal. If signs of sensitivity occur, bathe your pet with mild soap and rinse with large amounts of water. If signs continue, consult a veterinarian immediately. As the Spectra SHIELD™ medallion is depleted of insecticide, ticks and fleas may be again noticed on your pet indicating it is time to replace the attachment or replace the attachment after 4 months, whichever comes first. DO NOT USE ON CATS. The safety of this product has not been determined on cats.
First Aid
This product contains zetacypermethrin, a pyrethroid insecticide, and piperonyl butoxide, technical, a mixed-function oxidase inhibitor.
If swallowed
● Call a poison control center or a doctor immediately for treatment advice.
● Have person sip a glass of water if able to swallow.
● Do not induce vomiting unless told to do so by a poison control center or doctor.
● Do not give anything by mouth to an unconscious person.
If on skin
● Rinse skin immediately with plenty of water for 15-20 minutes.
● Call a poison control center or doctor for treatment advice.
Hotline Number
Have the product container or label with you when calling a poison control center or doctor, or going for treatment. You may also call 1-855-777-0658 for emergency medical treatment information.
Storage And Disposal
Do not contaminate water, food or feed by storage and disposal.
PESTICIDE STORAGE: Store in a cool place in original container, away from direct sunlight.
PESTICIDE DISPOSAL: Wrap used product in a plastic bag or several layers of newspaper and discard in trash.
CONTAINER DISPOSAL: Non-refillable container. Do not reuse bag. Discard bag in trash, or offer for recycling, if available.
NOTICE OF WARRANTY
TO THE EXTENT CONSISTENT WITH APPLICABLE LAW, PEAK MARKETING MAKES NO WARRANTY OF MERCHANTABILITY, FITNESS FOR ANY PURPOSE, OR OTHERWISE, EXPRESSED OR IMPLIED concerning this product or its uses which extend beyond the use of the product under normal conditions in accord with the statements made on the label, and in any case, is limited to replacement of collar medallion only.
Distributed by Peak Marketing, P.O. Box 279, Blue Springs, MO 64013
EPA Reg. No. 39039-14-89400
EPA Est. No. 39039-WY-01
| | |
| --- | --- |
| NET WEIGHT | |
| 4 GRAMS • CONTENTS ONE MEDALLION | ISS13XB06 |
CPN: 10843500
DURVET, INC.
100 S.E. MAGELLAN DRIVE, BLUE SPRINGS, MO, 64014
| | | |
| --- | --- | --- |
| Telephone: | | 816-229-9101 |
| Toll-Free: | | 800-821-5570 |
| Fax: | | 816-224-3080 |
| Website: | | www.durvet.com |
| Email: | | info@durvet.com |
| | |
| --- | --- |
| | THIS SERVICE AND DATA ARE PROVIDED "AS IS". DVMetrics assumes no liability, and each user assumes full risk, responsibility, and liability, related to its use of the DVMetrics service and data. See the Terms of Use for further details. |