Senilife
This page contains information on Senilife for
veterinary use
.
The information provided typically includes the following:
Senilife Indications
Warnings and cautions for Senilife
Direction and dosage information for Senilife
Senilife
This treatment applies to the following species:
Company: Ceva Animal Health
NUTRITIONAL SUPPLEMENT
ELDERLY DOGS
Uses:
Supports brain function in elderly dogs.
Composition
Each capsule contains
| | |
| --- | --- |
| • Phosphatidylserine | 25 mg |
| • Ginkgo Biloba extract | 10 mg |
| • Vitamin B6 | 20.5 mg |
| • Vitamin E | 33.5 mg |
| • Resveratrol (Grape Extract) | 5 mg |
• Other ingredients: cod liver oil, seed oil products and byproducts, gelatin, glycerin, glyceryl monostearate, titanium dioxide, FD&C Red 40
Guaranteed Analysis: Proteins 22.5%, Oils and Fats 46%, Cellulose <1%, Moisture 6%, Ash 6%, Vitamin E (33.5 mg), Vitamin B6 (20.5 mg)
Properties
Senilife® is a nutritional supplement for the signs of brain aging in elderly dogs, which can provide an improved quality of life for the elderly pet, delay the appearance of age-related behavior problems, and reduce the need for age-related dependencies to the owner.
Phosphatidylserine- Naturally occurring membrane phospholipid.
Ginkgo Biloba-
• Antioxidant activity
Directions For Use
Senilife is safe and formulated for long term use. For optimal results give the recommended dose for 1-2 months and consult with your veterinarian for continued use and recommendations.
Dogs:

Less than 30 lbs.

-1 capsule daily

30 lbs. - 50 lbs.

-2 capsules daily

51 lbs. and greater

-3 capsules daily
Contraindications
Senilife is contraindicated in pets receiving anti-coagulation medications.
Method(s) of Administration:
1) Place entire capsule directly into animals mouth, or
2) Place capsule contents onto animals food or directly into animals mouth by cutting the upper portion of the capsule with scissors (as indicated in diagram 1) and squeezing capsule contents (illustrated in diagram 2).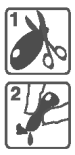 For customer service please call 1-800-999-0297
Senilife is a trademark of Innovet Italia
Distributed by Ceva Animal Health LLC, 8735 Rosehill Road, Suite 300, Lenexa, KS 66215
Made in France
| | |
| --- | --- |
| | Code : |
| 30 CAPSULES | 54921/03 |
CPN: 1328006.1
CEVA ANIMAL HEALTH, LLC
8735 ROSEHILL ROAD, STE. 300, LENEXA, KS, 66215
| | | |
| --- | --- | --- |
| Toll-Free: | | 1-800-999-0297 |
| Toll-Free Fax: | | 877-777-5138 |
| Website: | | www.ceva.us |
| | |
| --- | --- |
| | THIS SERVICE AND DATA ARE PROVIDED "AS IS". DVMetrics assumes no liability, and each user assumes full risk, responsibility, and liability, related to its use of the DVMetrics service and data. See the Terms of Use for further details. |