Recombitek Oral (Canada)
This page contains information on Recombitek Oral for
veterinary use
.
The information provided typically includes the following:
Recombitek Oral Indications
Warnings and cautions for Recombitek Oral
Direction and dosage information for Recombitek Oral
Recombitek Oral
This treatment applies to the following species:
Company: Boehringer Ingelheim Animal Health
Bbronc ALC SWD
Dogs
1 mL
Bordetella Bronchiseptica Vaccine, Avirulent Live Culture
Recombitek Oral Indications
For vaccination of healthy dogs and puppies 8 weeks of age or older as an aid in prevention of kennel cough caused by Bordetella bronchiseptica.
Directions and dosage: Aseptically rehydrate the vaccine cake with the sterile diluent supplied. Shake well and draw the required amount back into the syringe. Remove needle from syringe. Use immediately. Place the tip of the syringe (without needle) in the buccal cavity of the dog. Expel one dose (1 mL) of rehydrated vaccine into buccal cavity (see illustration). Historically, annual revaccination with this product has been recommended. The need for annual booster vaccination has not been established for this product. For advice on revaccination frequency, contact your veterinarian or the manufacturer.
Proper Oral Administration

PEEL-OFF LABEL INSTRUCTIONS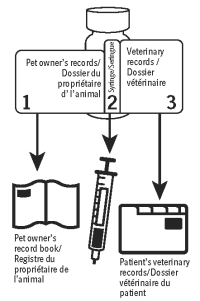 Precautions
This product is designed for oral administration only. Do not vaccinate dogs parenterally.
In case of anaphylactoid reaction, administer epinephrine. This product has not been tested in pregnant animals. In case of human exposure, contact a physician. Inactivate unused contents before disposal.
Precautions: For oral use only. Do not vaccinate dogs parenterally. Store out of direct sunlight at 2-8°C. Do not freeze. Do not mix with other products, except as specified on the label.
For use in animals only.
Recombitek® is a registered trademark in Canada of Boehringer Ingelheim Vetmedica GmbH. Used under license.
Manufactured by:
Boehringer Ingelheim Animal Health USA Inc., Athens, GA 30601 USA
Phone: 1 (888) 637-4251
VLN/PCN 124/1081.05
Distributed in Canada by:
Boehringer Ingelheim Animal Health Canada Inc., Burlington ON L7L 5H4
Contains:

25 doses

25 x 1 dose lyophilized

25 x 1 mL sterile diluent

155310-00
CPN: 1182171.0
BOEHRINGER INGELHEIM ANIMAL HEALTH CANADA INC.
5180 SOUTH SERVICE ROAD, BURLINGTON, ON, L7L 5H4
| | | |
| --- | --- | --- |
| Customer Care No.: | | 1-800-567-1885 |
| Technical Services No.: | | 1-877-565-5501 |
| Website: | | www.boehringer-ingelheim.ca |
| | |
| --- | --- |
| | THIS SERVICE AND DATA ARE PROVIDED "AS IS". Animalytix assumes no liability, and each user assumes full risk, responsibility, and liability, related to its use of the Animalytix service and data. See the Terms of Use for further details. |