Planate (Canada)
This page contains information on Planate for
veterinary use
.
The information provided typically includes the following:
Planate Indications
Warnings and cautions for Planate
Direction and dosage information for Planate
Planate
This treatment applies to the following species:

Company: Merck Animal Health
CLOPROSTENOL INJECTION
Sterile Synthetic Prostaglandin for Swine
DIN 02137631
Veterinary Use Only
Description
PLANATE (cloprostenol) is a colorless solution of a synthetic prostaglandin analogue for use in swine.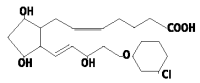 Each 2 mL contains:
Active Ingredients
175 µg of cloprostenol (as cloprostenol sodium USP)
PRESERVATIVES:
2% w/v benzyl alcohol
Planate Indications
PLANATE induces farrowing in sows and gilts.
Planate Dosage And Administration
A dosage of 2 mL (175 µg cloprostenol) should be administered by deep intramuscular injection. The use of a multiple-dose syringe is recommended for the 50 mL format.
Sows and gilts should be given PLANATE 1 to 2 days before the expected farrowing date calculated from farm records. The average gestation length must be calculated on each farm from accurate service records so that sows may be induced to farrow at the required time. (In most situations gestation length varies between 111 and 119 days, with an average around 115 days as shown below.)
The majority of animals can be expected to respond within the period 24 ± 5 hours following injection, except in those cases where farrowing is imminent. Trials have shown that normally 95% will commence farrowing within 36 hours of treatment.
Parturition and piglet viability are normal when PLANATE is administered 1 or 2 days before the expected farrowing date. The prediction of the precise date of farrowing is subject to error; therefore, the operator should be prepared to render extra care to piglets, if necessary.
Planate Cautions
An increase in the number of nonviable piglets may result if PLANATE is used earlier than two (2) days prior to the expected farrowing date.
WARNINGS
● No meat withdrawal period is required when used according to the label.
● Pregnant women, women of childbearing age, asthmatics and people with other respiratory tract diseases should exercise extreme caution when handling this product such as wearing waterproof gloves. Prostaglandins of the F2α type may readily be absorbed through the skin and may cause bronchospasms and/or miscarriage.
● This product should be handled carefully to avoid accidental self-injection or contact with the skin or mucous membranes of the user. In case of accidental self-injection, seek medical advice and show the package insert to the doctor. Should respiratory distress result from accidental inhalation or injection, the inhalation of a rapidly acting bronchodilator is indicated. If accidental skin contact occurs, wash immediately with water.
● Keep out of reach of children.
Adverse Reactions
Mild side effects (consisting of exaggerated nesting behavior and restlessness) may be seen occasionally.
Storage
Do not store above 30°C. Protect from freezing. Protect from light. Contents should be used within 28 days after the first dose is removed.
How Supplied
20 mL and 50 mL multi dose vials.
Intervet Canada Corp., subsidiary of Merck & Co., Inc., 16750, route Transcanadienne, Kirkland, QC H9H 4M7
1-866-683-7838
® Registered trademark of Intervet Inc. Used under license.
Version 02 MAR 2017
CPN: 1208076.7
MERCK ANIMAL HEALTH
Intervet Canada Corp.
16750 ROUTE TRANSCANADIENNE, KIRKLAND, QC, H9H 4M7
| | | |
| --- | --- | --- |
| Order Desk: | | 514-428-7013 |
| Toll-Free: | | 866-683-7838 |
| Fax: | | Toll-free 888-498-4444; local 514-428-7014 |
| Website: | | www.merck-animal-health.ca |
| | |
| --- | --- |
| | THIS SERVICE AND DATA ARE PROVIDED "AS IS". Animalytix assumes no liability, and each user assumes full risk, responsibility, and liability, related to its use of the Animalytix service and data. See the Terms of Use for further details. |