PetArmor For Cats
This page contains information on PetArmor For Cats for
veterinary use
.
The information provided typically includes the following:
PetArmor For Cats Indications
Warnings and cautions for PetArmor For Cats
Direction and dosage information for PetArmor For Cats
PetArmor For Cats
This treatment applies to the following species:
Manufacturer: Sergeant's
Only for use on cats and kittens 8 weeks or older
PETARMOR® For Cats is a topical application for fast action and lasting control of fleas, ticks, and chewing lice.
Active Ingredient
| | |
| --- | --- |
| Fipronil | 9.7% |
| INERT INGREDIENTS | 90.3% |
| TOTAL | 100.0% |
Compare to Frontline® Top Spot® same active ingredient*
KEEP OUT OF REACH OF CHILDREN
PetArmor For Cats Caution
PETARMOR® For Cats acts fast and is an effective, lasting, waterproof, and easy-to-use application for control of fleas, ticks, and chewing lice on cats and kittens. When used as directed, PETARMOR® For Cats can stop infestations of fleas, ticks, and chewing lice and help to prevent reinfestation on cats and kittens, including on breeding, pregnant and lactating queens.
Specifically, PETARMOR® For Cats kills, controls and prevents infestations of:
1. Newly emerged adult fleas prior to egg-laying, including fleas which could cause flea allergy dermatitis;
2. Brown Dog tick, the American Dog tick, the Lone Star tick, and the Deer tick (that may transmit Lyme Disease), at all stages;
3. Chewing lice infestations.
PETARMOR® For Cats contains the active ingredient fipronil.
Directions For Use
It is a violation of Federal Law to use this product in a manner inconsistent with its labeling. Do not allow children to apply this product. READ ENTIRE LABEL AND ENCLOSED DIRECTIONS BEFORE EACH USE. CAREFULLY FOLLOW ALL PRECAUTIONARY STATEMENTS AND APPLICABLE USE DIRECTIONS. FOR USE ON CATS ONLY. DO NOT USE ON RABBITS OR OTHER ANIMALS.
For topical application only. Apply PETARMOR® For Cats ONLY to cats and kittens aged 8 weeks or older, including on breeding, pregnant, and lactating queens, as indicated below for control of fleas, ticks, and chewing lice:
How to Apply
1. Open the child resistant package according to the directions on the back of the sealed inner package for each pipette.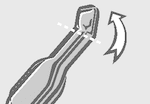 2. Snap the tip of the pipette away from you as shown.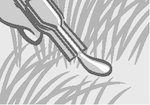 3. Part the cat's hair and place the tip of the pipette to the skin level behind the neck and between the shoulders. Ensure that the entire application of PETARMOR® For Cats is contained in a single spot on the cat's skin. Be sure to squeeze the pipette thoroughly so that the entire contents are applied.
Do not apply the product superficially to the cat's hair. Use only one pipette during each application.
Do not touch the area where the application was made until it is dry.
Frequency Of Application
Fleas: According to research studies, adult fleas are killed for up to six weeks following an application of fipronil. If, however, your cat or kitten is susceptible to flea allergy dermatitis, or if you believe there is a risk of reinfestation, apply once every month.
Ticks: Each application kills ticks for one month or longer. For best control of ticks, apply once every month.
Chewing Lice: Each application kills chewing lice for one month or longer. For best control of chewing lice, apply once every month.
Do not reapply PETARMOR® For Cats for thirty (30) days.
Please note that there is no need to reapply following your cat's exposure to bathing or water immersion, as PETARMOR® For Cats remains effective in those conditions.
Storage And Disposal
Do not contaminate water, food, or feed by storage and disposal.
Storage. Store unused pipettes in the original child-resistant container and outer box only, out of reach of children and animals.
Pesticide Disposal. If partly filled: Call your local solid waste agency or 1-800-CLEANUP for disposal instructions. Never place unused product down any indoor or outdoor drain.
Container Disposal. Nonrefillable container. If empty: Do not reuse this container. Place in trash or offer for recycling if available.
First Aid
Have the product container or label with you when calling a poison control center or doctor, or going for treatment.
If Swallowed: Immediately call a poison control center or doctor for treatment advice. Have the person sip a glass of water if able to swallow. Do not induce vomiting unless told to do so by the poison control center or doctor. Do not give anything by mouth to an unconscious person.
If in Eyes: Hold eye open and rinse slowly and gently with water for 15-20 minutes. Remove contact lenses, if present, after the first 5 minutes, then continue rinsing. Call a poison control center or doctor for treatment advice.
If on Skin: Rinse skin with plenty of soap and water. Get medical attention if irritation persists.
Precautionary Statements
Hazards To Humans. Caution.
Harmful if swallowed. Causes eye irritation. Avoid contact with skin, eyes, or clothing. Wash thoroughly with soap and water after handling and before eating, drinking, chewing gum, or using tobacco.
Hazards To Domestic Animals.
For external use only. Do not use on kittens under 8 weeks of age. Sensitivities may occur after using ANY pesticide product for pets. While temporary irritation at the application area may occur, if signs of continued sensitivity occur, consult a veterinarian immediately. Should any unusual reactions to the application occur, do not reapply before consulting with a veterinarian. Certain medications can interact with pesticides. Consult with your veterinarian before using this product on medicated, debilitated, or aged cats. Call 1-888-908-TICK for 24-hour assistance.
Physical Or Chemical Hazards
Flammable: Keep away from heat and open flame.
Warranty
To the extent consistent with applicable law, sellers make no warranty, express or implied, concerning the use of this product other than as indicated on the labeling. Buyer assumes all risk of use and handling of the product when such use and handling are contrary to the label instructions.
For Cat use only.
* This product is not manufactured or distributed by Merial, the makers of Frontline® Top Spot®
Available Exclusively from FidoPharm, Inc., 777 Township Line Road, Suite 170, Yardley, PA 19067-5508 USA
EPA Reg. No. 86230-1-85495
EPA Est. No. 87688-IND-01
Patent Pending
©2011 FidoPharm, Inc.
All rights reserved.
Questions? Comments?
1-888-908-TICK
Made in India
101-3002
Presentation: 3 x 0.017 fl oz (0.5 mL) applicators per carton.
NAC No.: 1083307.0
SERGEANT'S PET CARE PRODUCTS, INC.
dba Perrigo Animal Health
P.O. BOX 540399, OMAHA, NE, 68154-0399
| | | |
| --- | --- | --- |
| Clinical Inquiries: | | 800-224-7387 |
| Telephone: | | 402-938-7000 |
| Fax: | | 402-938-7092 |
| Customer Service: | | 800-224-7387 |
| Website: | | www.sergeants.com |
| | |
| --- | --- |
| | Every effort has been made to ensure the accuracy of the PetArmor For Cats information published above. However, it remains the responsibility of the readers to familiarize themselves with the product information contained on the US product label or package insert. |