Hartz UltraGuard Ear Mite Treatment for Dogs
This page contains information on Hartz UltraGuard Ear Mite Treatment for Dogs for
veterinary use
.
The information provided typically includes the following:
Hartz UltraGuard Ear Mite Treatment for Dogs Indications
Warnings and cautions for Hartz UltraGuard Ear Mite Treatment for Dogs
Direction and dosage information for Hartz UltraGuard Ear Mite Treatment for Dogs
Hartz UltraGuard Ear Mite Treatment for Dogs
This treatment applies to the following species:
Company: Hartz Mountain
Contains Aloe to help soothe irritated skin
KILLS
Ear Mites on contact
Active Ingredients

Pyrethrins

0.05%

Piperonyl Butoxide*

0.50%

OTHER INGREDIENTS

99.45%

TOTAL

100.00%
* Butylcarbityl 6-propylpiperonyl ether and related compounds
KEEP OUT OF REACH OF CHILDREN
Hartz UltraGuard Ear Mite Treatment for Dogs Caution
READ ENTIRE LABEL BEFORE EACH USE
USE ONLY ON DOGS
Hartz® UltraGuard® Ear Mite Treatment for Dogs offers relief for dogs suffering from ear mites. Dogs that have ear mites will typically shake their heads and scratch their ears frequently. Ear mites live in the ear canal of the animal and cause a brownish, waxy debris to be formed. Ear mites may be detected by placing some of the waxy debris on a dark surface and carefully watching for the movement of tiny white specks away from the debris. Inflamed, watery, or blocked ear canals indicate a more serious condition which requires the services of a veterinarian.
Precautionary Statements
HAZARDS TO HUMANS AND DOMESTIC ANIMALS
Hartz UltraGuard Ear Mite Treatment for Dogs Caution
HUMANS: Avoid contact with skin or clothing. Prolonged or frequently repeated skin contact may cause allergic reactions in some individuals. Wash hands thoroughly with soap and water after handling and before eating, drinking, chewing gum, using tobacco, or using the toilet.
ANIMALS: Do not use on puppies less than 12 weeks old. Consult a veterinarian before using this product on debilitated, aged, pregnant or nursing animals, or animals on medications. Avoid contact with eyes.
Sensitivities may occur after using ANY pesticide product for pets. If signs of sensitivity occur, bathe your pet with mild soap and rinse with large amounts of water. If signs continue, consult a veterinarian immediately.
First Aid
IF ON SKIN OR CLOTHING:
• Take off contaminated clothing.
• Rinse skin immediately with plenty of water for 15-20 minutes.
• Call a poison control center or doctor for treatment advice.
Have the product container or label with you when calling a poison control center or doctor, or going for treatment. You may also contact 1-800-275-1414 for emergency medical treatment information.
Directions For Use
It is a violation of Federal Law to use this product in a manner inconsistent with its labeling.
USE RESTRICTIONS: The maximum application rate depends on animal weight and is 5 drops/day for animals 5-15 lbs, 10 drops/day for animals 16-30 lbs, and 15 drops/day for animals 30 lbs and over. Treatment can be applied daily for 7 to 10 days, then repeated 2 weeks after the last treatment, if necessary.
To Kill Ear Mites
1. Remove one applicator tube from package and hold in an upright position.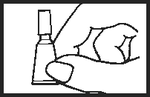 2. Pull off cap. Turn the cap around and place on top of tube.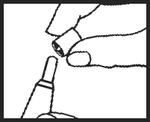 3. Simply press cap down to break the seal of tube and remove cap carefully.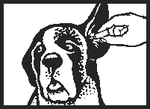 4. Position the tip of the tube at the base of the pet's ear. Firmly hold pet and fill each ear canal with labeled number of drops.
5. Massage base of ear to ensure insecticidal action penetrates ear wax.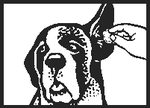 6. Gently dry with a cotton ball, soft cloth or cotton swab.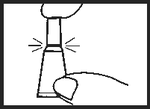 7. After application, simply invert the cap of the tube and snap back on the tube for easy closure.
| | |
| --- | --- |
| BODY WEIGHT | DOSAGE |
| 5 to 15 lbs. | 4-5 drops/day/ear |
| 16 to 30 lbs. | 5-10 drops/day/ear |
| 30 lbs. & over. | 10-15 drops/day/ear |
Each tube contains 100 drops
If conditions for which this preparation is used persist or if an irritation develops, discontinue use and consult a veterinarian. This product may be applied daily for 7 to 10 days. Repeat treatment in two weeks if necessary.
Storage And Disposal
PESTICIDE STORAGE: Store in a cool, dry area away from heat or open flame.
PESTICIDE DISPOSAL AND CONTAINER HANDLING: If empty: Do not reuse this container. Place in trash or offer for recycling if available.
If partly filled: Call your local solid waste agency for disposal instructions. Never place unused product down any indoor or outdoor drain.
EPA Reg. No. 2724-734-2596
EPA Est. No. 2596-OH-1
In case of emergency or for product use information call 1-800-275-1414
Hartz® and other trademarks are trademarks of The Hartz Mountain Corporation.
Made by The Hartz Mountain Corporation, 400 Plaza Drive, Secaucus, NJ 07094
| | |
| --- | --- |
| NET CONTENTS: | |
| 3 Tubes, 3 cc's 0.101 fl oz. each; 9 cc 0.303 fl oz. total | RM000000 |
CPN: 10360485
THE HARTZ MOUNTAIN CORPORATION
400 PLAZA DRIVE, SECAUCUS, NJ, 07094-3688
| | | |
| --- | --- | --- |
| Telephone: | | 201-271-4800 |
| Technical Information: | | 800-275-1414 |
| Website: | | www.hartz.com |
| | |
| --- | --- |
| | THIS SERVICE AND DATA ARE PROVIDED "AS IS". DVMetrics assumes no liability, and each user assumes full risk, responsibility, and liability, related to its use of the DVMetrics service and data. See the Terms of Use for further details. |