Forcyl (Canada)
This page contains information on Forcyl for
veterinary use
.
The information provided typically includes the following:
Forcyl Indications
Warnings and cautions for Forcyl
Direction and dosage information for Forcyl
Forcyl
This treatment applies to the following species:

Company: Vetoquinol
Marbofloxacin Sterile Injectable Solution
VETERINARY USE ONLY
ANTIBIOTIC
DIN 02474441
Description
Forcyl is a sterile, ready-to-use antimicrobial solution of marbofloxacin for injection.
Each mL of Forcyl contains:
Active Ingredient: 160 mg of marbofloxacin
Preservative: 15 mg of benzyl alcohol
Excipients: gluocono-delta-lactone and water for injection.
THERAPEUTIC CLASSIFICATION
Marbofloxacin is a synthetic third-generation fluoroquinolone and is a bactericidal antimicrobial which acts by inhibiting bacterial DNA gyrase leading to cell death. Marbofloxacin has a broad-spectrum of in vitro activity against Gram-positive and Gram-negative bacteria.
Forcyl Indications
Forcyl is indicated for the individual treatment of bovine respiratory disease (BRD) associated with susceptible strains of Mannheimia haemolytica and Pasteurella multocida in affected cattle.
Forcyl Dosage And Administration
The recommended dosage is 10 mg/kg body weight (10 mL/160 kg body weight) in a single intramuscular injection. If the volume to be injected intra-muscularly is greater than 20 mL, it should be divided between two or more injection sites.
CAUTIONS
The safety of Forcyl has not been demonstrated in calves less than 14 weeks of age.
Quinolone-class drugs should be used with caution in animals with known or suspected Central Nervous System (CNS) disorders. In such animals, quinolones have, in rare instances, been associated with CNS stimulation which may lead to convulsive seizures. Quinolone-class drugs have been shown to produce erosions of cartilage of weight-bearing joints and other signs of arthropathy in immature animals of various species. The effects of marbofloxacin on bovine reproductive performance and pregnancy have not been fully assessed.
Contraindications
Contraindicated in animals previously found to be hypersensitive to fluoroquinolones or to any excipient of Forcyl. Do not use in cases where the pathogen involved is resistant to other fluoroquinolones.
WARNINGS
Treated animals must not be slaughtered for use as food for at least 7 days after the treatment with this drug. Do not use in dairy cattle. Do not use in calves to be processed for veal.
To limit the development of antimicrobial resistance:
- Forcyl should not be used as a mass medication for cattle.
- Forcyl should be reserved for treating individual cases of bovine respiratory disease which have responded poorly, or are expected to respond poorly, to other classes of antimicrobials.
- The choice of Forcyl as the most appropriate treatment should be confirmed by clinical experience supported, where possible, by pathogen culture and drug susceptibility testing.
- Do not use in an extra-label manner in cattle or any other species.
People with known hypersensitivity to fluoroquinolones should avoid contact with the product. Avoid contact with skin and eyes. Wash hands after use.
Keep out of reach of children.
Note: The intramuscular injection of Forcyl can cause local tissue reaction that may result in trim loss of edible tissue at slaughter beyond the expiry of the meat withdrawal period.
ADVERSE REACTIONS
Administration may cause rare, transient injection site pain and swelling which may persist up to 7 days after injection. Very rarely, hypersensitivity reactions have been reported.
CLINICAL PHARMACOLOGY
The metabolism of marbofloxacin is limited, with the parent compound forming the major component in excreta, tissues and milk. It is assumed that metabolites have antimicrobial activity equal to the parent compound.
Pharmacokinetic studies were conducted in healthy cattle. Following intramuscular administration, marbofloxacin is rapidly absorbed. Briefly, after a single IM administration in cattle at the recommended dose of 10 mg/kg, the maximum plasma concentration of marbofloxacin (Cmax) is 7.915 µg/mL reached in 1.28 h (Tmax) for an exposure of 52.7 µg.h/mL (AUCINF). Marbofloxacin is extensively distributed. Binding to plasma proteins is about 30%. Marbofloxacin is eliminated slowly (T1/2λz = 17.50 h) predominantly as the active form in urine and faeces. Bioavailability of Forcyl is complete with the IM route (above 90%).
Mean and individual concentration-time profiles of marbofloxacin in ruminant calves after a single IM injection of 10 mg/kg of Forcyl are shown below.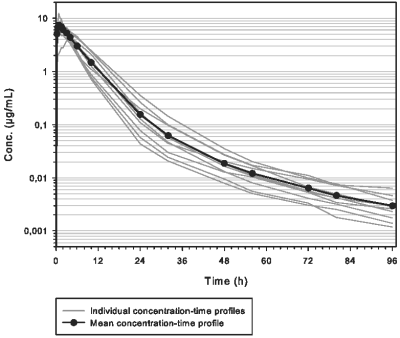 MICROBIOLOGY
The marbofloxacin mode of action is similar to that of other fluoroquinolones. Marbofloxacin acts directly on the bacterial DNA gyrase and topoisomerase IV by penetrating the bacterium by simple diffusion. Through irreversible and specific inhibition of the DNA supercoiling and replication, marbofloxacin causes death of the bacteria. Marbofloxacin has demonstrated in vitro and in vivo activity against Mannheimia haemolytica and Pasteurella multocida, and in vitro activity against Histophilus somni, the three major pathogenic bacteria associated with BRD. Marbofloxacin susceptibility has been demonstrated in Gram-negative aerobic bacteria (Enterobacteriaceae and Pasteurellaceae), including fastidious Gram-negative bacteria (Bordetella spp.). Enterobacteriaceae, such as Escherichia coli, Klebsiella spp., Proteus spp. and Salmonella spp., and Pseudomonaceae, such as Pseudomonas aeruginosa, have shown susceptibility. Gram-positive bacteria such as Staphylococcus aureus, Staphylococcus intermedius or other coagulase positive or negative bacteria have shown susceptibility. The clinical significance of these findings is not known.
Minimum inhibitory concentration (MIC) values of marbofloxacin for cattle respiratory disease bacterial pathogens isolated in 2014 during a Canadian clinical field trial were obtained. For Mannheimia haemolytica isolates (n=190), 78 (41%) and 110 (58%) of the isolates had an MIC of 0.02 µg/mL and 0.2 µg/mL, respectively (with two isolates that showed an MIC of 1 µg/mL and >2 µg/mL, respectively). For Pasteurella multocida isolates (n=72), 57 (79%) and 15 (21%) isolates had an MIC of 0.02 µg/mL and of 0.2 µg/mL, respectively.
ANIMAL SAFETY
The tolerance of Forcyl (160 mg/mL marbofloxacin solution for injection) was evaluated in young ruminant calves after intramuscular administrations at the recommended dose (10 mg/kg) or 3-fold the recommended dose (30 mg/kg) for an increased duration (3 days). The general tolerance of the 160 mg/mL marbofloxacin solution for injection administered at 3 times the recommended dose for an extended duration was good but induced some local injection site reactions. Following marbofloxacin administration whatever the dosage, tumefaction and gross lesions, but no heat or redness, were observed at injection sites in some animals. Pain was sometimes observed at the time of injection.
Cartilage necrosis with matrix lysis and subsequent erosion, ulceration, and fibrocartilage formation are well-documented changes associated with this class of compounds in juvenile animals of other species, such as dogs. At the proposed therapeutic dosage, 10 mg/kg in a single intramuscular injection, there was evidence of microscopic changes in cartilage, however there was no expression of clinical signs.
EFFICACY STUDIES
In order to assess the efficacy and the safety of Forcyl for the treatment of BRD under Canadian field conditions, 300 cattle were enrolled in a 2-site feedlot study taking place in Alberta and Quebec. 150 heads were enrolled at each site and evenly divided between (75 animals/site) the treatment and the negative control group.
To be included in the trial, the animals had to be ruminant cattle having at inclusion, signs of abnormal respiration AND general depression AND hyperthermia, i.e. rectal temperature ≥ 40°C.
In this randomized, blinded multi-centre trial, it was demonstrated that a single intramuscular injection of Forcyl (10 mg/kg of marbofloxacin) was significantly more effective than a negative control product (saline) in the treatment of BRD (associated with M. haemolytica and P. multocida) in Canadian bovine feedlots. Seven days post-treatment, 92% of the animals in the Forcyl group compared to 52% of the negative control group were deemed a treatment success (P < 0.05). Fourteen days post-treatment the animals treated with Forcyl continued to have a higher successful treatment rate (77%) than the animals in the negative control group (44%; P <0.05). Furthermore, Forcyl was well tolerated at injection site and during injection. Thus, Forcyl showed satisfactory efficacy and safety, in field conditions.
A European non-inferiority study was conducted with 231 ruminant cattle separated into two treatment groups, one receiving a single dose of 10 mg/kg of Forcyl by the intramuscular route and the other receiving the reference product, florfenicol (300 mg/mL) as a single 40 mg/kg subcutaneous dose. The animals were clinically monitored in parallel for 21 days. The success rates were high in both groups demonstrating acceptable efficacy in both treatment groups (success rate > 80%).
Storage
Store between 15°C to 25°C. Keep from freezing. Discard product 28 days after opening.
Registered trademark of Vetoquinol SA
Vetoquinol N.-A. Inc., 2000, ch. Georges, Lavaltrie, QC, Canada J5T 3S5
Net 100 mL, 250 mL
0819 A
CPN: 1234457.2
VETOQUINOL N.-A. INC.
Commercial Division
2000, CHEMIN GEORGES, LAVALTRIE, QC, J5T 3S5
| | | |
| --- | --- | --- |
| Telephone: | | 450-586-2252 |
| Order Desk: | | 800-363-1700 |
| Fax: | | 450-586-4649 |
| Website: | | www.vetoquinol.ca |
| Email: | | info@vetoquinol.ca |
| | |
| --- | --- |
| | THIS SERVICE AND DATA ARE PROVIDED "AS IS". Animalytix assumes no liability, and each user assumes full risk, responsibility, and liability, related to its use of the Animalytix service and data. See the Terms of Use for further details. |