Alvedia Quick Test Canine XM
This page contains information on Alvedia Quick Test Canine XM for
veterinary use
.
The information provided typically includes the following:
Alvedia Quick Test Canine XM Indications
Warnings and cautions for Alvedia Quick Test Canine XM
Direction and dosage information for Alvedia Quick Test Canine XM
Alvedia Quick Test Canine XM
This treatment applies to the following species:
Company: Alvedia
TECHNOLOGY
THE FIRST INDIVIDUAL CANINE CROSSMATCH TEST
THE FIRST XM IMMUNO-CHROMATOGRAPHY TECHNIQUE WITH A SPECIFIC CANINE ANTI-GLOBULIN REAGENT
BENEFITS
● 20 minutes procedure
● All material included
● Time saving
● Easy handling
● Reliable results
● Easy interpretation
● Snap result
IMPORTANCE OF CANINE CROSSMATCH TEST
Dogs have many blood types on the surface of their red blood cells and with the absence of test kits for all of these blood groups (except for DEA 1), it is mandatory to perform a reliable crossmatch test before any transfusion.
Crossmatching aims to establish a serological compatibility between the recipient and the donor. The classical technology uses an agglutination reaction to detect alloantibodies produced after a previous transfusion.
OUR TECHNOLOGY
Our canine crossmatch test (minor and/or major) is based on an immuno-chromatographic technology that will detect the presence of immunoglobulins and/or C3 components binding to the red blood cells (RBCs) surface.
Our canine crossmatch test will allow you to pick up incompatibilities across all canine blood groups (DEA 1, 3, 4, 5, 7, DAL ...).
A positive result between donor RBCs and recipient serum/plasma will indicate the presence of alloantibodies in pre-transfusion compatibility testing.
QUICK TEST XM MATERIAL
1 INDIVIDUAL XM TEST CONTAINS:
A > 1 QUICK TEST XM
B > 1 WASH BUFFER
C > 1 WHITE TOP BUFFER 1
C > 1 GREEN TOP BUFFER 2
E > 1 CLEAN TEST TUBE
F > 1 BLOOD COLLECTOR STRIP
G > 1 SMALL PIPETTE
H > 2 LARGE PIPETTES
I > 1 USER'S GUIDE
J > 1 WELL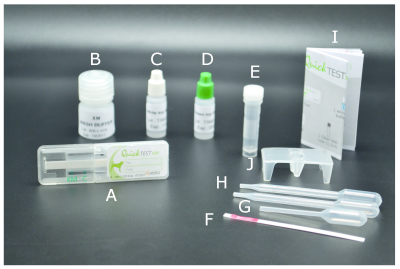 QUICK TEST XM PACKAGING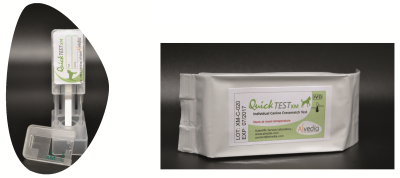 PRODUCT NAME

PRODUCT CODE

PACKAGING

QuickTest XM Canine

QT-XM-C

Individual test

Also available in:

LabTest XM Canine

LT-XM-C

5 tests/tube
QUICK TEST XM PROCEDURE
Material provided:

N°1: PREPARATION OF BLOOD SAMPLES

N°2: INCUBATION AND WASHING PROCEDURE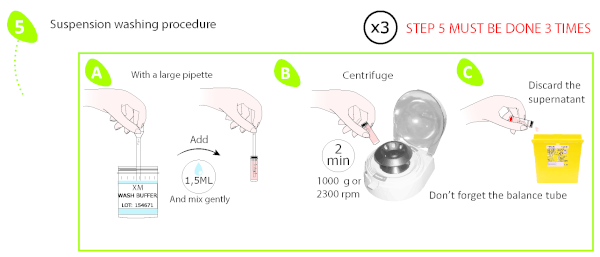 N°3: XM TEST PROCEDURE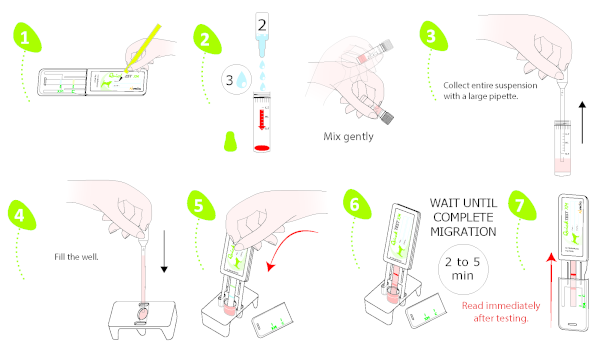 Scientific Service Laboratory: www.alvedia.com - contact@alvedia.com
CONTACT US:
11-13 rue des Aulnes, 69760 Limonest - France
Tel: +33 478 380 239
fax: +33 478 939 563
contact@alvedia.com
Alvedia
Alice Veterinary Diagostic
ALL YOU NEED FOR A SAFE TRANSFUSION
CPN: 1442005.0
ALVEDIA
11-13 RUE DES AULNES, LIMONEST, FRANCE, 69760
| | | |
| --- | --- | --- |
| Telephone: | | 00 33 (0) 478 380 239 |
| Cell: | | 00 33 (0) 633 411 702 |
| Website: | | www.alvedia.com |
| Email: | | contact@alvedia.com |
| | |
| --- | --- |
| | THIS SERVICE AND DATA ARE PROVIDED "AS IS". DVMetrics assumes no liability, and each user assumes full risk, responsibility, and liability, related to its use of the DVMetrics service and data. See the Terms of Use for further details. |