Alvedia Lab Test DAT
This page contains information on Alvedia Lab Test DAT for
veterinary use
.
The information provided typically includes the following:
Alvedia Lab Test DAT Indications
Warnings and cautions for Alvedia Lab Test DAT
Direction and dosage information for Alvedia Lab Test DAT
Alvedia Lab Test DAT
This treatment applies to the following species:
Company: Alvedia
TECHNOLOGY
FOR CANINE DIRECT ANTIGLOBULIN TEST (DAT)
[DIRECT COOMBS TEST]
WITH A SPECIFIC CANINE ANTIGLOBULIN REAGENT
10 MINUTES PROCEDURE
- TIME SAVING
- EASY HANDLING
- RELIABLE RESULTS
- EASY INTERPRETATION
Importance Of Direct Antiglobulin Test (dat)
DIRECT ANTIGLOBULIN TEST (DAT) AIMS TO DETECT THE PRESENCE OF IMMUNOGLOBULIN AND/OR C3 COMPONENTS ON THE SURFACE OF PATIENT'S RED BLOOD CELLS (RBC). DAT IS COMMONLY USED IN THE DIAGNOSIS OF IMMUNE MEDIATED HAEMOLYTIC ANEMIA (IMHA) IN DOGS.
THE CLASSICAL TECHNOLOGY USES INCUBATION OF WASHED RBC SUSPENSION WITH ANTISERA THAT WILL CAUSE AGGLUTINATION.
OUR IMMUNO-CHROMATOGRAPHIC TECHNOLOGY WILL DETECT THE PRESENCE OF IMMUNOGLOBULIN (IGG & IGM) AND/OR C3 COMPONENTS BINDING TO THE RBC SURFACE. A POSITIVE RESULT INDICATES AN IN VIVO SENSITIZATION AND CAN THUS BE USED TO INDICATE THE PRESENCE OF AUTO-IMMUNE ANTIBODIES.
LAB TEST DAT MATERIAL
1 BOX OF LABTEST DAT CONTAINS:
- 1 TUBE WITH 10 MEMBRANES (1 MEMBRANE = 1 DAT)
- 1 DAT BUFFER
- 10 RESULTS FORMS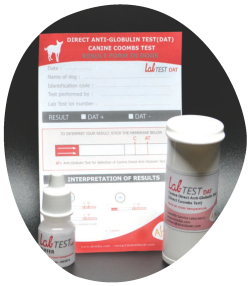 ADDITIONAL MATERIAL NEEDED:
- A CENTRIFUGE;
- A PIPETTE WITH TIPS;
- 1 CLEAN TEST TUBE (5ML) PER TEST.
LAB TEST DAT PROCEDURE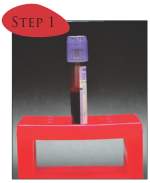 DRAW BLOOD SAMPLE IN AN EDTA, ACD OR CPD BLOOD TUBE*.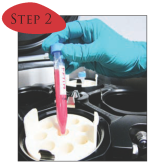 WASH RED BLOOD CELLS 3 TIMES (SEE WASHING PROCEDURE BELOW).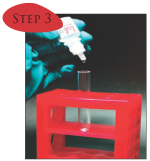 PREPARE A 5ML CLEAN TEST TUBE AND ADD 4 DROPS OF DAT BUFFER.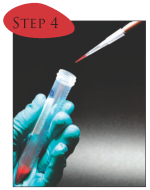 COLLECT 10µL OF WASHED PACKED RED BLOOD CELLS (PRBC).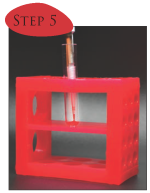 MIX 10µL OF WASHED PRBC WITH THE 4 DROPS OF DAT BUFFER AND MIX GENTLY.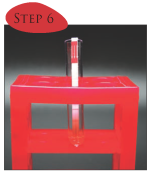 TAKE 1 DAT MEMBRANE AND DIP IT INTO THE TUBE CONTAINING THE SUSPENSION TO ALLOW A COMPLETE MIGRATION.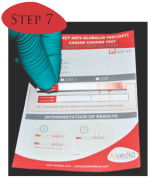 STICK THE MEMBRANE ON THE RESULT FORM TO INTERPRET IF THE DAT IS POSITIVE OR NEGATIVE AND RECORD THE FORM.
* HEPARIN BLOOD TUBE IS NOT RECOMMENDED.
Washing Red Blood Cells Procedure (3 Times)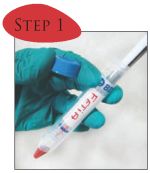 IN A 15 ML CLEAN TEST TUBE, ADD 500µL OF WHOLE BLOOD.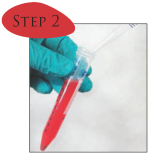 FILL THE TUBE WITH 10ML NORMAL SALINE BUFFER AND MIX WELL.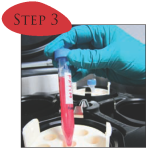 CENTRIFUGE THE TUBE FOR 3 MINUTES AT 1000G OR 2300 RPM.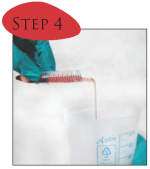 DISCARD SUPERNATANT SALINE BUFFER FROM THE CELLS.
REPEAT STEPS 2/3/4 TWO TIMES MORE
THE GOAL IS TO ACHIEVE A CLEAR AND COLORLESS SUPERNATANT
LAB TEST DAT RESULTS
THE DAT IS NEGATIVE

C = CONTROL LINE
AT = ANTIGLOBULIN TEST
A NEGATIVE REACTION INDICATES ABSENCE OF DETECTABLE ANTIBODIES OR COMPLEMENT ON THE RED CELLS.
THE DAT IS POSITIVE

A WEAK REACTION ATTEST OF A POSITIVE RESULT
A POSITIVE REACTION (+/- TO ++++) INDICATES THAT THE PATIENT'S RED CELLS ARE SENSITIZED (RED CELLS COATED WITH ANTIBODIES AND/OR C3)
Clinical dat information
A POSITIVE DAT IS THE CORNER STONE TO ESTABLISH THE IMHA DIAGNOSIS. IN A DOG SUFFERING FROM ANEMIA IT IS MANDATORY TO PERFORM A DAT AS ILLUSTRATED BY THE FOLLOWING CASES:
CLINICAL CASE N°1

CLINICAL CASE N°2

Name of patient: Vanda

Symptoms: Weakness, Lethargy, Pale

Mucous membranes, Anorexia.

Biology: Anemia (PCV: 6,5%, Hb: 4,4g/L)

DAT: POSITIVE

Cause: IMHA

Name of patient: Benji

Symptoms: Weakness, Lethargy, Small haematomas, Haematuria.

Biology: Anemia (PCV: 13,7%, Hb: 4,5g/L)

DAT: NEGATIVE

Cause: Haemostasis disorder
CONTACT US:
- TO ORDER
- FOR PRICE LIST
- FOR FURTHER INFORMATION
- OR TO IDENTIFY YOUR LOCAL DISTRIBUTOR
Alvedia
Alice Veterinary Diagostic
11-13 RUE DES AULNES, 69760 LIMONEST - FRANCE
TEL: +33 478 380 239
FAX: +33 478 939 563
CONTACT@ALVEDIAVET.COM
WWW.ALVEDIA.COM
CPN: 1442006.0
ALVEDIA
11-13 RUE DES AULNES, LIMONEST, FRANCE, 69760
| | | |
| --- | --- | --- |
| Telephone: | | 00 33 (0) 478 380 239 |
| Cell: | | 00 33 (0) 633 411 702 |
| Website: | | www.alvedia.com |
| Email: | | contact@alvedia.com |
| | |
| --- | --- |
| | THIS SERVICE AND DATA ARE PROVIDED "AS IS". DVMetrics assumes no liability, and each user assumes full risk, responsibility, and liability, related to its use of the DVMetrics service and data. See the Terms of Use for further details. |