Alvedia Feline Quick Test A+B
This page contains information on Alvedia Feline Quick Test A+B for
veterinary use
.
The information provided typically includes the following:
Alvedia Feline Quick Test A+B Indications
Warnings and cautions for Alvedia Feline Quick Test A+B
Direction and dosage information for Alvedia Feline Quick Test A+B
Alvedia Feline Quick Test A+B
This treatment applies to the following species:
Company: Alvedia
TECHNOLOGY
THE MOST RELIABLE BLOOD TYPING TEST ON THE MARKET
FOR CANINE & FELINE BLOOD TYPING
DEA 1 BLOOD GROUP (DEA 1.1 & DEA 1.2) IN DOGS
A & B BLOOD GROUPS IN CATS
NEW SCIENTIFIC DATA:
DETECTS WEAK DEA 1 (FORMER DEA 1.2)
- QUICK
- EASY TO USE
- CLEAN
- RELIABLE
- ARCHIVABLE
- 100% SPECIFICITY
THE FIRST IMMUNO-CHROMATOGRAPHY TECHNOLOGY
Quick TEST BT MATERIAL
FOR DETERMINATION OF DEA 1 (DEA 1.1 & DEA 1.2) BLOOD TYPES IN DOGS AND A/B BLOOD TYPES IN CATS
1 Quick Test Package Contains:
- 1 PLASTIC DEVICE WITH MEMBRANE DIPSTICK
- 1 EMPTY WELL
- 1 BUFFER SOLUTION
- 1 BLOOD COLLECTOR STRIP
- 1 SCHEMATIC TEST MANUAL

Quick TEST BT PROCEDURE
1 Alvedia Blood Typing Quick Test + 1 drop of blood + 2 minutes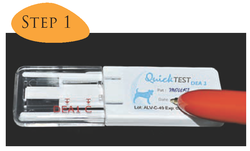 WRITE DOWN THE NAME OF THE PATIENT AND THE DATE.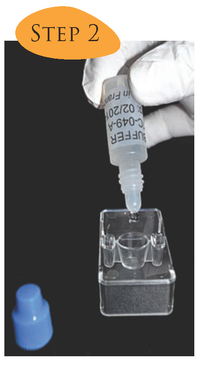 ADD 3 DROPS OF BUFFER INTO THE WELL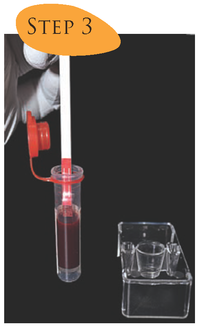 DIP THE BLOOD COLLECTOR STRIP INTO THE BLOOD TUBE OR RUB IT DIRECTLY ON THE DROP OF BLOOD. THE EXTREMITY MUST BE FULLY RED.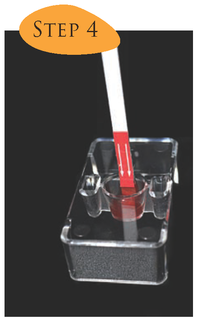 DIP THE EXTREMITY OF THE COLLECTOR STRIP INTO THE WELL AND MIX GENTLY.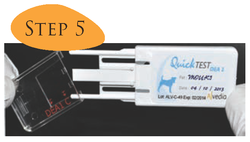 SEPARATE THE PLASTIC DEVICE IN TWO PARTS, BY PULLING OUT THE MEMBRANE HOLDER.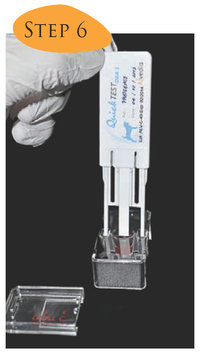 INSERT THE LEGS OF THE MEMBRANE HOLDER INTO THE HOLES BESIDE THE WELL TO ALLOW THE MIGRATION.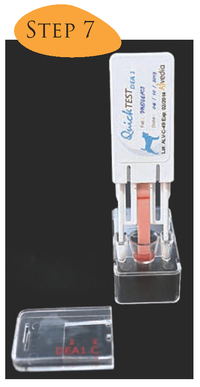 ALLOW TO STAND UNTIL THE BLOOD SUSPENSION IS SOAKED UP BY THE MEMBRANE AND THE CONTROL LINE BECOMES CLEARLY VISIBLE.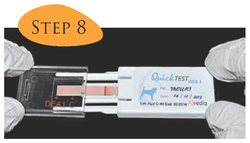 FIX BACK THE PLASTIC PART IN ORDER TO READ THE RESULT.
SAME PROCEDURE FOR FELINE & CANINE BLOOD TYPING TEST
Quick TEST BT RESULTS
DEA 1 - DOG

ABSENCE OF RED LINE IN FRONT OF «DEA 1» ARROW INDICATES A NEGATIVE REACTION.
DEA 1 WEAK + DOG

PRESENCE OF A WEAK RED LINE IN FRONT OF «DEA 1» ARROW INDICATES A POSITIVE REACTION. A WEAK DEA 1 POSITIVE DOG = DEA 1.2 POSITIVE DOG (SEE SCIENTIFIC INFORMATION)
DEA 1 + DOG

PRESENCE OF RED LINE IN FRONT OF «DEA 1» ARROW INDICATES A POSITIVE REACTION.
A GROUP CAT

PRESENCE OF RED LINE IN FRONT OF "A" ARROW INDICATES A POSITIVE REACTION FOR A GROUP.
B GROUP CAT

PRESENCE OF RED LINE IN FRONT OF "B" ARROW INDICATES A POSITIVE REACTION FOR B GROUP.
AB GROUP CAT

PRESENCE OF 2 RED LINES IN FRONT OF "A" AND "B" ARROW INDICATES A POSITIVE REACTION FOR BOTH A AND B GROUP.
Quick TEST SCIENTIFIC INFORMATION
THE DEA 1 ANTIGEN (NEW DATA)
ALVEDIA'S SCIENTIFIC TEAM ESTABLISHED THAT DEA 1 ANTIGEN PRESENTS A LARGE RANGE OF EXPRESSION LEVEL ON THE RBC SURFACE BY USING FLOW CYTOMETER TECHNOLOGY. SIMILARLY TO THE RHESUS D MOLECULE IN HUMAN (NAMED WEAK D OR DU), SOME DOGS EXPRESS LOW LEVEL OF DEA1 ANTIGEN (CALLED WEAK DEA 1). THIS WORK SHOWS THAT THE WEAK DEA 1 WERE PREVIOUSLY TYPED AS DEA 1.2 POSITIVE DOGS. A LARGE STUDY ON MORE THAN 750 DOGS SHOWS THAT OUR MEMBRANE TECHNOLOGY DETECTS PERFECTLY ALL RANGE OF DEA 1 ANTIGEN EXPRESSION FROM STRONG TO VERY WEAK. CONSEQUENTLY, THE DEA 1 LINE WILL ALWAYS SHOW DIFFERENT INTENSITIES. (PUBLICATION ON THAT SUBJECT COMING SOON).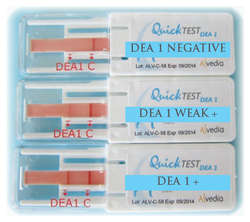 FLOW CYTOMETER ANALYSIS RESULTS

COMPARISON BETWEEN FLOW CYTOMETER ANALYSIS AND QUICK TESTS RESULTS IN ORDER TO CONFIRM THE RELIABILITY AND THE SPECIFICITY OF THE QUICK TEST TECHNOLOGY
RELIABLE IN CASE OF AUTO-AGGLUTINATION

THANKS TO OUR SPECIFIC MEMBRANE TECHNOLOGY, THE AGGLUTINATED RED BLOOD CELLS WILL BE RETAINED AT THE BOTTOM OF THE MEMBRANE WHEREAS NON AGGLUTINATED RBC WILL CARRY ON MIGRATING UNTIL THE TOP OF THE MEMBRANE.
RELIABLE IN CASE OF LOW PCV (ANEMIA)

THANKS TO THE SENSITIVITY OF OUR SPECIFIC MONOCLONAL ANTIBODIES, EVEN A LOW PCV WILL ALLOW YOU TO OBTAIN A RELIABLE BLOOD TYPING.
FOLLOWING THE EXAMPLE OF HUMAN SURGICAL AND MEDICAL PROGRESS, ACHIEVED THANKS TO TRANSFUSION, PROGRESS IN VETERINARY SURGERY AND MEDICINE IS GOING TO BE ACHIEVED THANKS TO AN EFFECTIVE AND RELIABLE QUICK TEST.
DETERMINING BLOOD TYPES REPRESENTS AN ESSENTIAL PROCESS IN ORDER TO ENSURE ANIMALS BENEFIT FROM TRANSFUSION SUPPORT. NOWADAYS, A DOG OR A CAT HAS A SIGNIFICANT PROBABILITY OF BEING TRANSFUSED ONCE OR MORE IN THEIR LIFETIME. BASIC BLOOD TYPING IS ESSENTIAL TO PERFORM THESE FIRST AND SUBSEQUENT TRANSFUSIONS AS SAFELY AS POSSIBLE.
THAT'S WHY ALVEDIA HAS FOCUSED RESEARCH ON A BETTER KNOWLEDGE OF BLOOD TYPING IN DOGS AND CATS. WE ARE NOW PROUD TO ENABLE THE VETERINARY COMMUNITY TO BENEFIT FROM ITS LATEST PROJECT BY PUTTING AT THEIR DISPOSAL TYPING SYSTEMS BASED ON AN INNOVATIVE IMMUNO-CHROMATOGRAPHY MEMBRANE. THESE SYSTEMS HAVE BEEN TRIALLED AND ARE NOW USED BY VETERINARY UNIVERSITIES AND VETERINARY PROFESSIONALS WORDWIDE.
Importance Of Blood Typing
TRANSFUSION HAS TAKEN AN INCREASINGLY IMPORTANT ROLE IN THE LIFE SUPPORT OF CANINE AND FELINE PATIENTS. THUS, THE NEED FOR QUICK AND ACCURATE BLOOD TYPING HAS NOW BEEN RECOGNIZED IN ORDER TO ASSURE SAFE AND EFFICIENT TRANSFUSION.
IT IS NOW ESSENTIAL TO PERFORM BLOOD TYPING TO SAVE ANIMAL LIVES IN CASE OF:
● TRAUMATIC SHOCK
● SOME INFECTIOUS DISEASES
● SURGICAL PROCEDURES
● HYPOPROTEINEMIA
● IRON DEFICIENCY
● SEVERE ANEMIA
● SPLEEN INJURY
● ACUTE HEMOLYSIS SYNDROME
● SEVERE BLEEDING AFTER DISEASES AND SHOCKS
In Dogs
THE DETERMINATION OF DEA 1 ANTIGEN IS STRONGLY RECOMMENDED BEFORE ANY BLOOD TRANSFUSION TO AVOID A POTENT ALLOANTIBODY RESPONSE AGAINST THIS ANTIGEN AND TO AVOID ACUTE HAEMOLYTIC TRANFUSION REACTION.
In Cats
THE PRESENCE OF NATURALLY OCCURRING ALLO ANTIBODIES IN TYPE A AND IN TYPE B CATS REQUIRES THAT BLOOD TYPING MUST BE PERFORMED PRIOR TO BLOOD TRANSFUSION TO AVOID ACUTE HAEMOLYTIC TRANSFUSION REACTION, AND IN BREEDINGS TO PREVENT NEONATAL ISOERYTHROLYSIS. BLOOD CAN BE TAKEN DIRECTLY FROM THE UMBILICAL CORD.
Quick TEST BT SCIENTIFIC PACKAGING
THE QUICK TEST CAN BE ORDERED PER UNIT OR PER BOXES OF 20 QUICK TESTS. 1 QUICK TEST = 1 DETERMINATION.
CONTACT US TO IDENTIFY YOUR LOCAL DISTRIBUTOR
Alvedia
Alice Veterinary Diagostic
11-13 RUE DES AULNES, 69760 LIMONEST - FRANCE
TEL: +33(0)478380239
FAX: +33(0)478939563
E-MAIL: CONTACT@ALVEDIAVET.COM
WWW.ALVEDIA.COM
ALL YOU NEED FOR A SAFE TRANSFUSION
CPN: 1442003.2
ALVEDIA
11-13 RUE DES AULNES, LIMONEST, FRANCE, 69760
| | | |
| --- | --- | --- |
| Telephone: | | 00 33 (0) 478 380 239 |
| Cell: | | 00 33 (0) 633 411 702 |
| Website: | | www.alvedia.com |
| Email: | | contact@alvedia.com |
| | |
| --- | --- |
| | THIS SERVICE AND DATA ARE PROVIDED "AS IS". DVMetrics assumes no liability, and each user assumes full risk, responsibility, and liability, related to its use of the DVMetrics service and data. See the Terms of Use for further details. |