Absorbine Hooflex Magic Cushion Xtreme
This page contains information on Absorbine Hooflex Magic Cushion Xtreme for
veterinary use
.
The information provided typically includes the following:
Absorbine Hooflex Magic Cushion Xtreme Indications
Warnings and cautions for Absorbine Hooflex Magic Cushion Xtreme
Direction and dosage information for Absorbine Hooflex Magic Cushion Xtreme
Absorbine Hooflex Magic Cushion Xtreme
This treatment applies to the following species:
Manufacturer: W.F. Young
HOOF PACKING
Performance Horse Strength
● Fast acting and long lasting
● Uses natural ingredients
● Helps to reduce pain and swelling in the hoof
Directions For Use
Thoroughly clean hoof using a hoof pick and wire brush if necessary. Due to the sticky nature of the ingredients, you may want to use gloves to apply. Excess product may be removed with isopropyl alcohol.
For packing under shoe and pad: Pack hoof sole with Magic Cushion® prior to nailing or gluing on pad and shoe.
For packing overnight: Pack hoof sole with Magic Cushion® to a depth of 1/2 inch. For optimal results, especially barefoot horses, cover sole with paper or plastic, then cover entire hoof and sole with self-adhering wrap or hoof boot.
Reapply every 24-48 hours until condition improves.
Caution: COMBUSTIBLE. KEEP OUT OF REACH OF CHILDREN AND OTHER ANIMALS.
FOR EXTERNAL USE ONLY ON ANIMALS.
Not for human use. Avoid getting into eyes or mucous membranes. Do not apply to irritated skin. If excessive irritation develops, discontinue use. Do not allow prolonged contact with horse's skin above hoof.
● Provides faster, stronger relief than original Magic Cushion®
● Starts working within one hour to reduce hoof heat*
● Proven to provide significant reduction in hoof heat for up to 24 hours*
● Proven to help relieve the symptoms associated with hoof concussion and trauma*
● Trusted by top farriers
*Thermal imaging study conducted September 2012.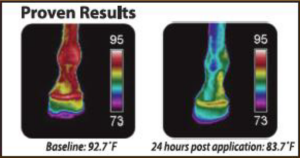 Active Ingredients
Turpentine 27%, Iodine 0.12%
Inactive Ingredients
Natural Leather and Wool Fibers, Rosin
Distributed by: W. F. Young, Inc., 302 Benton Drive, E. Longmeadow, MA 01028 U.S.A.
©WFY
www.absorbine.com
ABSORBINE®
The Horse World's Most Trusted Name®
| | |
| --- | --- |
| Net Wt. | |
| 2 LBS. (0.9 KG) | RM 383140-2 |
| 4 LBS. (1.8 KG) | RM 383145-2 |
| 9 LBS. (4.05 KG) | RN 383150-2 |
NAC No.: 1099079.1
W.F. YOUNG, INC.
302 BENTON DRIVE, EAST LONGMEADOW, MA, 01028-5990
| | | |
| --- | --- | --- |
| Telephone: | | 413-526-9999 |
| Order Desk: | | 800-628-9653 |
| Fax: | | 413-526-8990 |
| Website: | | www.absorbine.com |
| Email: | | animalhealthcare@absorbine.com |
| | |
| --- | --- |
| | Every effort has been made to ensure the accuracy of the Absorbine Hooflex Magic Cushion Xtreme information published above. However, it remains the responsibility of the readers to familiarize themselves with the product information contained on the US product label or package insert. |