Sinus and Headache Daytime Brands
We have 2 labels with the same name. Please choose the one you want:
Filter by labeler: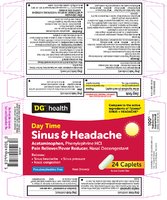 DOLGENCORP, LLC
Name: Sinus and Headache Daytime
Form: tablet, film coated
Ingredients: ACETAMINOPHEN 325mg, PHENYLEPHRINE HYDROCHLORIDE 5mg
Date: 2017-08-23
Labeler: DOLGENCORP, LLC
NDC code: 55910-466

View Details
L.N.K. International, Inc.
Name: Sinus and Headache Daytime
Form: tablet, film coated
Ingredients: ACETAMINOPHEN 325mg, PHENYLEPHRINE HYDROCHLORIDE 5mg
Date: 2017-11-08
Labeler: L.N.K. International, Inc.
NDC code: 50844-467

View Details