venetoclax
Generic Name: venetoclax (ven ET oh klax)
Brand Name: Venclexta, Venclexta Starting Pack
What is venetoclax?
Venetoclax inhibits a certain protein in cancer cells (abnormal lymphocytes produced in chronic lymphocytic leukemia) that helps keep those cells alive and makes them resistant to chemotherapy. Venetoclax binds to this protein, which helps kill the cancerous lymphocytes in blood and bone marrow.
Venetoclax is used to treat chronic lymphocytic leukemia (CLL) in adults with 17p deletion. Venetoclax is used only if you have a specific genetic marker, for which your doctor will test.
Venetoclax is usually given after at least one other cancer medicine has been tried without success.
Venetoclax may also be used for purposes not listed in this medication guide.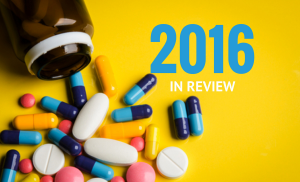 Important Information
Many drugs can interact with venetoclax, and some drugs should not be used together. Tell your doctor about all medicines you use. Do not start or stop using any medicine without asking your doctor.
Before taking this medicine
You should not use venetoclax if you are allergic to it.
Some medicines can interact with venetoclax and should not be used at the same time. Your doctor may need to change your treatment plan if you use any of the following drugs:
Tell your doctor about all medicines you use. Do not start or stop using any medicine without asking your doctor.
To make sure venetoclax is safe for you, tell your doctor if you have:
liver or kidney disease;

an electrolyte imbalance (such as low levels of potassium or calcium in your blood);

gout, or high levels of uric acid in your blood; or

if you are scheduled to receive any vaccinations.
Do not use venetoclax if you are pregnant. It could harm the unborn baby or cause birth defects. You may need to have a negative pregnancy test before starting this treatment. Tell your doctor right away if you become pregnant while taking venetoclax. Use effective birth control to prevent pregnancy while you are using this medicine and for at least 30 days after your last dose.
This medicine may affect fertility (ability to have children) in men. Talk to your doctor if you are concerned about this risk.
It is not known whether venetoclax passes into breast milk or if it could harm a nursing baby. You should not breast-feed while using this medicine.
How should I take venetoclax?
Follow all directions on your prescription label. Your doctor may occasionally change your dose to make sure you get the best results. Do not use this medicine in larger or smaller amounts or for longer than recommended.
Drink 6 to 8 glasses of water daily for 2 days before you start taking venetoclax. Also drink 6 to 8 glasses of water on the day you first take venetoclax, and whenever your dose is changed.
Your doctor may want to give your first dose of this medicine in a hospital or clinic setting to quickly treat any serious side effects that occur.
Take venetoclax with food and water, at the same time each day.
Do not crush, chew, or break a venetoclax tablet. Swallow it whole.
If you vomit shortly after taking venetoclax, do not take another tablet. Wait until the next day to take your medicine at the scheduled time.
Venetoclax can lower blood cells that help your body fight infections. Your blood will need to be tested often. Your cancer treatments may be delayed based on the results of these tests.
Read all patient information, medication guides, and instruction sheets provided to you. Ask your doctor or pharmacist if you have any questions.
Do not stop using venetoclax without first asking your doctor.
Store tablets in their original container at room temperature, away from moisture and heat. Do not put venetoclax tablets into a daily pill box.
What happens if I miss a dose?
Take the missed dose as soon as you remember. If you are more than 8 hours late, skip the missed dose. Do not take extra medicine to make up the missed dose.
What happens if I overdose?
Seek emergency medical attention or call the Poison Help line at 1-800-222-1222.
What should I avoid while taking venetoclax?
Do not receive a "live" vaccine while using venetoclax. The vaccine may not work as well during this time, or you could develop a serious infection. Live vaccines include measles, mumps, rubella (MMR), polio, rotavirus, typhoid, yellow fever, varicella (chickenpox), zoster (shingles), and nasal flu (influenza) vaccine.
Grapefruit, Seville oranges, and starfruit products may interact with venetoclax and lead to unwanted side effects. Avoid the use of juice or other products that contain these fruits while you are taking venetoclax.
Venetoclax side effects
Get emergency medical help if you have signs of an allergic reaction: hives; difficult breathing; swelling of your face, lips, tongue, or throat.
Call your doctor at once if you have:
signs of pneumonia--cough with yellow or green mucus, stabbing chest pain, wheezing, trouble breathing;

low blood cell counts--fever, chills, flu-like symptoms, swollen gums, mouth sores, skin sores, pale or yellowed skin, dark colored urine, confusion or weakness; or

signs of tumor cell breakdown--fever, chills, joint or muscle pain, feeling tired or short of breath, fast or slow heartbeats, confusion, nausea, vomiting, dark or cloudy urine, or seizure (convulsions).
Your cancer treatments may be delayed or permanently discontinued if you have certain side effects.
Common side effects may include:
This is not a complete list of side effects and others may occur. Call your doctor for medical advice about side effects. You may report side effects to FDA at 1-800-FDA-1088.
See also: Side effects (in more detail)
Venetoclax dosing information
Usual Adult Dose for Chronic Lymphocytic Leukemia:
-Initial Dose:
Weekly Ramp-Up Schedule Over 5 Weeks:
Week 1: 20 mg orally once a day
Week 2: 50 mg orally once a day
Week 3: 100 mg orally once a day
Week 4: 200 mg orally once a day
Week 5: 400 mg orally once a day

-Maintenance Dose: 400 mg orally once a day
-Duration of Therapy: Until disease progression or unacceptable toxicity is observed.

Comments:
-Select patients based on the presence of 17p deletions in blood specimens, as detected by an approved test.
-Retest patients without 17p deletion at relapse as acquisition of 17p deletion can occur.

Use: Treatment of patients with chronic lymphocytic leukemia (CLL) with 17P deletion who have received at least one prior therapy.
What other drugs will affect venetoclax?
Many drugs can interact with venetoclax. Not all possible interactions are listed here. Tell your doctor about all your current medicines and any you start or stop using, especially:
imatinib;

an antibiotic--azithromycin, ciprofloxacin, clarithromycin, doxycycline, erythromycin, metronidazole, norfloxacin, rifampin, tetracycline;

antifungal medicine--clotrimazole, fluconazole, itraconazole, ketoconazole, voriconazole;

an antidepressant--desipramine, sertraline;

heart or blood pressure medicine--amiodarone, captopril, carvedilol, diltiazem, dronedarone, felodipine, lidocaine, quinidine, ranolazine, verapamil; or

HIV/AIDS medicine--lopinavir with ritonavir.
This list is not complete and many other drugs can interact with venetoclax. This includes prescription and over-the-counter medicines, vitamins, and herbal products. Give a list of all your medicines to any healthcare provider who treats you.
More about venetoclax
Consumer resources
Other brands: Venclexta
Professional resources
Related treatment guides
Where can I get more information?
Your pharmacist can provide more information about venetoclax.
Copyright 1996-2012 Cerner Multum, Inc. Version: 1.02.
Date modified: March 06, 2018
Last reviewed: May 27, 2016