Solaraze topical
Generic Name: Diclofenac Sodium topical
Class: Nonsteroidal Anti-inflammatory Agents
VA Class: DE900
Chemical Name: 2-[(2,6-dichlorophenyl)amino]-benzeneacetic acid monosodium salt
Molecular Formula: C14H10Cl2NNaO2
CAS Number: 15307-79-6

Introduction
Prototypical NSAIA; phenylacetic acid derivative.1 2 3 4 5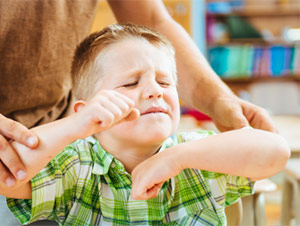 Uses for Solaraze
Actinic Keratoses
Treatment of actinic keratoses.1 2 3 4
Superficial Thrombophlebitis
Has been used topically or orally for the symptomatic treatment of infusion-related superficial thrombophlebitis†.8 9
Solaraze Dosage and Administration
General
Complete healing of the lesions or optimal therapeutic response may not occur until 30 days after cessation of therapy.1
Administration
Topical Administration
Apply to actinic keratosis lesions as a 3% gel.1
Dosage
Adults
Actinic Keratoses
Topical
Apply a sufficient amount (usually 0.5 g for each 5 cm × 5 cm lesion) and rub gently onto the lesions twice daily for 60–90 days.1
Cautions for Solaraze
Contraindications
Known hypersensitivity to diclofenac or any ingredient in the formulation.1
Warnings/Precautions
Warnings
Sensitivity Reactions
Sensitivity reactions, including anaphylaxis, possible in patients without prior exposure to diclofenac.1 Avoid in patients with aspirin triad (aspirin sensitivity, asthma, nasal polyps).1
General Precautions
GI Effects
Use with caution in patients with active GI ulceration or bleeding.1
Topical Use
For external use only; avoid contact with eyes.1 Do not apply to open skin wounds, infected lesions, or exfoliative dermatitis.1
Safety and efficacy of concomitant use with other topical products (e.g., sunscreens, cosmetics, other topical medications) unknown.1
Specific Populations
Pregnancy
Category B.1 Avoid use in third trimester (possible premature closure of ductus arteriosus) or in late pregnancy (possible delay in labor or parturition).1
Lactation
Discontinue nursing or the drug because of potential risk to nursing infants.1
Pediatric Use
Safety and efficacy not established in children.1 Actinic keratoses generally are not seen in the pediatric population; diclofenac sodium gel should not be used by children.1
Geriatric Use
Actinic keratoses occur frequently in an older patient population.1 No substantial differences in safety and efficacy relative to younger adults, but increased sensitivity cannot be ruled out.1
Hepatic Impairment
Use with caution in patients with severe hepatic impairment.1
Renal Impairment
Use with caution in patients with severe renal impairment.1
Common Adverse Effects
Contact dermatitis, rash, dry skin, exfoliation (scaling).1
Interactions for Solaraze
NSAIAs
Potential pharmacologic interaction with oral NSAIAs including analgesic/anti-inflammatory dosages of aspirin.1
Solaraze Pharmacokinetics
Absorption
Bioavailability
Absorbed into epidermis after topical application to the skin.1 2
Minimal systemic absorption following topical application (serum diclofenac concentrations averaged 20 ng/mL following topical application twice daily for up to 105 days versus 1417 ng/mL following a single 50-mg oral dose of diclofenac sodium).1 6
Distribution
Plasma Protein Binding
Bound to albumin.1
Elimination
Metabolism
Metabolized in the liver via hydroxylation and conjugation following oral administration; metabolism following topical administration is expected to be similar to that following oral administration.1
Elimination Route
Mainly excreted in urine following oral administration.1
Half-life
1–2 hours following oral administration.1
Stability
Storage
Topical
Gel
20–25°C (may be exposed to 15–30°C).a Protect from heat; do not freeze.a
Actions
Prototypical NSAIA.1 2 3 4 5

While the mechanism(s) of the topical effects has not been established,1 2 3 diclofenac has inhibited angiogenesis and induced neovascular regression in inflammatory tissue in animal models.2 3

NSAIAs, including diclofenac, may inhibit angiogenesis through inhibition of substance P or by blocking the angiogenic effects of prostaglandin E2 (PGE2).2

For topical use in the treatment of actinic keratoses, diclofenac sodium is commercially available as a 3% gel with benzyl alcohol, hyaluronate sodium, polyethylene glycol monomethyl ether, and purified water.1 The contribution of individual vehicle components to the efficacy of diclofenac sodium gel remains to be established.1
Advice to Patients
Risk of adverse effects, including irritant or allergic contact dermatitis.1 Importance of reporting signs and symptoms of adverse dermal reactions.1 Necessity of interrupting therapy if severe dermal reactions occur.1

Avoid exposure to sunlight and use of sunlamps.1

Importance of monitoring and follow-up evaluation.1

Importance of informing clinicians of existing or contemplated concomitant therapy, including prescription, OTC, or herbal products, as well as any concomitant illness.1 Safety and efficacy of use with other topical products (e.g., sunscreens, cosmetics, other topical medications) is unknown.1

Importance of women informing clinicians if they are or plan to become pregnant or plan to breast-feed.1

Importance of informing patients of other important precautionary information. (See Cautions.)
Preparations
Excipients in commercially available drug preparations may have clinically important effects in some individuals; consult specific product labeling for details.
Please refer to the ASHP Drug Shortages Resource Center for information on shortages of one or more of these preparations.
Diclofenac

| Routes | Dosage Forms | Strengths | Brand Names | Manufacturer |
| --- | --- | --- | --- | --- |
| Topical | Gel | 3% | Solaraze (with benzyl alcohol) | Bioglan |
AHFS DI Essentials. © Copyright 2018, Selected Revisions January 29, 2018. American Society of Health-System Pharmacists, Inc., 4500 East-West Highway, Suite 900, Bethesda, Maryland 20814.
† Use is not currently included in the labeling approved by the US Food and Drug Administration.
References
1. Bioglan Pharma Inc. Solaraze (diclofenac sodium 3%) topical gel prescribing information. Malvern, PA: 2001 Jun 1.
2. Rivers JK, McLean DI. An open study to assess the efficacy and safety of topical 3% diclofenac in a 2.5% hyaluronic acid gel for the treatment of actinic keratoses. Arch Dermatol. 1997; 133:1239-42. [PubMed 9382562]
3. Peters DC, Foster RH. Diclofenac/Hyaluronic acid. Drugs Aging. 1999; 14:313-9. [PubMed 10319244]
4. McEwan LE, Smith JG. Topical diclofenac/hyaluronic acid gel in the treatment of solar keratoses. Australas J Dermatol. 1997; 38:187-9. [PubMed 9431711]
5. Hamor GH. Nonsteroidal anti-inflammatory drugs. In: Foye WO, ed. Principles of medicinal chemistry. 3rd ed. Philadelphia: Lea & Febiger; 1989:503-30.
6. Novartis Pharmaceuticals. Cataflam diclofenac potassium (immediate- release tablets), Voltaren diclofenac sodium (delayed-release tablets), Voltaren-XR diclofenac sodium (extended-release tablets) prescribing information (dated 2000 May). In Physicians' desk reference. 55th ed. Montvale, NJ: Medical Economics Company; 2001:2151-5.
7. Bioglan Pharma, Malvern, PA: Personal communication.
8. Buller HR, Agnelli G, Hull RD et al. Antithrombotic therapy for venous thromboembolic disease. Chest. 2004; 126(Suppl):401S-28S. [PubMed 15383479]
9. Becherucci A, Bagilet D, Marenghini J et al. Effect of topical and oral diclofenac on superficial thrombophlebitis caused by intravenous infusion. Med Clin (Barc). 2000; 114:371-3. [PubMed 10786346]
a. Bioglan Pharma Inc. Solaraze (diclofenac sodium 3%) topical gel prescribing information. Malvern, PA: 2003 May.