Zecuity Patch Dosage
Medically reviewed by Drugs.com. Last updated on Feb 18, 2021.
Generic name: SUMATRIPTAN SUCCINATE 6.5mg in 4h
Dosage form: patch, extended release, electrically controlled
ZECUITY is for transdermal use only and is designed for patient self-administration to the upper arm or thigh (see Figure 1). ZECUITY should not be applied to other areas of the body. ZECUITY should not be cut.
The maximum recommended single dose is one ZECUITY iontophoretic transdermal system (TDS). No more than two ZECUITY TDS should be used in any 24 hour period, and the second ZECUITY TDS should be applied no sooner than 2 hours after activation of the first ZECUITY TDS. There is no evidence of benefit for the use of a second ZECUITY TDS to treat headache recurrence or incomplete headache relief during a migraine attack.
ZECUITY should be applied to dry intact, non-irritated skin on the upper arm or thigh on a site that is relatively hair free and is without scars, tattoos, abrasions, or other skin conditions (i.e., generalized skin irritation or disease including eczema, psoriasis, melanoma, contact dermatitis). ZECUITY should not be applied to a previous application site until the site remains erythema free for at least 3 days.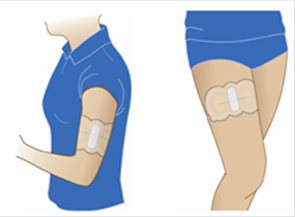 Figure 1: Applied Transdermal System
ZECUITY delivers 6.5 mg of sumatriptan over 4 hours. Once applied, the activation button must be pushed, and the red light emitting diode (LED) will turn on. ZECUITY TDS must be applied and activated within 15 minutes of initiation of assembly. When dosing is completed, the system stops operating and the activation light turns off, signaling that the system can be removed. Once dosing is completed, the system cannot be reactivated. If the light turns off before 4 hours, dosing has stopped and ZECUITY can be removed. If headache relief is incomplete, a second ZECUITY TDS can be applied to a different site. [see Patient Counseling Information (17)].
The ZECUITY TDS should remain in place for 4 hours or until the red LED light goes off. The iontophoretic device can be secured with medical tape if needed.
The safety of using more than 4 ZECUITY in one month has not been established.
ZECUITY is for single use only. After use, the TDS should be folded so the adhesive side sticks to itself and safely discarded away from children and pets. ZECUITY contains lithium-manganese dioxide batteries; it should be disposed in accordance with state and local regulations.
Frequently asked questions
More about Zecuity (sumatriptan)
Patient resources
Other brands
Professional resources
Related treatment guides
Further information
Always consult your healthcare provider to ensure the information displayed on this page applies to your personal circumstances.