Myobloc Dosage
Generic name: RIMABOTULINUMTOXINB 2500[USP'U] in 0.5mL
Dosage form: injection, solution
Drug class: Skeletal muscle relaxants
Medically reviewed by Drugs.com. Last updated on Mar 22, 2021.
Instructions for Safe Use
The potency units of MYOBLOC are specific to the preparation and assay method utilized. They are not interchangeable with other preparations of botulinum toxin products and cannot be compared to or converted into units of any other botulinum toxin products [see Warnings and Precautions (5.2), Description (11)] .
Each single-dose vial should only be used during one session and only for one patient. Discard any remaining solution in the vial.
MYOBLOC is ready to use; no reconstitution required.
MYOBLOC may be diluted with 0.9% Sodium Chloride Injection. Once diluted, the product must be used within 4 hours as the formulation does not contain a preservative.
Dosing for Cervical Dystonia
The recommended initial dosage of MYOBLOC for cervical dystonia patients with a prior history of tolerating botulinum toxin injections is 2,500 Units to 5,000 Units divided among affected muscles [see Clinical Studies (14.1)] . Patients without a prior history of tolerating botulinum toxin injections should receive a lower initial dosage [see Adverse Reactions (6.1)] . Subsequent dosing should be determined by the patient's individual response. MYOBLOC should be administered by physicians familiar with and experienced in the assessment and management of patients with cervical dystonia.
The duration of effect in patients responding to MYOBLOC treatment for cervical dystonia has been observed in studies to be between 12 and 16 weeks at doses of 5,000 Units or 10,000 Units [see Clinical Studies (14.1)] .
Dosing for Chronic Sialorrhea
Dosing Information
The recommended dosage of MYOBLOC for chronic sialorrhea is 1,500 Units to 3,500 Units, divided among the parotid and submandibular glands (Table 1). Patient response to treatment should be considered when determining subsequent MYOBLOC dosage [see Clinical Studies (14.2)] . The typical duration of effect of each treatment is up to 3 months; however, the effect may vary in individual patients. The frequency of MYOBLOC repeat treatments should be determined by clinical response but should generally be no more frequent than every 12 weeks.
Table 1: Dosing by Gland for Chronic Sialorrhea in Adults

| Gland | Recommended Dosage |
| --- | --- |
| Parotid | 500 Units to 1,500 Units per gland |
| Submandibular | 250 Units per gland |
Administration Information
A suitable sterile needle (e.g., 30-gauge, 0.5 inch) should be used for intra-salivary gland administration.
Figure 1: Glands for Injection in Chronic Sialorrhea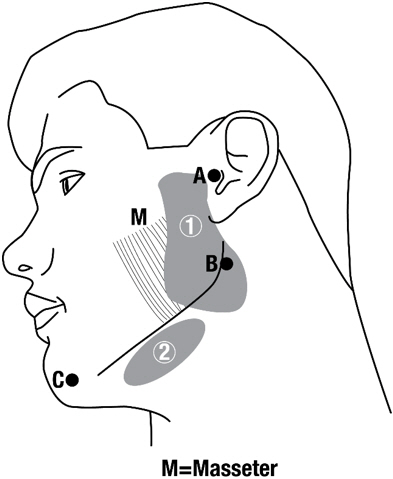 Guidelines for locating salivary glands using anatomical landmarks (Figure 1):
1. To inject the parotid gland, bisect the distance between the tip of the tragus (Site A) and the angle of the mandible (Site B). Inject one finger breadth anterior to this site (Injection Site 1).
2. To inject the submandibular gland, bisect the distance between the angle of the mandible (Site B) and the tip of the chin (Site C). Inject one finger breadth medial to the inferior surface of the point of bisection (Injection Site 2).
In clinical studies, MYOBLOC was injected using anatomical landmarks to localize the salivary glands, or using ultrasound guidance for gland location. Both methods produced similar reduction in the unstimulated salivary flow rate.
Frequently asked questions
More about Myobloc (rimabotulinumtoxinB)
Patient resources
Professional resources
Related treatment guides
Further information
Always consult your healthcare provider to ensure the information displayed on this page applies to your personal circumstances.