This material must not be used for commercial purposes, or in any hospital or medical facility. Failure to comply may result in legal action.
How to Use A Metered-Dose Inhaler and a Spacer
WHAT YOU NEED TO KNOW:
A metered-dose inhaler is a handheld device that gives you a dose of medicine as a mist. You breathe the medicine deep into your lungs to open your airways. A spacer is a tube that attaches to the mouthpiece of your metered-dose inhaler. The spacer helps make your inhaler easier to use. It also helps get the medicine into your lungs better. Your medicine stays in the spacer for a short amount of time. This allows you to breathe one deep breath. You can also breathe in and out at a normal rate up to 5 times. Your healthcare provider will teach you how to use your inhaler and spacer.
DISCHARGE INSTRUCTIONS:
Seek immediate care if:
Your lips or nails turn blue or gray.
The skin between your ribs or around your neck pulls in with every breath.
You feel short of breath, even after you use your inhaler.
Contact your healthcare provider if:
You have to take more puffs from the inhaler than directed, in order to get relief.
You run out of medicine before your next refill is due.
You feel like your medicine is not making your symptoms better.
You have questions or concerns about your condition or care.
How to use an inhaler with a spacer:
Practice using your inhaler and spacer. Your medicine will work best if you use them correctly. The steps below will help you use your inhaler and spacer correctly:
Prepare your inhaler and spacer:

Remove the caps from your inhaler and spacer. Check to make sure there is nothing in the mouthpiece that could block the medicine from coming out.
Put the spacer onto the inhaler.
Shake the inhaler to mix the medicine.
Hold the inhaler upright, with the mouthpiece of the spacer pointing towards your mouth.

Get ready to breathe in the medicine:

Keep your mouth away from the mouthpiece, and breathe out fully to clear your lungs.
Place the mouthpiece between your lips. Close your lips around the mouthpiece to form a seal and prevent a medicine leak. If you cannot put your mouth around the mouthpiece, your healthcare provider will give you a spacer with a mask attached. Hold the mask firmly to your face.

Press down the canister and breathe in slowly. This helps the medicine get into your lungs. Make sure to breathe in within 2 seconds of pressing down the canister.
Hold your breath for at least 5 seconds. This will help the medicine reach all parts of your lungs, including the smaller parts called the alveoli.
Breathe out slowly through pursed lips. This helps to keep your airway open and allows the medicine to be absorbed into more areas.
Repeat puffs of medicine as directed by your healthcare provider. Wait about 2 minutes between puffs. If you need to use a bronchodilator and a steroid inhaler, use the bronchodilator first. Wait 5 minutes then use the steroid inhaler.
Gargle with warm water to remove any leftover medicine from your mouth and throat.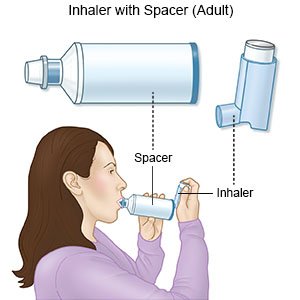 Care for your inhaler and spacer properly:
Pull your inhaler and mouthpiece apart. Put the caps back on both. Clean your spacer and at least weekly. Remove the canister from your inhaler before cleaning. Wash your spacer and inhaler with warm soapy water. Rinse and allow to air dry. Make sure both are completely dry before using.
Follow up with your healthcare provider as directed:
Bring your inhaler and spacer to all of your visits. You may be asked to use your inhaler at these visits so your healthcare provider can make sure you are using it correctly. Write down your questions, so you remember to ask them during your visits.
© Copyright IBM Corporation 2021 Information is for End User's use only and may not be sold, redistributed or otherwise used for commercial purposes. All illustrations and images included in CareNotes® are the copyrighted property of A.D.A.M., Inc. or IBM Watson Health
The above information is an educational aid only. It is not intended as medical advice for individual conditions or treatments. Talk to your doctor, nurse or pharmacist before following any medical regimen to see if it is safe and effective for you.
Further information
Always consult your healthcare provider to ensure the information displayed on this page applies to your personal circumstances.