This material must not be used for commercial purposes, or in any hospital or medical facility. Failure to comply may result in legal action.
How to Take A Blood Pressure in Children
WHAT YOU NEED TO KNOW:
What is blood pressure (BP)?
BP is the force of blood moving against the walls of your child's arteries. A normal BP for your child depends on his or her age and height. BP readings are written as 2 numbers. The first or top number is called systolic BP. The second or bottom number is called diastolic BP. You may need to check your child's BP at home if he has high or low BP. Ask your child's healthcare provider how often to measure his or her BP.
How do I check my child's blood pressure?
You can check your child's BP at home with a digital BP monitor. A healthcare provider can help you find the correct cuff size for your child. A cuff that is too small will cause a falsely high blood pressure. A cuff that is too big will cause a falsely low blood pressure. Read the instructions that came with the BP monitor.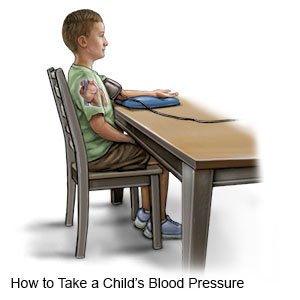 Do not take a BP reading in an arm that is injured or has an IV or a shunt.
Do not check your child's BP within 30 minutes after he or she exercises or has caffeine. If your older child or adolescent smokes, do not check his or her BP within 30 minutes of smoking. Caffeine, nicotine, and exercise can affect your child's BP reading.
Have your child rest quietly for 5 minutes before you take his or her BP. Your child should be relaxed when you take his or her BP. Wait to take your child's BP if he or she is crying.
Tell your child to place his or her feet flat on the floor, and back against a chair. Instead the healthcare provider may tell you to have your child sit on a firm service or lie flat.
Extend your child's arm and support it on a flat surface. Your child's arm should be at the same level as his or her heart.
Make sure all of the air is out of the cuff. Put the cuff about 1 inch (2.5 cm) above your child's elbow. Wrap the cuff snugly around his or her arm. The BP reading may not be correct if the cuff is too loose.
If you are using a wrist BP cuff, wrap it snugly around your child's wrist. Rest your child's wrist on his or her chest. The cuff should be at the same level as his or her heart.
Turn on the BP monitor and follow the directions.
Write down your child's BP, the date, the time, and which arm you used to take the BP. Take your child's blood pressure twice and write down both readings. These BP readings can be 1 minute apart.
What else do I need to know?
Give your child his or her medicine as directed. Do not stop giving your child his or her medicine if the BP is at his or her goal. A BP at goal means your child's medicine is working correctly.
Keep a log of your child's BP readings and bring it to your follow-up visits. Ask your child's healthcare provider if you should also bring the BP monitor. He or she will check that you are using the monitor correctly.
When should I contact my child's healthcare provider?
Your child's BP is higher or lower than the healthcare provider said it should be.
You have questions or concerns about your child's condition or care.
Care Agreement
You have the right to help plan your child's care. Learn about your child's health condition and how it may be treated. Discuss treatment options with your child's healthcare providers to decide what care you want for your child. The above information is an educational aid only. It is not intended as medical advice for individual conditions or treatments. Talk to your doctor, nurse or pharmacist before following any medical regimen to see if it is safe and effective for you.
© Copyright IBM Corporation 2018 Information is for End User's use only and may not be sold, redistributed or otherwise used for commercial purposes. All illustrations and images included in CareNotes® are the copyrighted property of A.D.A.M., Inc. or IBM Watson Health
Further information
Always consult your healthcare provider to ensure the information displayed on this page applies to your personal circumstances.
Learn more about How to Take A Blood Pressure in Children
IBM Watson Micromedex