Y-Tex GardStar Plus Insecticide Ear Tags
This page contains information on Y-Tex GardStar Plus Insecticide Ear Tags for
veterinary use
.
The information provided typically includes the following:
Y-Tex GardStar Plus Insecticide Ear Tags Indications
Warnings and cautions for Y-Tex GardStar Plus Insecticide Ear Tags
Direction and dosage information for Y-Tex GardStar Plus Insecticide Ear Tags
Y-Tex GardStar Plus Insecticide Ear Tags
This treatment applies to the following species:
Company: Y-Tex
Controls Susceptible Horn Flies, Face Flies, Gulf Coast Ticks, Spinose Ear Ticks and aids in the control of Lice, Stable Flies and Houseflies on Dairy Cattle (Lactating and Non-Lactating) and Beef Cattle and Calves.
- Snap-Lok collar for guaranteed retention
- Ribbed design for season-long durability
- Easier, faster, exclusive straight-line application
- Longest button shaft for best air circulation around ear
2-piece ear tag system to guard against flies, ticks and lice
- Guaranteed against loss due to tag or button failure*
- Guaranteed against breakage for up to five months*
- Two tags per animal gives season-long control of face flies, susceptible horn flies and Gulf Coast ticks
- May be used on lactating dairy cows
- Helps reduce aggravation caused by flying pests
- No withdrawal time required
Guarantee
*This guarantee is a limited guarantee, limited to the replacement of tags only, if the tags failed, after being properly applied, to remain in the animal's ear for a five (5) month period due to tag breakage or separation from button.
SUPERIOR DESIGN
Patented Snap-Lok® collar for guaranteed retention*
Ribbed design for season-long durability
Longer taper and rounded edges for durability
Large surface area for insecticide effectiveness
Flat surface may be marked with Y-TEX ink markers
Directions For Use
It is a violation of Federal law to use this product in a manner inconsistent with its labeling. For control of susceptible horn flies, attach one tag to one ear of each animal. Tags remain effective up to 5 months. For season-long control of Gulf Coast ticks and face flies, attach two ear tags per animal (one in each ear). Apply when flies first appear in spring. Replace as necessary. Apply with the Y-TEX two-piece tagging system.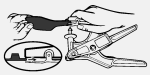 Step 1
Place female tag under clip. Collar on tag must be pointing away from pin.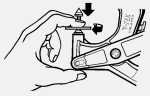 Step 2
Seat male button firmly on pin, press down and give a slight twist. Disinfect pliers and tags before application.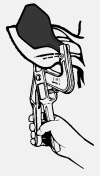 Step 3
Position applicator over ear and squeeze the handles together.

The ideal position for male stud is between the second and third radial cartilage as shown.
For use on dairy (lactating and non-lactating) and beef cattle and calves to control susceptible horn flies, face flies, Gulf Coast ticks, spinose ear ticks and as an aid to control lice, stable flies and houseflies.
Active Ingredients
Permethrin
(3-phenoxyphenyl) methyl (±)-cis, trans-3-(2,2-dichloroethenyl)-2,2-dimethylcyclopropane-carboxylate*

10.0%

OTHER INGREDIENTS

90.0%

100.0%
*cis/trans ratio: Max 55% (±) cis and min 45% (±) trans
KEEP OUT OF REACH OF CHILDREN
Y-Tex GardStar Plus Insecticide Ear Tags Caution
Precautionary Statements
Hazards To Humans And Domestic Animals
Wash thoroughly with soap and water after handling and before eating, drinking, chewing gum, using tobacco or using the toilet. Remove contaminated clothing and wash clothing before reuse.
Environmental Hazards
This pesticide is extremely toxic to aquatic organisms, including fish and invertebrates. Do not add directly to water. Do not contaminate water by disposal of used tags. Use this product only as specified on the label.
Storage And Disposal
Do not contaminate water, food or feed by storage or disposal.
PESTICIDE STORAGE: Store in cool place away from direct sunlight.
PESTICIDE DISPOSAL: Remove tags before slaughter. Securely wrap used tags in a plastic bag or several layers of newspaper and discard in trash.
CONTAINER DISPOSAL: Do not reuse bag. Discard bag in trash.
NOTICE OF WARRANTY: To the extent consistent with applicable law, Y-TEX CORPORATION MAKES NO WARRANTY OF MERCHANTABILITY, FITNESS FOR ANY PURPOSE, OR OTHERWISE, EXPRESSED OR IMPLIED concerning this product or its uses which extend beyond the use of the product under normal conditions in accord with the statements made on the label, and in any case, is limited to replacement of tags only.
EPA EST. NO. 39039-WY-01
EPA REG. NO. 39039-1
Y-TEX CORPORATION, 1825 BIG HORN AVENUE, CODY, WYOMING 82414
| | | |
| --- | --- | --- |
| NET WT. | CONTENTS: | |
| 0.34 oz. (9.5 GRAMS) PER TAG | 25 TAGS | YTP-308-913 |
CPN: 1344009.2
Y-TEX CORPORATION
1825 BIG HORN AVENUE, CODY, WY, 82414
| | | |
| --- | --- | --- |
| Telephone: | | 800-443-6401 |
| Website: | | www.y-tex.com |
| Email: | | ytexinfo@y-tex.com |
| | |
| --- | --- |
| | THIS SERVICE AND DATA ARE PROVIDED "AS IS". DVMetrics assumes no liability, and each user assumes full risk, responsibility, and liability, related to its use of the DVMetrics service and data. See the Terms of Use for further details. |