Witness Parvo (Canada)
This page contains information on Witness Parvo for
veterinary use
.
The information provided typically includes the following:
Witness Parvo Indications
Warnings and cautions for Witness Parvo
Direction and dosage information for Witness Parvo
Witness Parvo
This treatment applies to the following species:
Company: Zoetis
CANINE PARVOVIRUS ANTIGEN TEST KIT
I. General Introduction
WITNESS® Parvo detects all strains of canine parvovirus (CPV) shed in the faeces. Positive results with WITNESS® Parvo indicate the presence of canine parvovirus.
Ii. Test Principles
The WITNESS® Parvo is a simple test based on Rapid Immuno Migration (RIM™) technology. Canine parvovirus antigen is detected in canine faeces. Sensitised particles will form complexes with the CPV antigen present in the sample (faecal extract). The formed complexes migrate along a membrane. The complexes are then captured on a sensitised reaction line where their accumulation causes the formation of a clearly visible pink/red band. A pink/red band in the control window ensures that the test was performed correctly.
Iii. Sample Material
Canine fecal material is required for this test.
Iv. Sample Storage
Stool samples should be tested not longer than 24 hours after collection, if stored at room temperature.
If testing is further delayed, samples should be kept refrigerated (up to 7 days at +2 °C to 8 °C; 35 °F to 46 °F).
For long term storage, samples should be kept frozen (-20 °C; -4 °F or colder).
V. KIT CONTENTS
● 5 Pouches, each containing 1 test device and desiccant.
● 5 Disposable extraction devices.
● 1 Extraction Buffer bottle (12.5 mL).
● Instructions for use.
VI. PRECAUTIONS
● Do not use this kit or any of its components after the expiration date.
● Kit should be stored at +2 °C - 25 °C (+35 °F - 77 °F). Kit should not be frozen.
● Use the test immediately after the pouch is first opened (within 10 minutes).
● Avoid touching or damaging the membrane in the sample wells or the results windows.
● The WITNESS® device should be placed on a flat, horizontal surface while performing the test.
● Use a separate extraction device for each sample.
● Hold extraction device and buffer bottle vertically when dispensing sample and buffer respectively.
● Handle all samples as biohazardous material.
● Extraction buffer is preserved with sodium azide.
● For veterinary use only.
● In vitro use only.
VII. TEST PROCEDURE
Important: Allow sample drops to fall onto the membrane at window (1). Do not touch the device tip or the sample drops directly to the membrane.
1. SAMPLE COLLECTION
● Remove the top portion containing the cotton swab, from a sample extraction device.
● Dispense Extraction buffer into the base of the sample extraction device until the buffer reaches the graduation mark.
● Taking the top portion of the sample extraction device, coat the cotton swab with a thin layer of faeces from a stool sample, or a rectal swab.
● Insert the swab into the dispensed extraction buffer in the base of the sample extraction device. Securely fit the top portion onto the base and tap to mix for 5 seconds to ensure good sample extraction.

2. SAMPLE APPLICATION
● Tear open a pouch provided and place the test device on a flat horizontal surface.
● Snap off the top of the sample extraction device (at the blue line) containing the extracted fecal sample.
● Invert and hold the sample extraction device in a vertical (upright) position and squeeze the base gently to dispense five drops of sample to the test well.
● Leave the test device flat during migration of sample/reagent complex through the reading windows.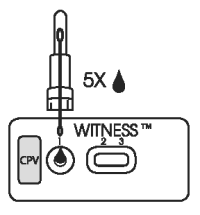 3. READING TEST
After 10 minutes, observe the presence or absence of pink/red bands in the reading windows (2) and (3).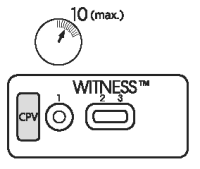 Note:
● It is possible to read the test before 10 minutes if two pink/red bands are clearly visible in the results windows (2) and (3).
● The presence of only one band in reading window (3), prior to the end of the development time (10 minutes), does not mean that the test is complete, as a test band may appear more slowly than the control band.
VIII. RESULTS
Valid Results
Test is valid if a pink/red band is present in reading window (3).
Interpretation of Results
● Positive: One band in reading window (2), with one band in window (3): sample is positive for CPV antigen.
● Negative: No band in reading window (2), with one band in window (3): sample is negative for CPV antigen.
● Invalid test: No band in control window (3).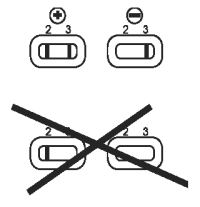 Note:
● Samples with low levels of CPV antigen may produce a lighter colored yet distinct pink/red band.
● A test result should always be interpreted in the context of all available clinical information and history for the dog being tested. If clinical signs warrant, it is recommended to retest using a fresh sample.
SYMBOL DESCRIPTIONS
Zoetis Inc., Kalamazoo, MI 49007, USA
VLN/PCN 190/5024.03
www.zoetis.com
For product information call:
US VMIPS 1-888-963-8471
Canada 1-800-461-0917
EC REP
Zoetis Belgium SA, Rue Laid Burniat 1, 1348 Louvain-la-Neuve, BELGIUM
Zoetis Australia Pty Ltd, L6, 5 Rider Bvd,, RHODES NSW 2138, AUSTRALIA
1800 814 883
40028054
CPN: 1198505.2
ZOETIS CANADA INC.
16,740 TRANS-CANADA HIGHWAY, KIRKLAND, QC, H9H 4M7
| | | |
| --- | --- | --- |
| Order Desk: | | 800-663-8888 |
| Technical Services Canada: | | 800-461-0917 |
| Technical Services USA: | | 800-366-5288 |
| Website: | | www.zoetis.ca |
| | |
| --- | --- |
| | THIS SERVICE AND DATA ARE PROVIDED "AS IS". Animalytix assumes no liability, and each user assumes full risk, responsibility, and liability, related to its use of the Animalytix service and data. See the Terms of Use for further details. |