Vectra for Cats
This page contains information on Vectra for Cats for
veterinary use
.
The information provided typically includes the following:
Vectra for Cats Indications
Warnings and cautions for Vectra for Cats
Direction and dosage information for Vectra for Cats
Vectra for Cats
This treatment applies to the following species:
Company: Ceva Animal Health
- Weighing 9 lbs and over
Effective monthly control of: Adult fleas, Flea eggs, Flea larvae, Flea pupae
- Kills fleas within 6 hours
- Kills fleas that may transmit disease, including bartonellosis, tapeworm and tularemia
- Kills fleas that may cause flea allergy dermatitis and anemia
- Patented applicator makes it easier to apply and minimizes risk of skin abrasion
- Quick drying and non-greasy
- Easy spot-on topical application
- Satisfaction guaranteed or your money back
AVAILABLE FROM LICENSED VETERINARIANS ONLY
Active Ingredients
| | |
| --- | --- |
| Dinotefuran | 22.00% |
| Pyriproxyfen | 3.00% |
| OTHER INGREDIENTS | 75.00% |
| TOTAL | 100.00% |
KEEP OUT OF REACH OF CHILDREN
Warning
See directions for use, precautionary statements, first aid and ingredients.
READ ENTIRE LABEL BEFORE EACH USE
FOR ADDITIONAL INFORMATION, PLEASE CONTACT US AT 1-800-999-0297 or email us at info@vectrapet.com
Precautionary Statements
HAZARDS TO HUMANS AND DOMESTIC ANIMALS
Warning
Causes substantial, but temporary eye injury. DO NOT get in eyes or on clothing. Avoid contact with skin. Wash thoroughly with soap and water after handling and before eating, drinking, chewing gum and using tobacco products. Remove and wash contaminated clothing before reuse.
For external use on cats weighing 9 lbs and over (1.2 mL dose)
Do not use this product on debilitated, aged, medicated, pregnant or nursing animals, or animals known to be sensitive to pesticide products without first consulting a veterinarian. Sensitivity, such as slight transitory redness of the skin at the site of application, may occur after using ANY pesticide product for pets. If signs of sensitivity occur, bathe your pet with mild soap or shampoo and rinse with large amounts of water. If signs of individual animal sensitivity occur and persist, contact your veterinarian. Have the product container or label with you when calling your veterinarian for advice.
First Aid
If in eyes:
Hold eye open and rinse slowly and gently with water for 15 - 20 minutes. Remove contact lenses, if present, after the first 5 minutes, then continue rinsing. Call a poison control center, doctor for treatment advice.
If swallowed:
Call a poison control center, doctor immediately for treatment advice. Do not induce vomiting unless told to do so by a poison control center or doctor. Have person sip a glass of water if able to swallow. Do not give anything by mouth to an unconscious person.
If on skin:
Take off contaminated clothing. Rinse skin immediately with plenty of water for 15 - 20 minutes. Call a poison control center, doctor, or 1-800-999-0297 or after 6 pm EST call 1-888-426-4435 immediately for treatment advice.
Have the product container or label with you when calling a poison control center or doctor or going for treatment. You may contact 1-800-999-0297 or after 6 pm EST call 1-888-426-4435 for emergency medical information.
Directions For Use
It is a violation of Federal law to use this product in a manner inconsistent with its labeling. [Precaución al consumidor: si usted no lee ingles, no use este producto hasta que la etiqueta le haya sido explicada ampliamente. (To the User: If you cannot speak English, do not use this product until the label has been fully explained to you.)]
HOW TO APPLY:
1. Remove applicator from package.
2. The cat should be standing or in a comfortable position for easy application.
3. Remove a tube and applicator from the package. Holding the tube (applicator) upright, pointing away from face place thumb and index finger around the applicator tip under the large disk. With other hand, grasp the stem of the applicator tip above small disk. Press down firmly on small disk until both disks meet, piercing the seal. (See Illustration)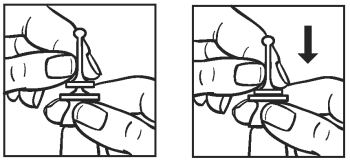 4. Part the hair down to the level of the skin and slowly apply the product at the base of the cat's neck until the tube is completely empty, as shown in the diagram below. Avoid superficial application to the cat's hair.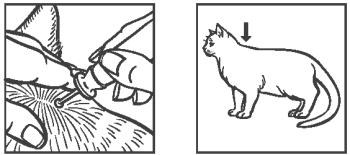 5. Discard empty tube as outlined in Storage and Disposal.
6. Repeat once a month or as recommended by your veterinarian, but do not apply more often than once a month.
7. For optimum treatment, control and prevention of adult fleas, flea eggs, flea larvae and flea pupae, year-round treatment is recommended.
Storage And Disposal
Do not contaminate water, food or feed by storage and disposal.
Storage
Store in a cool, dry place. Protect from freezing.
Disposal
If empty, do not reuse the container. Place in trash or offer for recycling if available. If partially filled, call your local solid waste agency for disposal instructions. Never place unused products down any indoor or outdoor drain.
Limited Warranty And Limitation Of Damages
Seller warrants that the material conforms to the chemical parameters of the US EPA registration and the label. Seller makes no warranty to the extent consistent with applicable law, express or implied, other than indicated on the label. Buyer and user assume all risk of use and handling of this material when such use and handling are contrary to the label directions. To the extent consistent with applicable law any damages arising from a breach of this warranty shall be limited to direct damages and shall not include consequential commercial damages such as loss of profit or values.
Volume varies with size of animal for which package is intended and number of applicators per package. Product may be packaged in 1, 3, 6 or 36 applicators per package. Total volume will correspond to number of applicators.
EPA Reg. No. 83399-9
EPA Est. No. 68669-NC-1
Made in the USA by Ceva Animal Health, LLC, 301 Rt. 17 N, Rutherford, NJ 07070
SATISFACTION Guaranteed
Ceva Animal Health, LLC will provide new product or your money back.
For additional information please contact us at 1-800-999-0297 or info@vectrapet.com
©2011 Ceva Animal Health, LLC
VCK-074-09 8/10
CPN: 13280121
CEVA ANIMAL HEALTH, LLC
8735 ROSEHILL ROAD, STE. 300, LENEXA, KS, 66215
| | | |
| --- | --- | --- |
| Toll-Free: | | 1-800-999-0297 |
| Toll-Free Fax: | | 877-777-5138 |
| Website: | | www.ceva.us |
| | |
| --- | --- |
| | THIS SERVICE AND DATA ARE PROVIDED "AS IS". DVMetrics assumes no liability, and each user assumes full risk, responsibility, and liability, related to its use of the DVMetrics service and data. See the Terms of Use for further details. |