Tuttle's PYthon Insecticide Strip for Horses
This page contains information on Tuttle's PYthon Insecticide Strip for Horses for
veterinary use
.
The information provided typically includes the following:
Tuttle's PYthon Insecticide Strip for Horses Indications
Warnings and cautions for Tuttle's PYthon Insecticide Strip for Horses
Direction and dosage information for Tuttle's PYthon Insecticide Strip for Horses
Tuttle's PYthon Insecticide Strip for Horses
This treatment applies to the following species:
Company: Y-Tex
FOR USE ON HORSES TO CONTROL HORN FLIES AND STABLE FLIES
● SYNERGIZED PYRETHROID FORMULA FOR MAXIMUM EFFECTIVENESS AGAINST HORN FLIES.
● NO WITHDRAWAL TIME REQUIRED.
● GUARANTEED AGAINST LOSS DUE TO STRIP BREAKAGE.*
Keep Out of Reach of Children
Tuttle's PYthon Insecticide Strip for Horses Caution
ACTIVE INGREDIENTS:
Zetacypermethrin, S-enantiomer
S-cyano (3-phenoxyphenyl) methyl (±) cis/trans 3-(2, 2-dichloroethenyl)-2, 2 dimethylcyclopropane-carboxylate*

10%

*Cis/trans isomer ratio: Max. 55% (±) cis and Min. 45% (±) trans

Piperonyl Butoxide
(butylcarbityl) (6-propylpiperonyl) ether and related compounds

20%

OTHER INGREDIENTS

70%

TOTAL

100%
Directions For Use
It is a violation of Federal law to use this product in a manner inconsistent with its labeling. The labeling must be in the possession of the user at the time of pesticide application.
HORSES: For control of Horn flies and Stable Flies for up to 2 months, apply 3 strips to halter or bridle. Place one strip behind each ear and one in the middle on bridles. Use the provided felt crown piece when applying strips to a buckle or rope (tie) halter.
Remove strips and felt crown piece from package. Attach the strips to the crown piece eyelet holes following these steps: 1) Open clasp and slide one side into the eyelet; 2) Close clasp and press together until it clicks into place; 3) When properly closed both halves should line up over each other. Next, attach crown piece to the crown (poll) strap of halter by sliding crown (poll) strap through crown piece, with eyelets facing the rear of the horse. To secure the crown piece in the proper position behind the ears, secure the end of the crown piece into the buckle for buckle style halter and under the loop on a rope (tie) style halter.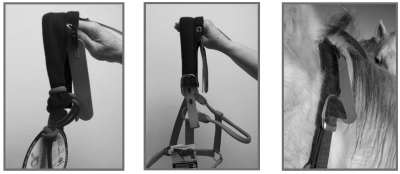 Storage And Disposal
Do not contaminate water, food or feed by storage or disposal.
PESTICIDE STORAGE: Store in a cool place in original container, away from direct sunlight. Opened bags containing ear strips should be resealed for storage.
PESTICIDE DISPOSAL: Remove strips from halters or bridles after 2 months or replace with new strips. Securely wrap used strips in a plastic bag or several layers of newspaper and discard in trash.
CONTAINER DISPOSAL: Non-refillable container. Do not reuse bag. Discard bag in trash, or offer for recycling if available.
Notice Of Warranty
To the extent consistent with applicable law, Tuttle's Horse Care, a division of Y-TEX CORPORATION, MAKES NO WARRANTY OF MERCHANTABILITY, FITNESS FOR ANY PURPOSE, OR OTHERWISE, EXPRESSED OR IMPLIED concerning this product or its uses which extend beyond the use of the product under normal conditions in accord with the statements made on the label, and in any case, is limited to replacement of strips only.
First Aid
This product contains zetacypermethrin, a pyrethroid insecticide, and piperonyl butoxide, technical, a mixed-function oxidase inhibitor.
If on skin or clothing
● Take off contaminated clothing.
● Rinse skin immediately with plenty of water for 15-20 minutes.
● Call a poison control center or doctor for treatment advice.
If swallowed
● Call a poison control center or doctor immediately for treatment advice.
● Have person sip a glass of water if able to swallow.
● Do not induce vomiting unless told to by a poison control center or doctor.
● Do not give anything by mouth to an unconscious person.
Hot Line Number
Have the product container or label with you when calling a poison control center or doctor, or going for treatment. You may also contact 1-800-255-3924 for emergency medical treatment information.
KEEP OUT OF REACH OF CHILDREN
Precautionary Statements
HAZARDS TO HUMANS AND DOMESTIC ANIMALS
Tuttle's PYthon Insecticide Strip for Horses Caution
Harmful if absorbed through skin. Harmful if swallowed. Avoid contact with skin, eyes or clothing. Wash thoroughly with soap and water after handling and before eating, drinking, chewing gum, or using tobacco. Wear long-sleeved shirt and long pants, socks, shoes, and gloves. Remove and wash contaminated clothing before reuse.
Environmental Hazards
This product is extremely toxic to fish and aquatic invertebrates. Do not contaminate water by disposal of used strips. Use this product only as specified on the label.
USER SAFETY RECOMMENDATIONS
- User should wash hands before eating, drinking, chewing gum, using tobacco, or using the toilet.
- User should remove clothing/PPE immediately if pesticide gets inside. Then wash thoroughly and put on clean clothing.
- User should remove PPE immediately after handling this product. Wash the outside of gloves before removing. As soon as possible, wash thoroughly and change into clean clothing.
Guarantee
*This guarantee is a limited guarantee, limited to the replacement of strips only if the strips failed after being properly applied to remain on the horse's halter or bridle for a two (2) month period due to strip breakage.
EPA EST. NO. 39039-WY-01
EPA REG. NO. 39039-21
Patent No. 8,985,059
Tuttle's Horse Care, a division of Y-TEX Corporation, 1825 Big Horn Avenue, Cody, Wyoming 82414
| | | |
| --- | --- | --- |
| NET WT. | CONTENTS: | |
| 0.34 oz. (9.5 GRAMS) PER STRIP | 3 STRIPS with clips attached and 1 felt crown piece | YTP-381-416 |
CPN: 1344022.0
Y-TEX CORPORATION
1825 BIG HORN AVENUE, CODY, WY, 82414
| | | |
| --- | --- | --- |
| Telephone: | | 800-443-6401 |
| Website: | | www.y-tex.com |
| Email: | | ytexinfo@y-tex.com |
| | |
| --- | --- |
| | THIS SERVICE AND DATA ARE PROVIDED "AS IS". DVMetrics assumes no liability, and each user assumes full risk, responsibility, and liability, related to its use of the DVMetrics service and data. See the Terms of Use for further details. |