The Equalizer
This page contains information on The Equalizer for
veterinary use
.
The information provided typically includes the following:
The Equalizer Indications
Warnings and cautions for The Equalizer
Direction and dosage information for The Equalizer
The Equalizer
This treatment applies to the following species:
Company: Vetoquinol USA
Carpet Stain & Odor Eliminator
Just spray and spots disappear!
Self-Cleaning
No Scrubbing
The Equalizer Caution
SKIN AND EYE IRRITANT
CONTENTS UNDER PRESSURE
KEEP OUT OF REACH OF CHILDREN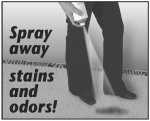 Scientifically formulated for veterinary use to remove organic stains and odors associated with pets such as those caused by urine, feces, vomit, fresh blood, etc. Recommended for cleaning stains associated with: puppy and kitten training, sick or debilitated animals, cat litter box aversion, elimination behavior problems, and household spills.
Use on carpets, floors, furniture, auto interiors, litter boxes, cages, pet living and sleeping areas.
Contains no phosphates or fluorocarbons.
Directions For Use
Carefully follow directions to avoid personal injury. Can should always be pointed upside down to spray. Blot up excess soil or liquid. Hold can upside down. Point opening on spray tip towards spot or stain. Depress the tab on the top of the spray tip to spray. Hold can at arm's length and avoid spraying toward any part of the body. It is not necessary to bend down to apply this product. To avoid splashback, do not spray on hard surfaces. Apply until stain is totally covered. Do not oversaturate. Stain or spot will be gone in seconds. Blot up excess liquid. Certain stains may require additional applications. Wait until stain is dry before determining if necessary to re-apply (24 hours).
USE PRECAUTIONS:
Check for color-fastness on an inconspicuous area. Do not use directly on finished wood surfaces. Do not oversaturate. If can is cold, product will foam but this will not impede the product efficacy. Not recommended for use on Berber carpet, wool or clothing.
The Equalizer Caution
Contact with skin or eyes can cause irritation and permanent eye damage. Vapor may be harmful. Harmful if swallowed. Use in well ventilated area. Do not puncture or incinerate container. Do not expose to heat or store at temperatures above 120°F. If sprayed on skin, wash with soap and water. If sprayed in eyes, flush thoroughly with water for 15 minutes and see a physician. Contains 2-Butoxyethanol and Isopropyl Alcohol.
Made in the USA
Manufactured for Vetoquinol USA, Inc., Ft. Worth, TX (USA) 76137
www.vetoquinolusa.com
1 (800) 267-5707
| | |
| --- | --- |
| Net Wt. | |
| 20 oz (567 g) | 411460 4 |
CPN: 1005007.5
VETOQUINOL USA, INC.
4250 N. SYLVANIA AVENUE, FORT WORTH, TX, 76137
| | | |
| --- | --- | --- |
| Customer Service: | | 800-267-5707 |
| Website: | | www.vetoquinolusa.com |
| Email: | | info@vetoquinolusa.com |
| | |
| --- | --- |
| | THIS SERVICE AND DATA ARE PROVIDED "AS IS". DVMetrics assumes no liability, and each user assumes full risk, responsibility, and liability, related to its use of the DVMetrics service and data. See the Terms of Use for further details. |