Solitude IGR
This page contains information on Solitude IGR for
veterinary use
.
The information provided typically includes the following:
Solitude IGR Indications
Warnings and cautions for Solitude IGR
Direction and dosage information for Solitude IGR
Solitude IGR
This treatment applies to the following species:
Manufacturer: Zoetis
insect growth regulator
feed-through FLY PREVENTIVE for horses
Controls house & stable flies that develop in horse manure
1/2 oz scoop a day
| | |
| --- | --- |
| ACTIVE INGREDIENT | |
| Cyromazine: N-Cyclopropyl-1, 3,5-triazine-2,4,6-triamine | 2.12% |
| OTHER INGREDIENTS* | 97.88% |
| TOTAL | 100.00% |
*Other ingredients are: alfalfa, wheat shorts, and molasses (feed blend); Mycocurb (feed preservative)
KEEP OUT OF REACH OF CHILDREN
Solitude IGR Caution
STOP - READ LABEL BEFORE USE
Solitude IGR prevents the development of houseflies and stable flies in the treated manure from the horse by breaking their lifecycle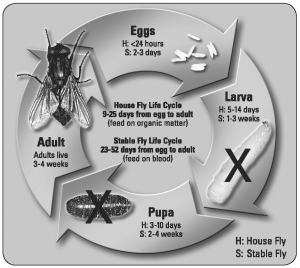 - 1/2 ounce scoop per day
- Begin feeding in the spring before flies appear and continue feeding throughout the summer until cold weather stops fly development
Solitude IGR Indications
For fly control in and around:
Horses, horse barns, horse stables and paddocks, horse race tracks.
Solitude IGR is a product which, when mixed into a horse's ration according to the "Directions for Use" given below, will control certain fly species that develop in the horse manure. Solitude IGR is intended for use only in equine operations.
Environmental Hazards
Do not apply directly to water. Do not contaminate water by disposing of equipment wash water or rinsate.
Directions For Use
It is a violation of Federal law to use this product in a manner inconsistent with its labeling.
IMPORTANT: Read the entire "Directions for Use" before using the product.
Failure to follow directions and precautions on the label may result in poor fly control. DO NOT USE ON HORSES INTENDED FOR SLAUGHTER FOR FOOD. Feed the recommended dosage to each horse separately to make certain full ration is received. This product is to be fed top-dressed on grain or mixed with the horse's total ration to provide 300 mg (1 scoop) of cyromazine per horse per day or 600 mg (2 scoops) of cyromazine per horse every other day.
Start feeding Solitude IGR early in the spring before flies begin to appear and continue feeding throughout the summer and into the fall until cold weather inhibits fly development.
Solitude IGR prevents the development of houseflies and stable flies in the treated manure from the horse, but is not effective against existing adult flies. The active ingredient, cyromazine, is very insect specific. Cyromazine disrupts the production of chitin in the fly so the larvae (maggots) cannot develop into adults. Once the fly reaches adulthood, cyromazine has no effect on the chitin of the adult fly.
In some cases, supplemental fly control measures may be needed in and around paddocks and stables to control adult houseflies and stable flies, which can breed not only in manure, but in other decaying vegetable matter or silage on premises.
In order to achieve optimum fly control, Solitude IGR should be used in conjunction with other good management and sanitation practices.
Solitude IGR Dosage And Administration For Control Of Houseflies And Stable Flies
Begin feeding in the spring before flies begin to appear and continue feeding throughout the summer and into the fall until cold weather inhibits fly development.
Mixing Solitude IGR:
Daily Dosage: Using 1/2 oz. scoop supplied with the product, mix one (1) scoop of Solitude IGR in the horse's ration every day.
Alternate Day Dosage: Using 1/2 oz. scoop supplied with the product, mix two (2) scoops of Solitude IGR in the horse's ration every other day.
Solitude IGR will provide a high degree of fly control and will give the best results when integrated with a well-managed fly control program which includes determining the degree of fly control desired, minimizing fly breeding sites, monitoring adult fly populations in and around the operation; and frequent examinations of manure for maggot activity. To maximize the effectiveness of Solitude IGR, horses must be individually fed with no group or trough feeding.
Additional Information
Fly control in horse operations should include appropriate sanitary and management practices to reduce the number and size of fly breeding sites. A successful sanitary and management program may allow less than constant use of insecticides. This, in turn, should prolong the effective life of such agents.
Controlling Fly Breeding Sites: Certain conditions around horse operations encourage flies and should be brought under control as an aid to fly control. These include:
1. Cleaning up feed and manure spills, especially if wet.
2. Reducing feed spills in the wet areas.
3. Minimize untreated breeding sites by removing collected manure prior to treating with Solitude IGR.
4. Reducing moisture in manure, hay and/or straw around holding areas.
5. Reducing the amount of excess hay leftover from pasture feeding.
6. Repairing water leaks that cause wet manure.
7. Cleaning out weed-choked water drainage ditches.
8. Minimizing sources from other fly-infested animal operations in close proximity.
Determining the Threshold of Fly Tolerance: Fly pressure can vary depending upon farm location, season of the year, and emphasis on sanitation. The frequency of manure removal and proximity of the farm to neighbors or residential areas will greatly influence the expected degree of fly control. Each farm must determine the level of fly control required and follow an appropriate control program.
Storage And Disposal
DO NOT CONTAMINATE WATER, FOOD, OR FEED BY STORAGE AND DISPOSAL.
PESTICIDE STORAGE: Store in a dry place. Keep container closed when not in use. In the event of spillage, scrape up and dispose of material in accordance with information given under PESTICIDE DISPOSAL. Repackage and relabel useable product in a sound container. In case of fire or other emergency, report at once by toll-free telephone to 1-800-366-5288.
PESTICIDE DISPOSAL: Wastes resulting from the use of this product may be disposed of on site or at an approved waste disposal facility.
CONTAINER DISPOSAL: Completely empty bucket. Then dispose of empty bucket in a sanitary landfill or by incineration if allowed by State and local authorities.
EPA Reg. No. 1007-93
EPA Est. No. 67517-MO-1
Manufactured for: Pfizer Animal Health, Exton, PA 19341, Div. of Pfizer Inc, NY, NY 10017
| | |
| --- | --- |
| NET CONTENTS: | |
| 2 LBS. (64 doses) | 8803000, 85-0751-01, 85-0751-00 |
| 6 LBS. (192 doses) | 8807000, 85-0752-01, 85-0752-00 |
| 20 LBS. (640 doses) | 8808000, 85-0753-01, 85-0753-00 |
NAC No.: 36902381
ZOETIS INC.
333 PORTAGE STREET, KALAMAZOO, MI, 49007
| | | |
| --- | --- | --- |
| Telephone: | | 269-359-4414 |
| Customer Service: | | 888-963-8471 |
| Website: | | www.zoetis.com |
| | |
| --- | --- |
| | Every effort has been made to ensure the accuracy of the Solitude IGR information published above. However, it remains the responsibility of the readers to familiarize themselves with the product information contained on the US product label or package insert. |