Saber Extra Insecticide Ear Tags
This page contains information on Saber Extra Insecticide Ear Tags for
veterinary use
.
The information provided typically includes the following:
Saber Extra Insecticide Ear Tags Indications
Warnings and cautions for Saber Extra Insecticide Ear Tags
Direction and dosage information for Saber Extra Insecticide Ear Tags
Saber Extra Insecticide Ear Tags
This treatment applies to the following species:
Manufacturer: Intervet/Merck Animal Health
For up to 5 months control of horn flies and up to 4 months control of face flies (Use two tags per head) on beef and non-lactating dairy cattle and calves.
Active Ingredients

Lambdacyhalothrin: [1 α-(S), 3 α (Z)]-(±)-cyano-(3-phenoxyphenyl) methyl 3-(2-chloro-3,3,3-trifluoro-1-propenyl)-2,2-dimethylcyclopropanecarboxylate

10%

Piperonyl Butoxide Technical*

13%

INERT INGREDIENTS

77%

100%
*Equivalent to Min. 10.4% (butylcarbityl) (6-propylpiperonyl) ether and 2.6% related compounds.
KEEP OUT OF REACH OF CHILDREN
Saber Extra Insecticide Ear Tags Caution
EPA Reg. No. 773-75
EPA Est. No. 618-LA-1
U.S. Patent No. 4,953,313
Precautionary Statements
HAZARDS TO HUMANS AND DOMESTIC ANIMALS
Saber Extra Insecticide Ear Tags Caution
Harmful if swallowed, inhaled, or absorbed through the skin. Avoid contact with skin, eyes, or clothing. Do not breathe vapors. Wash thoroughly with soap and water after handling and before eating, drinking, or using tobacco.
First Aid
If On Skin Or Clothing:
• Take off contaminated clothing.
• Rinse skin immediately with plenty of water for 15-20 minutes.
• Call a poison control center or doctor for treatment advice.
If Inhaled:
• Move person to fresh air. If person is not breathing, call 911 or an ambulance, then give artificial respiration, preferably mouth-to-mouth if possible. Call a poison control center or doctor for further treatment advice.
If Swallowed:
• Call a poison control center or doctor immediately for treatment advice.
• Have person sip a glass of water if able to swallow.
• Do not induce vomiting unless told to do so by the poison control center or doctor.
• Do not give anything by mouth to an unconscious person.
Hot Line Number
Have the product container or label with you when calling the poison control center or doctor or going for treatment. You may also contact the Rocky Mountain Poison Center at 1-303-595-4869 for emergency medical treatment information.
Environmental Hazards
Do not apply to any body of water. Do not contaminate water by disposal of used tags. This product is toxic to fish.
Directions For Use
It is a violation of Federal law to use this product in a manner inconsistent with its labeling. The labeling must be in the possession of the user at the time of pesticide application. Avoid contamination of food or feedstuffs. Wear rubber or nonpermeable protective gloves when applying or removing tags.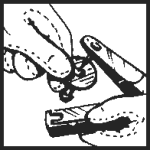 FIGURE 1
Place male button onto pin until it projects through the tip.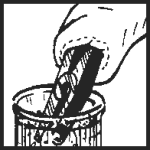 FIGURE 2
Dip tag button into disinfectant solution.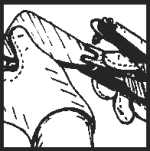 FIGURE 3
Press female tag under the clip by depressing lever.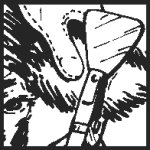 FIGURE 4
Apply through ear between second and third rib, halfway between ear tip and head.
For optimum control and to minimize development of insect resistance, use two tags per animal (one in each ear). All animals in the herd should be tagged. Apply when flies first appear in the spring. Replace as necessary. Apply with ALLFLEX®* Tagging System. Tags remain effective up to 5 months. Remove tags in the fall.
Continual exposure of horn flies to a single class of insecticides (eg, pyrethroids or organophosphates) may lead to the development of resistance to that class of insecticides. In order to reduce the possibility of horn flies developing resistance, it is important to rotate the class of insecticide used and/or the method of horn fly control on a seasonal basis. For advice concerning current control practices with relation to specific local conditions, consult resources in resistive management programs and/or your Cooperative Agricultural extension Service.
Storage And Disposal
Do not contaminate water, food, or feed by storage or disposal.
Storage
Store in cool place away from direct sunlight.
Pesticide Disposal:
Remove tags before slaughter. Tags may be disposed of on site or at an approved waste disposal facility.
Container Disposal:
Dispose of empty bag in a sanitary landfill or by incineration, or, if allowed by State and local authorities, by burning. If burned, stay out of smoke.
NOTICE OF WARRANTY
MERCK ANIMAL HEALTH MAKES NO WARRANTY OF MERCHANTABILITY, FITNESS FOR ANY PARTICULAR PURPOSE, OR OTHERWISE, EXPRESSED OR IMPLIED CONCERNING THIS PRODUCT OR ITS USES WHICH EXTEND BEYOND THE USE OF THE PRODUCT UNDER NORMAL CONDITIONS IN ACCORDANCE WITH THE STATEMENTS ON THE LABEL.
Copyright © 1998, Intervet Inc d/b/a Merck Animal Health, Summit, NJ 07901. All rights reserved.
*ALLFLEX is a registered trademark of Allflex USA, Inc.
Net Wt:

Contents:

9.5 grams per tag

20 tags and buttons

0061-5019-02

128186 R2 Rev. 9/12

Treats 10 Head Of Cattle
NAC No.: 10471734
MERCK ANIMAL HEALTH
Intervet Inc.
2 GIRALDA FARMS, MADISON, NJ, 07940
| | | |
| --- | --- | --- |
| Customer Service: | | 800-521-5767 |
| Order Desk: | | 800-648-2118 |
| Technical Service (Companion Animal): | | 800-224-5318 |
| Technical Service (Livestock): | | 800-211-3573 |
| Fax: | | 973-937-5557 |
| Website: | | www.merck-animal-health-usa.com |
| | |
| --- | --- |
| | Every effort has been made to ensure the accuracy of the Saber Extra Insecticide Ear Tags information published above. However, it remains the responsibility of the readers to familiarize themselves with the product information contained on the US product label or package insert. |