RapidBac Vet
This page contains information on RapidBac Vet for
veterinary use
.
The information provided typically includes the following:
RapidBac Vet Indications
Warnings and cautions for RapidBac Vet
Direction and dosage information for RapidBac Vet
RapidBac Vet
This treatment applies to the following species:
Company: Silver Lake Research
TEST FOR BACTERIA IN URINE
RapidBac™ Vet is a rapid immunoassay for the detection of Gram-positive and Gram-negative bacteria in urine.
TEST PROCEDURE
Read all instructions before use
Precautions and Warnings
● Do not open foil pouch prior to use
● Do not reuse volumetric pipettes, test strips or vials
● Assay buffer is sufficient for 10 tests
Storage
● Store at room temperature (10-30°C/50-86°F)
● Do not use after expiration date on packaging
Kit Components
● Ten foil pouches containing one RapidBac™ Vet test strip, one test vial, and two volumetric pipettes each.
● One bottle of Assay Buffer (for 10 tests).
Urine Collection
● Cystocentesis
● Catheter
● Clean catch
Using a Volumetric Pipette
Press firmly on the TOP bulb with the tip in the air, then place the pipette tip below the liquid level. Release the bulb slowly to fill cylindrical portion of the pipette. Make sure the entire cylinder is filled with liquid. Transfer the liquid to the assay vial by pressing firmly on the TOP bulb.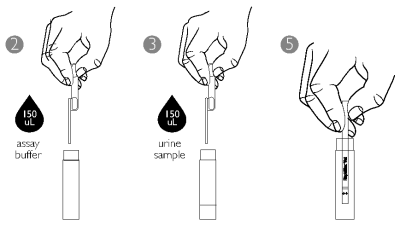 1 Open foil pouch and remove contents.
2 Using one pipette, add one pipette full of Assay Buffer to test vial. Make sure all liquid is at the bottom of the test vial by tapping the vial gently on a flat surface. Wait 2 minutes, swirling test vial occasionally.
3 Using the second, clean pipette, add one pipette full of urine sample to the test vial. Swirl to mix.
4 Wait 5 minutes.
5 Place test strip in test vial with arrows pointing down.
6 Wait 10 minutes.
7 Remove test strip from vial and read results.
INTERPRETING RESULTS
Positive Result:
● Any color development at Line 1 or Line 2 indicates the presence of bacteria in the sample.

Negative Result:
● Only Control Line develops color - no bacteria detected

Invalid Result:
● If Control Line does not develop color, the result is invalid - repeat test.
Interpretation:
● If both Line 1 and Line 2 are present, a Gram-negative organism has been detected. Gram-negative bacterial species known to give this result include: E. coli, Klebsiella spp, Citrobacter spp, Enterobacter spp, and Serratia spp.
● If Line 2 is present and Line 1 is absent, the detected organism may be Gram-positive or Gram-negative. Bacterial species known to give this result include: Proteus spp, Morganella spp, Providencia spp, Staphylococcus spp, Enterococcus spp, Actinomyces spp, and Actinobaculum spp.
SENSITIVITY AND SPECIFICITY
In a clinical trial carried out at North Carolina State University, the performance of the RapidBac™ Vet test was compared to urine culture on 200 canine urine specimens.
Comparison Test:

Urine Culture

Samples - RapidBac™ Vet / Culture Results

+/+

-/+

+/-

-/-

Total

37

1

2

160

200
| | | | |
| --- | --- | --- | --- |
| Sensitivity | Specificity | Overall Accuracy | Reproducibility |
| 97.4% | 98.8% | 98.5% | 100% |
Reference: Jacob ME et al. Diagnostic accuracy of a rapid immunoassay for point-of-care detection of canine urinary tract infection. Am J Vet Res. In press. 2015.
Symbol Descriptions

Technical support (+01) 626 359 8441
rapidbacvet.com
silver lake research, P.O. Box 787, Azusa, CA 91702 USA
888 438 1942 / (+01) 626 359 8441
Fax: (+01) 626 359 6601
©Silver Lake Research Corporation 2015.
U.S. Patent No. 9,052,314, other patents pending.
For Veterinary Use Only
Read all instructions before beginning test
Cat. No. RB728
Store tests at room temperature (10-30°C/50-86°F)
CPN: 1861000.0
SILVER LAKE RESEARCH CORPORATION
1300 W. OPTICAL DR., STE 300, AZUSA, CA, 91702
| | | |
| --- | --- | --- |
| Telephone: | | 626-359-8441 |
| Toll-Free: | | 888-438-1942 |
| Fax: | | 626-359-6601 |
| Website: | | www.rapidbacvet.com |
| | | www.silverlakeresearch.com |
| Email: | | info@silverlakeresearch.com |
| | |
| --- | --- |
| | THIS SERVICE AND DATA ARE PROVIDED "AS IS". DVMetrics assumes no liability, and each user assumes full risk, responsibility, and liability, related to its use of the DVMetrics service and data. See the Terms of Use for further details. |