Ralgro Implants for Beef Cattle
This page contains information on Ralgro Implants for Beef Cattle for
veterinary use
.
The information provided typically includes the following:
Ralgro Implants for Beef Cattle Indications
Warnings and cautions for Ralgro Implants for Beef Cattle
Direction and dosage information for Ralgro Implants for Beef Cattle
Ralgro Implants for Beef Cattle
This treatment applies to the following species:
Company: Intervet/Merck Animal Health
IMPLANTS IN CARTRIDGES for Beef Cattle
CAUTION: Do not use in bulls intended for reproduction or dairy animals. Do not use before 1 month of age or after weaning in heifers intended for reproduction. Edema of the vulva and udder, teat elongation, rectal and vaginal prolapse, and signs of estrus may occur when heifers are implanted. Delayed testicular development may occur in young males. To avoid difficulty in castration, young males should be castrated at the time of implanting.
Dosage: 36 mg zeranol
A single pull of the RALOGUN® trigger delivers the proper 36-mg dose (three - 12-mg pellets per chamber). Manufactured by a non-sterilizing process.
Restricted Drug (California), Use Only as Directed.
Warning

DO NOT ATTEMPT TO SALVAGE IMPLANT SITE FOR HUMAN OR ANIMAL FOOD. IMPLANT PELLETS IN THE EAR ONLY. ANY OTHER LOCATION IS IN VIOLATION OF FEDERAL LAW. A WITHDRAWAL PERIOD HAS NOT BEEN ESTABLISHED FOR THIS PRODUCT IN PRE-RUMINATING CALVES. DO NOT USE IN CALVES TO BE PROCESSED FOR VEAL.
Directions For Using Ralgro® Implants In Cartridges With The Ralogun® Pellet Injector
RALGRO (zeranol) is an anabolic agent that increases rate of weight gain and improves feed conversion of weaned beef calves, growing beef cattle, feedlot steers, and feedlot heifers. RALGRO also increases rate of weight gain of suckling beef calves. Do not use in veal calves.
Effectiveness and animal safety in veal calves have not been established. RALGRO pellets are stable when stored between 2° and 25°C (36° and 77°F). RALGRO pellets each contain 12 mg of zeranol. Three pellets are required for 36-mg dose.
STEP 1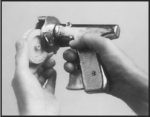 Each chamber of the plastic RALGRO cartridge contains a full dose of RALGRO implants. Insert the cartridge in the magazine of the RALOGUN pellet injector with the hole in the axle of the cartridge pointed toward the handle of the RALOGUN pellet injector. After snapping into place, rotate cartridge clockwise to ensure proper seating, then check window at top to ensure that pellet chamber is aligned with plunger.
STEP 2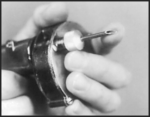 Always use sharp needle. A dull needle tears tissue and makes proper implanting difficult. Be sure that needle is fully seated in RALOGUN pellet injector. This ensures that pellets will be expelled from the needle as RALOGUN plunger is extended. Failure to set the needle could cause the last pellet to be left in the needle and not implanted.
STEP 3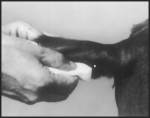 After appropriately restraining the animal to allow access to the ear, cleanse the skin at the implant needle puncture site.
STEP 4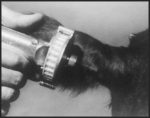 The implant site is subcutaneous, between the skin and cartilage on the back side of the ear and below the midline of the ear. The implant must not be placed closer to the head than the edge of the auricular cartilage ring farthest from the head. The location for insertion of the needle is a point toward the tip of the ear and at least a needle length away from the intended deposition site. Care should be taken to avoid injuring the major blood vessels or cartilage of the ear. Squeeze trigger of the RALOGUN pellet injector to deliver a full dose of RALGRO. Keep trigger depressed while withdrawing the needle to be sure that RALGRO implants stay in place.
STEP 5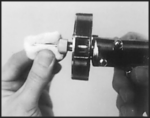 Wipe needle with cotton or gauze moistened with alcohol or other suitable disinfectant. Do not dip needle in solution because solution clinging to inside of needle will cause plugging of needle.
STEP 6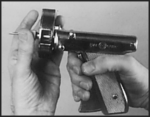 Rotate cartridge in direction of arrow until a new dose is visible and centered in window. The RALOGUN pellet injector is now ready for next implantation.
Made in Austria
This product may not be marketed or used in the EU.
NADA #38-233, Approved by FDA.
Distributed by: Intervet Inc d/b/a Merck Animal Health, Summit, NJ 07901
Copyright (c) 2011 Intervet Inc., a subsidiary of Merck & Co. Inc. All rights reserved.
128404 R1
Presentation: 24 doses per cartridge and 10 x 10-dose strips (100 doses).
CPN: 1047168.4
MERCK ANIMAL HEALTH
Intervet Inc.
2 GIRALDA FARMS, MADISON, NJ, 07940
| | | |
| --- | --- | --- |
| Customer Service: | | 800-521-5767 |
| Order Desk: | | 800-648-2118 |
| Technical Service (Companion Animal): | | 800-224-5318 |
| Technical Service (Livestock): | | 800-211-3573 |
| Fax: | | 973-937-5557 |
| Website: | | www.merck-animal-health-usa.com |
| | |
| --- | --- |
| | This service and data are provided "AS IS". DVMetrics and Drugs.com assumes no liability, and each user assumes full risk, responsibility, and liability, related to its use of the DVMetrics and Drugs.com services and data. See the terms of use for further details. |