Propalin (Canada)
This page contains information on Propalin for
veterinary use
.
The information provided typically includes the following:
Propalin Indications
Warnings and cautions for Propalin
Direction and dosage information for Propalin
Propalin
This treatment applies to the following species:

Company: Vetoquinol
Phenylpropanolamine Hydrochloride Syrup
50 mg/mL
FOR DOGS
VETERINARY USE ONLY
DIN 02247031
Active Ingredients
Phenylpropanolamine HCl: 50 mg/mL

INDICATION: Propalin is recommended for the long-term treatment of urinary incontinence associated with urethral sphincter incompetence in spayed bitches. The degree of improvement in the symptoms of urinary incontinence may vary between patients. Also, some patients may not respond to therapy.
Dosage and Administration
Using the oral syringe included, administer in food or directly in the dog's mouth, 1 mg/kg bodyweight of phenylpropanolamine HCl (0.1 mL of Propalin Syrup per 5 kg of body weight), 3 times daily.
INSTRUCTIONS FOR USE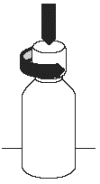 1. Remove the childproof safety cap by pushing down firmly and turning anti-clockwise.
2. Take the dosage syringe, with plunger pushed inwards, and insert the end into the opening of the stopper. Push down firmly.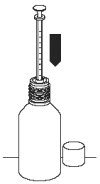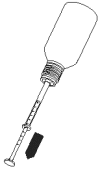 3. Hold upside down at an angle, without fully inverting the bottle, and draw Propalin Syrup in the syringe slowly to avoid air bubbles. Stop at the relevant mark on the plunger for the volume of Propalin Syrup required.
4. Turn bottle the right way up and take hold of the lower part of the syringe, close to the neck of the bottle. Carefully remove the syringe from the bottle using a turning action.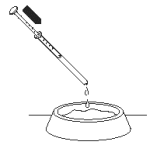 5. Hold the syringe over your dog's food or in its mouth and push the plunger inwards as far as it will go to ensure you use the full dose of Propalin Syrup required.
6. Replace the cap onto the bottle and turn clockwise to tighten.
7. Wipe the end of the syringe with a clean tissue or paper towel and keep in a clean place. If the syringe needs cleaning, remove the plunger and rinse both parts with warm water.
8. Dry thoroughly, ensuring that the inside of the syringe is dry before replacing the plunger.
For a demonstration on how to withdraw the liquid from the bottle with the syringe, please watch the video available at:
http//www.vetoquinol.ca/eng/products/propalin-incontinence-dog
Contraindications
Not for use in animals on cardiac medication or any other sympathomimetic agent. This drug must also not be used in the presence of concurrent diseases such as hypertension, renal failure or any cardiovascular disorder. Also, it should be used with extreme caution in dogs suffering from glaucoma or diabetes mellitus.
CAUTIONS: Do not exceed the prescribed dosage. Frequent reevaluations by a veterinarian are recommended while the dog is on phenylpropanolamine therapy. This drug must not be used in breeding, pregnant or lactating dogs. Dogs less than 5 kg cannot be accurately dosed.
Warnings
Wash hands after handling. Avoid ingestion. In event of accidental eye contact, rinse eye with clean water. Keep out of reach of children. Consult a physician in case of accidental ingestion by humans.
Adverse Reactions
The main adverse events reported following therapy with phenylpropanolamine are those associated with a stimulation of the sympathetic nervous system. The following adverse events could be seen in descending order of frequency:
● behavioural (aggressive behaviour, restlessness)
● gastrointestinal (vomiting, diarrhea)
● neurological (epileptic episodes, seizures, tremors)
● cardiovascular (asymptomatic tachyarrythmia, cardiovascular collapse)
● systemic (lethargy, anorexia).
Also, allergic (hypersensitivity) reactions can occur (swollen eyelids, photophobia) as these were reported in the spontaneous post-marketing reporting to the U.K. Regulatory Agency following the introduction of the product to that market. Special care should be taken if the animal to be treated has a history of epilepsy, as a stimulation of the sympathetic system may trigger epileptic crisis in certain cases.
Clinical Pharmacology
SYMPATHOMIMETIC AGENT
Phenylpropanolamine is a chemical analogue of the endogenous sympathomimetic amines. It is an α-adrenergic agent which has been reported to increase resting urethral tone in dogs.1 It acts by direct stimulation of the smooth muscle of the internal urethral sphincter.
DRUG INTERACTIONS: Suspected drug interactions with phenylpropanolamine include (but are not necessarily limited to) beta-blockers, sympathomimetic and anti-cholinergic agents (including atropine), halothane, insulin, and non steroidal anti-inflammatory drugs (NSAIDs). In addition, drugs that affect urine pH may modify urinary excretion of phenylpropanolamine and result in greater or reduced effects of the drug.
Storage Conditions
Store between 15°C and 25°C. Keep the bottle in the outer carton in order to protect from light. Discard 12 weeks after opening.
PRESENTATION
Bottles of 30 mL and 100 mL.
1 K.P. RICHTER and G.V. LING: Clinical response and urethral pressure profile changes after phenylpropanolamine in dogs with primary sphincter incompetence. JAVMA, Vol. 187, No. 6, September 15, 1985. 605-611.
*Registered trademark of Vetoquinol S.A., Vetoquinol N.-A. Inc., Authorized Licensee
Vetoquinol N.-A. Inc., 2000, ch. Georges, Lavaltrie, QC, Canada J5T 3S5
Last revision: November 30, 2022
467702 1222 C
| | |
| --- | --- |
| Net: | Code |
| 30 mL | 11820 |
| 100 mL | 11757 |
CPN: 1234158.7
VETOQUINOL N.-A. INC.
Commercial Division
2000, CHEMIN GEORGES, LAVALTRIE, QC, J5T 3S5
| | | |
| --- | --- | --- |
| Telephone: | | 450-586-2252 |
| Order Desk: | | 800-363-1700 |
| Fax: | | 450-586-4649 |
| Website: | | www.vetoquinol.ca |
| Email: | | info@vetoquinol.ca |
| | |
| --- | --- |
| | THIS SERVICE AND DATA ARE PROVIDED "AS IS". Animalytix assumes no liability, and each user assumes full risk, responsibility, and liability, related to its use of the Animalytix service and data. See the Terms of Use for further details. |