ORAVET Plaque Prevention Gel
This page contains information on ORAVET Plaque Prevention Gel for
veterinary use
.
The information provided typically includes the following:
ORAVET Plaque Prevention Gel Indications
Warnings and cautions for ORAVET Plaque Prevention Gel
Direction and dosage information for ORAVET Plaque Prevention Gel
ORAVET Plaque Prevention Gel
This treatment applies to the following species:
Company: Merial
Directions For Use:
Apply ORAVET™ Plaque Prevention Gel once a week or as directed by your veterinarian to significantly reduce the formation of plaque and tartar.
Before applying ORAVET Plaque Prevention Gel, wipe any excess saliva from the front of your pet's teeth and gums, using a paper towel or a clean, dry cloth.
1. Peel back the protective cover from one tray of ORAVET Plaque Prevention Gel.
2. Put a generous amount of gel on the applicator.
3. While holding your pet's mouth closed, lift the upper lip on one side and spread the gel on the upper teeth and gums at the gum line. Note that it is only necessary to apply the gel to the front of the teeth and gums.
Now spread the gel on the lower teeth and gums at the gum line.
4. Repeat the same procedure on the other side.
5. Discard the applicator and any leftover gel.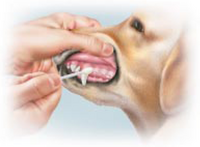 To maintain your pet's optimum oral health, see your veterinarian regularly.
Keep out of reach of children.
Avoid contact with clothing and carpets.
Store below 86° F (30° C).
Merial Limited, 3239 Satellite Blvd., Duluth, GA 30096 USA
©2004 Merial. All rights reserved.
ORAVET™ is a trademark of Merial.
For more information, please call 1-888-846-2340
Contains: 5-amino-1,3-bis(2-ethylhexyl)hexahydro-5-methyl-5-pyrimidinamine (hexetidine), microcrystalline wax, mineral oil
Manufactured under one or more of the following U.S. patents: 5,961,958; 5,980,868
| | |
| --- | --- |
| Contains 8 x 2.5 mL treatments and 8 disposable applicators | 1030-1782-01 Rev. 06-2004 |
| CLINIC START-UP KIT: Professional Storage Case, Barrier Sealant Applicator Gun, 30 Barrier Sealant Cartridges, 15 Plaque Prevention Gel Home Care Kits | 1032-1794-00 Rev. 02-2004 |
CPN: 11110960
BOEHRINGER INGELHEIM ANIMAL HEALTH USA INC.
3239 SATELLITE BLVD., DULUTH, GA, 30096
| | | |
| --- | --- | --- |
| Telephone: | | 800-325-9167 |
| Fax: | | 816-236-2717 |
| Website: | | www.bi-vetmedica.com |
| | | www.metacam.com |
| | | www.prrsresearch.com |
| | | www.prozinc.us |
| | | www.vetera-vaccines.com |
| | | www.vetmedin-us.com |
| Email: | | info@productionvalues.us |
| | |
| --- | --- |
| | This service and data are provided "AS IS". DVMetrics and Drugs.com assumes no liability, and each user assumes full risk, responsibility, and liability, related to its use of the DVMetrics and Drugs.com services and data. See the terms of use for further details. |