Flu Avert I.N. Vaccine (Canada)
This page contains information on Flu Avert I.N. Vaccine for
veterinary use
.
The information provided typically includes the following:
Flu Avert I.N. Vaccine Indications
Warnings and cautions for Flu Avert I.N. Vaccine
Direction and dosage information for Flu Avert I.N. Vaccine
Flu Avert I.N. Vaccine
This treatment applies to the following species:
Company: Merck Animal Health
EQUINE INFLUENZA VACCINE, MODIFIED LIVE VIRUS
For Intranasal Use Only
DIRECTIONS FOR USE, READ CAREFULLY
Description
This vaccine is a lyophilized preparation containing an attenuated, cold-adapted, viable equine influenza virus type H3N8 strain (EIV A/Equine 2/Kentucky/91). Contains no preservatives.
Flu Avert I.N. Vaccine Indications
For the vaccination of healthy horses 11 months of age or older, as an aid in the reduction of clinical disease and viral shedding caused by equine influenza viruses of both the American and Eurasian lineages.
Flu Avert I.N. Vaccine Cautions
Store at 2°-8°C (35°-46°F). Store out of direct sunlight. Do not vaccinate pregnant animals. Do no vaccinate within 21 days before slaughter. Do not mix with other products. Inactivate unused contents before disposal. If allergic reaction occurs, treat with epinephrine. We recommend that the vaccine be administered by a veterinarian or a trained technician. A small number of horses may experience mild post-vaccination side effects including slight nasal discharge. These signs should clear in a few days without additional treatment.
FOR ANIMAL USE ONLY
Dose
Administer a single 1 mL dose intranasally in one nostril.
Rehydration and Administration
Step 1: Attach a sterile needle to a 3 cc luer lock syringe.
Step 2: Use the syringe and needle to withdraw the entire contents of the diluent vial through the rubber stopper.
Step 3: Aseptically insert the needle from the syringe loaded with diluent into the vial of lyophilized vaccine. Transfer the contents from the syringe into the vaccine vial.
Step 4: Mix the diluent and vaccine using a gentle swirling motion. Once dissolved immediately withdraw the full amount of rehydrated vaccine using the syringe and needle.
Step 5: REMOVE THE NEEDLE from the syringe and safely dispose of it. Replace with a nasal applicator. Take care to securely attach the applicator to the luer lock syringe.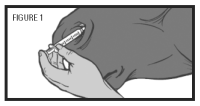 Step 6: Place the nasal applicator into the ventral meatus of the nasal passage (see figure 1). Depress the plunger to administer the vaccine. Withdraw and discard the applicator and syringe.
It is normal for a small amount of vaccine to drip from the nasal passage after vaccination.
Please utilize a new applicator for each dose of vaccine.
NOTE: A new applicator should be used to vaccinate each horse. No needles are necessary to administer the vaccine. This vaccine is NOT intended for intramuscular or subcutaneous injection. For primary immunization, a single dose is required in horses 11 months of age or older. Horses vaccinated at less than 11 months of age should be given a dose of the vaccine at age 11 months. Duration of Immunity has been shown to be at least 6 months. Revaccination every six months is recommended. Horses at high risk of exposure may benefit from revaccination every three months.
Intervet Inc., d/b/a Merck Animal Health, Omaha, NE 68103, USA
VLN/PCN 165A/1501.20
1 800 521-5767 (USA)
1 866 683-7838 (Canada)
For patent information:
http://www.merck.com/product/patent/home.html
189879-01
| | | |
| --- | --- | --- |
| | Code | |
| 10 Doses (10x1 dose vials of lyophilized vaccine, 10 vials of sterile diluent and 10 nasal applicators) | 197763 | 195642-01 |
CPN: 1208185.3
MERCK ANIMAL HEALTH
Intervet Canada Corp.
16750 ROUTE TRANSCANADIENNE, KIRKLAND, QC, H9H 4M7
| | | |
| --- | --- | --- |
| Order Desk: | | 514-428-7013 |
| Toll-Free: | | 866-683-7838 |
| Fax: | | Toll-free 888-498-4444; local 514-428-7014 |
| Website: | | www.merck-animal-health.ca |
| | |
| --- | --- |
| | Every effort has been made to ensure the accuracy of the Flu Avert I.N. Vaccine information published above. However, it remains the responsibility of the readers to familiarize themselves with the product information contained on the Canadian product label or package insert. |