ERADIA Metronidazole Oral Suspension (Canada)
This page contains information on ERADIA Metronidazole Oral Suspension for
veterinary use
.
The information provided typically includes the following:
ERADIA Metronidazole Oral Suspension Indications
Warnings and cautions for ERADIA Metronidazole Oral Suspension
Direction and dosage information for ERADIA Metronidazole Oral Suspension
ERADIA Metronidazole Oral Suspension
This treatment applies to the following species:

Company: Virbac
Veterinary Use Only
For Dogs
DIN 02499819
Description
ERADIA Oral Suspension is a flavoured oily suspension with brown visible particles containing metronidazole, an nitroimidazole derivative. Each mL of ERADIA Oral Suspension contains 125 mg of metronidazole.
ERADIA Metronidazole Oral Suspension Indications
For the treatment of Giardia duodenalis infection in dogs.
Dosage and Administration
Oral use. The recommended dose is 25 mg metronidazole per kg body weight (0.2 mL per kg) every 12 hours for 5 days. Weigh the dog prior to drug administration to ensure the correct dose. ERADIA Oral Suspension can be administered to fasted or fed dogs (See pharmacokinetics).
| | |
| --- | --- |
| Body weight (kg) | Volume to administer twice daily for 25 mg/kg |
| 2 | 0.4 mL |
| 3 | 0.6 mL |
| 4 | 0.8 mL |
| 5 | 1.0 mL |
| 10 | 2.0 mL |
| 15 | 3.0 mL |
| 20 | 4.0 mL |
| 25 | 5.0 mL |
| 30 | 6.0 mL |
| 35 | 7.0 mL |
| 40 | 8.0 mL |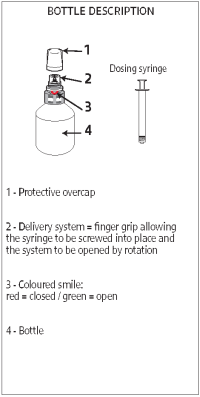 Instructions for use of the Snap cap packaging
A - Shake the bottle vigorously before use.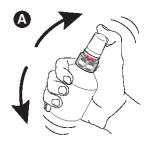 B - Unscrew the protective overcap.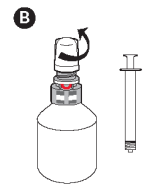 C - Insert the syringe into the upper white part of the cap (finger grip) by pushing firmly, then, while pushing, turn the syringe to the right (clockwise) until the green smile appears.
D - Turn the bottle upside down and withdraw the prescribed volume of the product, in the upside-down position.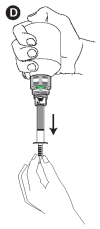 E - Once the correct volume of the product has been drawn into the syringe, unscrew the syringe from the cap without pushing by turning it to the left (counterclockwise) until the red smile appears again, then continue to turn in order to unfasten the syringe. The system can also be closed by turning the finger grip manually.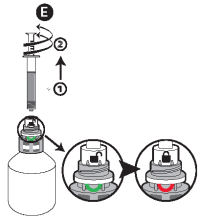 F - Screw the protective overcap back on.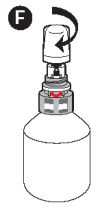 Push the plunger of the syringe to administer the product over a small portion of the food or directly into the animal's mouth. Wear impervious gloves when handling the product and/or administering the product into the animal's mouth. When administered on the food, wait until the animal has completely consumed the medicated food, then give the dog the rest of its food.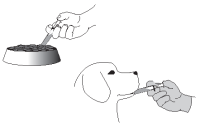 Contraindications
Do not use in dogs with a known hypersensitivity to the drug.
CAUTIONS:
The drug should be used with caution in dogs with hepatic dysfunction.
The safety of the product has not been established in dogs younger than 12 weeks of age or in dogs weighing less than 2 kg.
Studies in laboratory animals have shown inconsistent results with regard to teratogenic/embryotoxic effects of metronidazole. Therefore, use of this product during pregnancy is not recommended. Metronidazole is excreted in milk, and use during lactation is therefore not recommended. Safety has not been established in breeding, pregnant or lactating dogs.
Reinfection occurs frequently. It is recommended that post-treatment cleaning regimens be implemented to reduce the likelihood of reinfection.
Warnings
Keep out of reach of children. Immediately after use, close the bottle and put the syringe back in the original packaging.
Keep children away from the dog's food bowl when the product is administered on the dog's food.
In case of accidental ingestion, seek medical advice immediately and show the package insert or the label to the physician.
Avoid skin contact. In case of skin contact, thoroughly wash the affected area. Special precautions should be taken by the person administering the veterinary medicinal product to the dog: metronidazole has confirmed mutagenic and genotoxic properties in laboratory animals, as well as in humans.
The product can cause skin sensitization.
Metronidazole is a confirmed carcinogen in laboratory animals and has possible carcinogenic effects in humans. However, there is inadequate evidence in humans for the carcinogenicity of metronidazole.
Adverse Reactions
The following adverse reactions may occur after administration of metronidazole: vomiting, hepatotoxicity, neutropenia and neurologic signs. If neurological signs occur, treatment should be discontinued and the patient should be treated symptomatically.
In the European clinical field trial, safety was evaluated in 91 dogs administered metronidazole. The most common adverse events observed in the dogs treated with the product were digestive tract disorders. These disorders included vomiting and diarrhea, which occurred in 14 dogs (15.4%). Systemic disorders of polyuria, anorexia and lethargy occurred in 3 dogs (3.3%). Abdominal pain and hypersalivation were also observed. The adverse reactions did not result in discontinuation of the treatment.
Interaction with other medicinal products and other forms of interaction: Metronidazole may affect the metabolism of other drugs in the liver, resulting in an increase or a decrease in blood concentrations of metronidazole or the concurrently administered drug.
Clinical Pharmacology
Pharmacodynamic properties: Metronidazole is a nitroimidazole compound which exerts antiprotozoal activity against Giardia. The mechanism of action for its antiprotozoal activity is not well understood. It acts primarily against the trophozoite form of Giardia.
Pharmacokinetic particulars:
Pharmacokinetic parameters of metronidazole were evaluated in a crossover study in 6 male and 6 female Beagle dogs receiving a single oral dose of 25 mg/kg metronidazole in the fed or fasted state. The results are summarised in the table below.
Mean (± standard deviation) Pharmacokinetic Parameters for Plasma Concentrations of Metronidazole
| | | |
| --- | --- | --- |
| Parameter | FASTED Mean and (std dev) | FED Mean and (std dev) |
| Tmax (hour) | 1.4 ± 0.9 | 3.0 ± 3.5 |
| Cmax (µg/mL) | 25.6 ± 7.2 | 15.6 ± 4.8 |
| AUClast (µg*h/mL) | 153.7 ± 35.8 | 124.6 ± 37.3 |
| T1/2 (hour) | 3.5 ± 1.3 | 3.7 ± 1.3 |
When metronidazole is administered with food, oral bioavailability is decreased by 19% although the oral bioavailability is still relatively high in fed dogs.
SAFETY AND EFFICACY INFORMATION:
In a laboratory safety study, 12-week old dogs were administered the product up to 3 times the therapeutic dose for 15 days and 5 times the therapeutic dose for 5 days. At five times the intended dosage self-limiting episodes of diarrhea were observed. No other clinically relevant observations were noted during the study.
In two placebo-controlled laboratory efficacy studies conducted in dogs with a naturally occurring Giardia duodenalis infection, fecal cyst counts were reduced >90% and intestinal trophozoites were eliminated >99% following treatment with metronidazole administered at 25 mg/kg every 12 hours for 5 days.
In a double-blinded, 1:1 randomized, positive-controlled, multi-site European field study involving 178 client-owned dogs diagnosed with giardiasis, the product showed 97% efficacy in reducing fecal cyst counts (based on arithmetic means in the population of dogs that completed the study without deviation) when metronidazole was administered in a fed or fasted state. Among dogs with diarrhea before treatment, 21/25 dogs (84%) had normal feces after treatment. In 53.8% of the dogs, the palatability of the product was considered highly palatable or palatable.
Storage
Store below 30°C.
Shelf life after first opening:
30 mL bottles can be kept at or below 30°C up to 3 months.
100 mL bottles can be kept at or below 30°C up to 6 months.
PRESENTATION:
Carton box containing a 30 ml or 100 ml bottle and a 3 ml graduated syringe. Not all package sizes may be marketed.
Virbac Animal Health Inc., PO Box 162059, Fort Worth, Texas 76161 United States
Imported and distributed by Virbac Canada Inc., 231 Shearson Crescent, Suite 209, Cambridge, ON, N1T 1J5
1-800-338-3659
5046255 CA - 10862-10863
CPN: 1177104.0
VIRBAC CANADA INC.
209-231 SHEARSON CRESCENT, CAMBRIDGE, ON, N1T 1J5
| | | |
| --- | --- | --- |
| Toll-Free: | | 866-458-3350 |
| Fax: | | 844-458-4004 |
| Website: | | https://ca.virbac.com/ |
| | |
| --- | --- |
| | THIS SERVICE AND DATA ARE PROVIDED "AS IS". Animalytix assumes no liability, and each user assumes full risk, responsibility, and liability, related to its use of the Animalytix service and data. See the Terms of Use for further details. |