Dermoscent Essential 6 Spot-On (Canada)
This page contains information on Dermoscent Essential 6 Spot-On for
veterinary use
.
The information provided typically includes the following:
Dermoscent Essential 6 Spot-On Indications
Warnings and cautions for Dermoscent Essential 6 Spot-On
Direction and dosage information for Dermoscent Essential 6 Spot-On
Dermoscent Essential 6 Spot-On
This treatment applies to the following species:
Company: LDCA
NATURAL INGREDIENT BASED
External animal use
Dermoscent®: innovative dermo-care for companion animals
Laboratoire de Dermo-Cosmétique Animale (LDCA), the first laboratory specialized in dermo-cosmetic care development for companion animals, has conceived a comprehensive range of products based exclusively on carefully selected natural ingredients to improve animal health and coat beauty under the brand Dermoscent®.
Essential 6® spot-on
Multifunctional skin care for dogs, cats and small mammals
Essential 6® spot-on brings a natural and efficient solution to animal cutaneous disorders: dry skin, oily skin, shedding, dull/brittle coat, excessive hair loss and bad smells. It is suitable for all skin and coat types even the most sensitive skin. Easy and quick to use, it reduces shampoo frequency and substitutes the daily in-take of Essential Fatty Acids (omega 6-3). Without any added fragrance, Essential 6® spot-on has been tested under veterinary control to ensure the best efficacy and safety with optimal product quality.
PROPERTIES
Essential 6® spot-on helps: reduce irritation, diminish shedding and excessive hair loss, sustain hair regrowth. The essential fatty acids from vegetable oils restore hydrolipidic film integrity, reinforce skin barrier function and replenish cutaneous hydration. Moreover, a synergy of ten essential oils (clove, camphor, wintergreen, rosemary, curcuma, oregano, lavender, peppermint, tea tree and cedar) enriched with Vitamin E purifies, soothes and protects your animal skin from free-radicals. This care helps provide a deodorizing effect while preserving the animal olfaction. This unique formulation makes Essential 6® spot-on a care of choice to preserve and restore skin balance.
DIRECTIONS FOR USE
Apply 1 pipette per week for an initial care of 2 consecutive months followed by a regular and continuous use of 1 pipette every 2 weeks as long as necessary. For small mammals (rabbits, ferrets, guinea pigs, hamsters, rats, mice...), it is recommended to apply from few drops to 1 pipette (0.6 ml) according to the animal size. Break the top of the pipette (1), part the coat (2) and apply Essential 6® spot-on on the back between the shoulders of the animal at one or 2 spots directly on the skin (3). It is recommended not to bathe the animal during the 2 days before and after the application. No massage required; thanks to its bio-diffusing action, Essential 6® spot-on diffuses automatically over animal's body. Satisfactory results are obtained from a regular and continuous application. Essential 6® spot-on is compatible and complementary with other spot-on products. For long or thick-coated animals, brush the application point the next day after the application to remove any residue that may be left on the coat and enable a complete diffusion on the skin.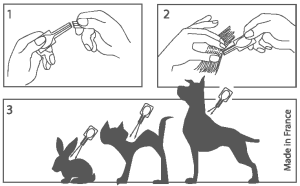 PRECAUTIONS: External animal use; do not swallow; avoid contact with eyes; avoid children's reach; no test data available on animals under 3 months of age.
STORAGE: Avoid exposure to light, humidity and temperature above 30°C (85°F); no conservation after opening each pipette.
INGREDIENTS:
BIO-DIFFUSING AGENT, OLUS (VEGETABLE OIL), GELLING AGENT, MELIA AZADIRACHTA SEED OIL, ROSMARINUS OFFICINALIS (ROSEMARY) LEAF OIL, LAVANDULA HYBRIDA OIL, EUGENIA CARYOPHYLLUS (CLOVE) BUD OIL, MELALEUCA ALTERNIFOLIA (TEA TREE) LEAF OIL, CINNAMOMUM CAMPHORA (CAMPHOR) LEAF OIL, MENTHA PIPERITA (PEPPERMINT) OIL, CEDRUS ATLANTICA BARK OIL, CURCUMA LONGA ROOT OIL, ORIGANUM COMPACTUM OIL, GAULTHERIA PROCUMBENS (WINTER-GREEN) LEAF OIL, TOCOPHERYL ACETATE, BISABOLOL.
A comprehensive skin care range specifically formulated to improve companion animal's skin health and coat beauty is available through your veterinarian. For further information, please visit Dermoscent® website: www.dermoscent.com or send an e-mail to: courrier@dermoscent.com.
Please ask advice from your veterinarian for any concern on your animal's health.
Patent
Manufactured in France by: Laboratoire de Dermo-Cosmétique Animale, Technopôle Castres-Mazamet - CEEI, ZA Le Causse - 81100 Castres- France
www.dermoscent.com
Distributed by Canadian and USA partner: AVENTIX, 4350 Mainway, Burlington, ON, L7L 5R7 Canada
877-909-2242
www.aventix.ca
Multifunctional skin care for cats

4 pipettes x 0.6 ml / 0.08 fl.oz

Multifunctional skin care for dogs and small animals
0 - 10 kg/Up to 22 lbs

4 pipettes x 0.6 ml / 0.08 fl.oz

Multifunctional skin care for dogs
10 - 20 kg/22 - 45 lbs

4 pipettes x 1.2 ml / 0.16 fl.oz

Multifunctional skin care for dogs
20 - 40 kg/45 - 90 lbs

4 pipettes x 2.4 ml / 0.32 fl.oz
CPN: 1758005.2
LDCA, LABORATOIRE DE DERMO-COSMÉTIQUIE ANIMALE
Distributed by AVENTIX ANIMAL HEALTH CORP.
4350 MAINWAY, BURLINGTON, ON, L7L 5R7
| | | |
| --- | --- | --- |
| Telephone: | | 905-332-4744 |
| Toll-Free: | | 877-909-2242 |
| Fax: | | 905-332-4844 |
| Website: | | www.aventix.ca |
| Email: | | aventix@aventix.ca |
| | |
| --- | --- |
| | Every effort has been made to ensure the accuracy of the Dermoscent Essential 6 Spot-On information published above. However, it remains the responsibility of the readers to familiarize themselves with the product information contained on the Canadian product label or package insert. |